Manca veramente pochissimo al 14 marzo e quindi all'inizio della fine di una delle saghe più epiche di sempre, quella di Game of Thrones. Sì, perché la produzione HBO ci ha accompagnati durante tutti questi anni ed è cresciuta insieme a noi. Ci ha riempito pomeriggi e serate, ci ha fatto discutere con gli amici e ci ha raccontato una storia incredibile. Quelle di Jon, Daenerys, Arya, Cersei, Tyrion e tutti gli altri, sono avventure che non dimenticheremo mai.
Game of Thrones ha rivoluzionato il concetto di serie tv, l'ha elevato. Ha reso un qualcosa di piccolo, più grande di un film. La serie che prende spunto dai libri di George R. R. Martin ha saputo evolversi, cambiare, e nello stesso tempo ha stravolto la definizione di prodotto seriale. Noi di Hall of Series ne abbiamo parlato in tutti i modi. Abbiamo speculato su teorie, approfondito personaggi e vi abbiamo regalato news incredibili.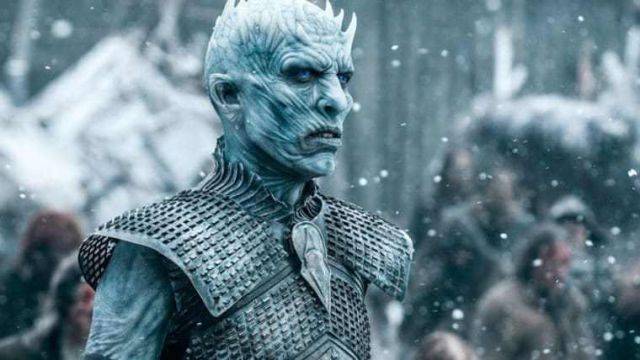 Oggi, proseguendo lungo il solco tracciato fino a ora, vogliamo provare a entrare dentro la mente del cattivo numero uno di Game of Thrones: il Re della Notte. Chi è? Sappiamo che era un uomo e che è stato trasformato in Estraneo dai Figli della Foresta. Cosa vuole? Morte ci verrebbe da dire, ma la verità è che non lo sappiamo con certezza. Cosa lo spinge a compiere tali azioni? Questo è forse il dilemma più difficile a cui rispondere, non abbiamo la minima idea di cosa muova il malvagio despota a portare dolore e distruzione nell'universo di Game of Thrones. In questo articolo proveremo a rispondere a una precisa domanda.
Qual è l'obbiettivo finale del Re della Notte in Game of Thrones?
In una recente intervista l'attore Vladimir Furdik, che interpreta proprio il Re della Notte, ha detto che l'oscuro personaggio cerca una persona precisa. Ha poi aggiunto che il capo degli Estranei non ha voluto mai essere re, non sa chi lo ha trasformato in quel modo, sa solo che vuole vendetta. Ma di chi si vuole vendicare? Questo ancora non è chiaro. Potremmo però cercare di capire chi è la persona che ha intenzione di scovare, il suo vero obbiettivo.
Potrebbe sembrare un discorso folle ma tutti in Game of Thrones hanno due facce: una buona e una cattiva. Anche il personaggio più lucente, il più puro, cela una parte oscura. Pensiamo a Jon, un combattente valoroso che mette davanti a tutto onore e rispetto, ma che ci mette pochissimo tempo a infrangere un voto di castità, trascinato dall'amore. Pensiamo a Sansa, dolce, ma allo stesso tempo spietata (qui parliamo dell'evoluzione del suo personaggio). Se questo discorso vale per i personaggi "buoni", dovrebbe teoricamente valere anche per quelli che stanno dall'altra parte della trincea. Ma per il Re della Notte non è così.
Perché questa affermazione?
Il motivo è che lui è il male supremo, il suo spirito è composto solo ed esclusivamente da malvagità. Chi può contrastarlo quindi? Solo un personaggio che non ha una parte nascosta della Luna dentro di sé. E se ci pensate bene esiste in Game of Thrones. Stiamo parlando di Bran, colui che è il Corvo con Tre Occhi. Sin dall'inizio dell'epopea nata dalla mente di George R. R. Martin, il piccolo Stark non ha mai dato a vedere di avere un lato cattivo. In più se pensiamo al suo stato attuale, a cosa rappresenta ora, tutto ci è più chiaro. Bran e il Re della Notte sono i due poli opposti. Da una parte il bene cosmico, dall'altra il male assoluto. Sono il bianco e il nero, le due facce della stessa medaglia, sono lontanissimi ma quanto mai vicini.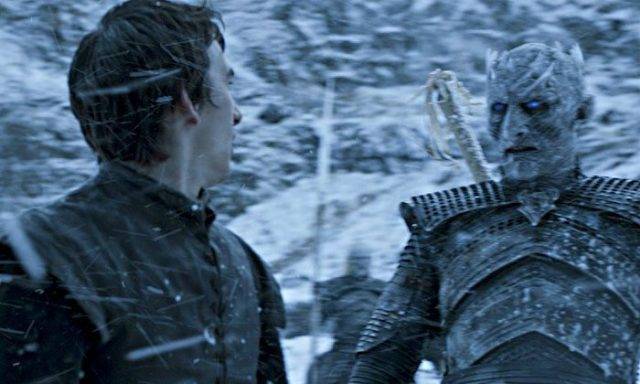 Quindi è Bran l'obbiettivo del Night King. Cosa voglia da lui ancora non è dato sapersi. Ucciderlo per eliminare la fonte del bene supremo? Una sorta di guerra tra Loggia Nera e Loggia Bianca di twinpeaksiana impronta. Il male non può esistere senza il bene, senza la sua controparte. Un paradosso che è quanto mai utile alla nostra tesi, ovvero che il Re della Notte cerca Bran per ricongiungere le due facce della medaglia, per tornare a unire numero e disegno del pezzo metallico circolare. Il Re della Notte ha come obbiettivo finale il giovane Stark perché deve tornare a regnare l'equilibrio. Potrebbe sembrare Star Wars, ma la realtà secondo noi è questa. Le due entità per sopravvivere devono convivere, l'oscurità e la luce devono coesistere.