ATTENZIONE: questo articolo contiene spoiler sull'ottava stagione di Game of Thrones!
Nell'ottava stagione di Game of Thrones ha fatto ritorno un personaggio molto amato dai fan. Si tratta della piccola ma coraggiosa Lyanna Mormont. Il suo ruolo all'interno della serie è stato importante principalmente nelle ultime stagioni: quando ha messo a disposizione il proprio esercito e quando ha deciso di combattere nel corso della Battaglia di Winterfell.
Sì, perché nonostante altri personaggi abbiano preferito tirarsi indietro o nascondersi nelle cripte di casa Stark, la giovane Mormont ha voluto combattere personalmente.
Quello che non tutti i fan di Game of Thrones sanno è che Bella Ramsey, l'attrice che interpreta Lyanna Mormont, doveva comparire in una sola scena della serie.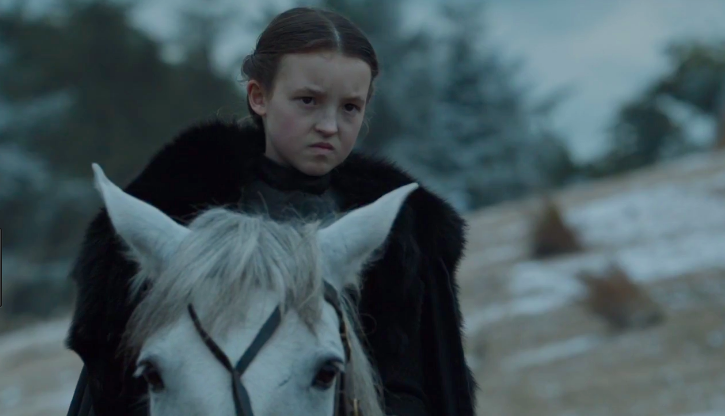 Abbiamo incontrato per la prima volta Lyanna nel corso della sesta stagione. Nell'episodio in questione è apparsa solo per qualche minuto sullo schermo, ma da subito si è conquistata l'amore del pubblico. Ed è stato un bene per la giovane attrice, visto che la presenza del suo personaggio in Game of Thrones era prevista per un'unica scena. Grazie alla sua abile performance gli sceneggiatori hanno deciso di assumere la Ramsey in qualità di personaggio ricorrente.
Ne ha parlato durante un'intervista con Entertainment Weekly lo showrunner David Benioff, che ha dichiarato:
Ciò che più mi sorprende è la performance di certi attori. Molti di loro sono stati con noi sin dall'inizio e sono cresciuti (sia come attori che come personaggi). In molti casi vanno ben oltre le aspettative. Alcuni di loro, come Lyanna Mormont, dovevano comparire in una sola scena. Ma Bella è un'attrice così talentuosa che abbiamo deciso di riportarla sullo schermo, semplicemente perché volevamo ancora più Bella!
Quindi è evidente come la bravura della piccola attrice abbia da subito convinto sia il pubblico che gli sceneggiatori della serie. Fortunatamente abbiamo avuto l'occasione di vedere Lyanna Mormont in più di una sola occasione!