Uno dei nuovi personaggi presentati nel corso della settima stagione di Game of Thrones, e che ha riscosso un ottimo successo, è stato quello di Lyanna Mormont. La giovane erede della casata Mormont è interpretata dalla giovanissima Bella Ramsey. L'attrice ha rilasciato recentemente una intervista dove ha spiegato come è stato per lei il responso da parte del pubblico della serie tv targata HBO.
Sono rimasta pietrificata quando ha debuttato, perché mi aspettavo che la gente odiasse quello che avevo fatto e non come Lyanna. Avevo paura di essere ricevuta in cattivo modo. Ero molto scioccata dal fatto che alla gente fosse piaciuta la mia interpretazione.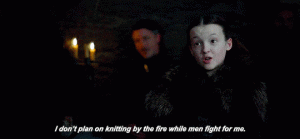 La giovane di Game of Thrones ha confessato di non aver voluto vedere nessuna delle scene con lei protagonista, neanche dopo che i fan l'avevano proclamata come rivelazione della stagione. Tutt'ora non ci è dato sapere se vedremo Lyanna Mormont nelle file dei personaggi che torneranno per l'ultima stagione, ma in ogni caso, Bella Ramsey ha rivelato di continuare ad essere in contatto con i suoi colleghi. Soprattutto con Kit Harington, interprete di Jon Snow.
Quando andai ai Bafta Award gli chiesi delle interviste dal vivo, che consiglio poteva darmi, e lui mi rispose "Sii solo te stessa e non cercare di dire quello che pensi che la gente voglia sentire". Questo è il miglior consiglio che mi diede.
Il successo scaturito grazie al personaggio in Game of Thrones, ha permesso all'attrice di spingersi oltre i propri limiti. Bella Ramsey infatti comparirà accanto a Billie Piper nel film Two for Joy, che verrà rilasciato il 25 febbraio.
Mi sono trattenuta dal fare interviste, perché voglio che la mia vita sia la mia. Penso che avremmo potuto spingerlo di più e avrei potuto essere di più una celebrità, ma non era qualcosa che volevo fare.