Attenzione: evitate la lettura se non volete imbattervi in spoiler su Game of Thrones 8×06
La Barriera alle spalle, un'ultima volta. Il futuro è adesso, davanti ai suoi occhi. E con lui il passato, in una foresta oscura dalle mille ombre. In difesa del mondo, fuori dal mondo. Primo e ultimo argine della nuova vecchia era che avanza. Guardiano della Notte, ieri come oggi. Ma Jon, ora, sa tutto. Ha capito, ha imparato la lezione. Il generale di mille battaglie si sovrappone ai soldati semplici dei primi minuti del primo atto, ignari dell'incubo in movimento che si prospetta all'orizzonte.
La fine e l'inizio. Il prologo e la conclusione. Anche se questa storia, marchiata col fuoco e immortalata dal ghiaccio, non ripresenterà gli occhi blu del terrore estraneo. Non oggi, almeno. Ma Game of Thrones si è fermato, dopo 73 episodi e 8 indimenticabili stagioni, esattamente doveva tutto era iniziato. Si è specchiato, ancora una volta. Ritrovando se stesso nella circolarità degli eventi che non conosce altra verità al di fuori della soluzione di continuità. In tutto e per tutto, o quasi.
Quasi, perché alla fine la ruota si è spezzata. L'ultimo tiranno è caduto, il Trono è distrutto, la rivoluzione è iniziata. Nel nome di Bran, lo Spezzato. Testimone della memoria che riconosce gli errori del passato per non ricadere nei soliti vizi. Regnante senza la volontà di esserlo, profilo ideale di un mondo all'alba. Emblema di un finale controverso che farà parlare di sé molto a lungo. E di una serie tv, coraggiosa e innovativa, che ha passato gli ultimi anni a combattere contro la tirannia dei tempi sempre più stretti.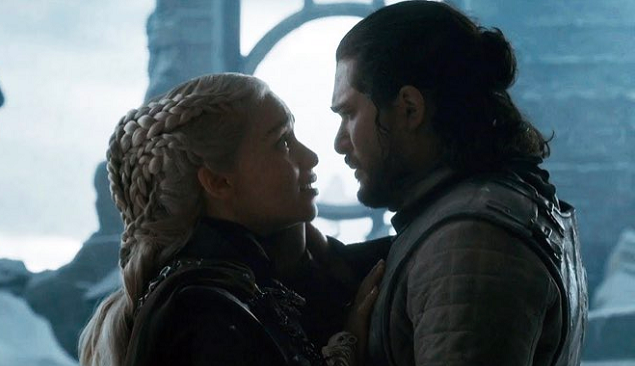 Il gioco del trono ha quindi trovato in The Iron Throne la sua conclusione più imprevedibile. Nel nome dell'amore che non conosce altre ragioni al di fuori di sé. E di una storia, quella di due amanti uniti da un sentimento impossibile, che non poteva non finire nel sangue. Jon e Daenerys, maledetti dal destino e ancor di più dall'irrazionalità di un sentimento che rappresenta spesso un pericolo mortale, si sono così divisi. Nell'unico modo possibile, attraverso la morte.
Jon, ora, lo sa, ma avrebbe dovuto esserne consapevole da svariati anni. Dal momento in cui il maestro Aemon, come lui Targaryen e finito ai confini del mondo dopo aver rinunciato al Trono di Spade che gli sarebbe spettato di diritto, lo mise in guardia dagli ostacoli che l'amore crea a prescindere dalla forma. "L'amore è la morte del dovere", gli disse il decano con non poco trasporto. "L'amore è la morte del dovere", ripete oggi Jon. Al cospetto di Tyrion, poco prima di mettere fine alla vita della sua amata.
Con le lacrime agli occhi e un pugnale tra le mani. Dopo aver combattuto con se stesso. Dopo aver fatto di tutto per convincersi dell'impossibile. Prima di stringere tra le braccia per l'ultima volta l'amore sfumato. Come era già successo con Ygritte, vittima a sua volta di un legame spezzato inevitabilmente dalla tragedia. Senza alternative possibili, perché il dovere avrà sempre la meglio nel cuore di Jon. Accecato, ma allo stesso tempo degnissimo erede di Eddard Stark.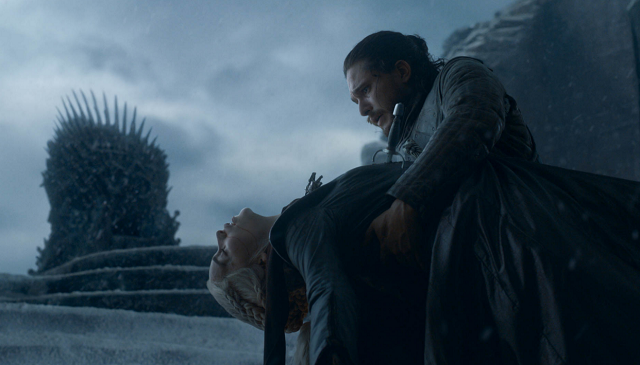 L'amore offusca lo sguardo, fino a uccidere. Ma Daenerys, al contrario di Jon, l'ha capito solo nel momento in cui ha esalato l'ultimo respiro. La Madre dei Draghi è stata uccisa, all'improvviso, da una pugnalata al ventre. Ma ancor di più da un sentimento irrazionale che prima ha fatto traboccare il vaso, e poi le ha impedito di proteggersi da un uomo che aveva fin troppe motivazioni per fermare il suo cuore. Ai piedi dall'agognato Trono di Spade, sfiorato per un istante senza riuscire a sedercisi.
Daenerys, sola al mondo, ha messo il dovere in secondo piano per un amore in cui era diventato impossibile sperare. Il dovere di un destino sadico che ha trasformato la Regina dei Sette Regni nella Regina delle Ceneri. E quello di una donna, nata bambina, dall'innocenza pari alla brutalità con la quale ha devastato le esistenze di un milione di persone. Daenerys non ha mai conosciuto Aemon, ma avrebbe dovuto sapere. Ha perso tutto, in cambio dell'ultimo bacio. E di un sogno svanito ad un passo dalla realtà.
L'amore è la morte del dovere, e anche Tyrion lo sa bene. Oggi, dopo aver dimenticato per troppo tempo le durissime lezioni del passato. I sentimenti provati per la sua Regina ci hanno restituito l'immagine pallida dell'uomo arguto conosciuto anni fa, sognatore errante incapace a sua volta di guardare in faccia la realtà. Ieri, come oggi. Ma l'incantesimo si è spezzato, di fronte alla tragedia di un popolo intero. E Tyrion, il vero Tyrion, ha finalmente fatto sue le parole di un vecchio amico, martire del nuovo mondo.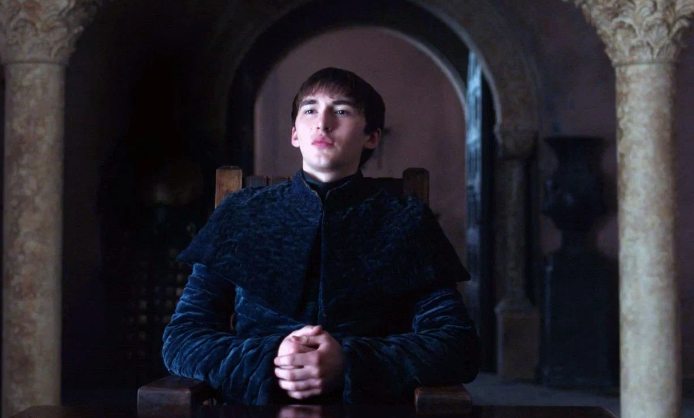 "Quando vedo a cosa il desiderio riduce le persone e a che cosa ha ridotto questo Paese, io sono contentissimo di non provarlo", disse Varys al passionale Oberyn. E chi meglio di Bran Stark, l'apatico uomo incatenato ai ricordi di una storia infinita, avrebbe potuto incarnare una convinzione del genere? Ancor più di un eunuco, come ha dimostrato la deriva di Verme Grigio dopo la morte della sua Missandei. Ancor più di qualunque altro essere umano, perché la nostra natura non contempla l'incorruttibilità.
Varys avrebbe approvato la decisione di Tyrion. L'avrebbe sostenuta a spada tratta, individuando nel Corvo dai Tre Occhi il profilo ideale del regnante ideale. Onnisciente, aggrappato alla memoria che impedisce di replicare gli errori del passato. Disinteressato al potere, più di tutti. Impossibilitato a lasciare eredi, incapace di provare qualsivoglia desiderio. Monarca razionale e giusto, mosca bianca in un modo in divenire che ha spezzato la ruota per fermare una volta per tutte la spirale di sangue imposta dalla tirannia.
Il Ragno avrebbe sorriso. Il reame ha ancora una speranza, figlia di un compromesso che scontenta e accontenta tutti con la stessa determinazione. In un mondo vecchio non ancora pronto alla democrazia prospettata da Sam, la nuova era di Bran lo Spezzato è la miglior soluzione possibile. L'unica, tra le imperfezioni di un cinico microcosmo nel quale la giustizia degli uomini condanna alla vita gli eroi e ricompensa i tagliagole con un invidiabile scranno del Concilio Ristretto.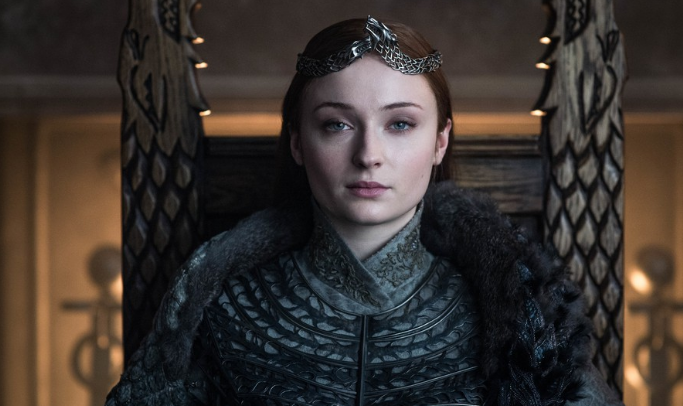 Game of Thrones finisce così, con la gioia di aver restituito al mondo una speranza di pace e l'amarezza di chi è conscio d'averla pagata a carissimo prezzo. Westeros, fatta a pezzi da anni di guerre sanguinarie, si ritrova quindi un grande Primo Cavaliere e un Concilio Ristretto atipico e fin troppo variegato, potenzialmente efficace. Un Nord di nuovo libero, indipendente e guidato da Sansa, una vera Stark pronta a tutto per il suo popolo.
Un'esploratrice, Arya, partita alla scoperta dei confini ignoti del mondo come aveva promesso anni prima a Lady Crane. E soprattutto con un nuovo, vecchio, status quo. Nel quale trovano spazio anche i Guardiani della Notte, in attesa di una minaccia che potrebbe ripresentarsi tra migliaia di anni. Giovani, liberi e in marcia verso il domani, gli Stark si lasciano con un passo comune in direzioni diverse. Da regnanti di se stessi o di tante anime alla ricerca di una guida sicura. Vivi, nonostante tutto.
Game of Thrones finisce così, con la consapevolezza di averci detto tutto e non averci detto altrettanto. Con la fretta, insaziabile, di chi ha voluto chiudere i conti con qualche stagione d'anticipo e diverse forzature di troppo. Ma anche con la lucidità di chi ci ha raccontato, fino alla fine, una storia straordinaria. Unica e irripetibile, tra il loro passato e il nostro presente. Un inno alla memoria, scritta sui libri. E in tutti i pensieri del nuovo Re, impalpabile archivio di ogni tempo.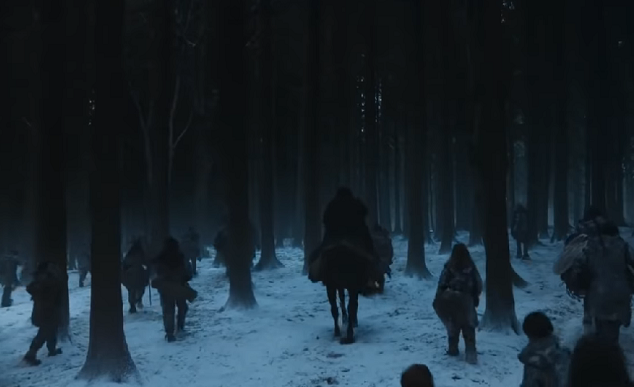 Un inno malinconico e in chiaroscuro alle ingiustizie del mondo, incapace di contenere la purezza degli eroi senza macchia. Un mondo nel quale è difficile scindere quel che è giusto da quel che è sbagliato. Il bene e il male sono separati da sfumature contestualizzabili volta per volta senza schemi fissi, fino a rendere vana ogni distinzione. Al punto da dover scendere a patti, abbracciarsi e scontrarsi perennemente. Con una sola alternativa ad eccezione della morte: la fuga, chissà dove. L'esilio. L'addio, tra gli ultimi, verso la libertà.
Che la nostra guardia abbia inizio.
Antonio Casu