Manca poco al 14 aprile. Per tutti gli appassionati di Game of Thrones questa non è una data qualunque, è il giorno che segna l'inizio della fine. Il giorno in cui verrà trasmessa la prima puntata dell'ultima stagione di una delle serie che hanno caratterizzato questi ultimi anni. La creazione di George R.R. Martin ha molto da raccontare, le teorie sul finale sono numerosissime, così come quelle sui singoli personaggi (qui analizziamo dell'assurdo legame tra la famiglia Stark e gli Estranei). Oggi vogliamo concentrarci su un personaggio preciso, anzi, sull'attrice. Parliamo della nostra Khaleesi: Emilia Clarke.
Cosa potrebbe succedere una volta terminata Game of Thrones? Cosa le riserverà il futuro?
Un'idea ce l'abbiamo. E ce la siamo fatta osservando attentamente la bella Emilia. Non è frutto di supposizioni avventate né di cose scritte tanto per scrivere. Secondo noi il futuro della nostra Madre dei Draghi non può che essere in una comedy e pensiamo che possa interpretare il personaggio principale. Ci sono molti motivi a conferma della nostra idea e alla fine dell'articolo non potrete non essere d'accordo con noi.
Ma non perdiamo tempo e analizziamo i vari aspetti che ci fanno pensare tutto ciò.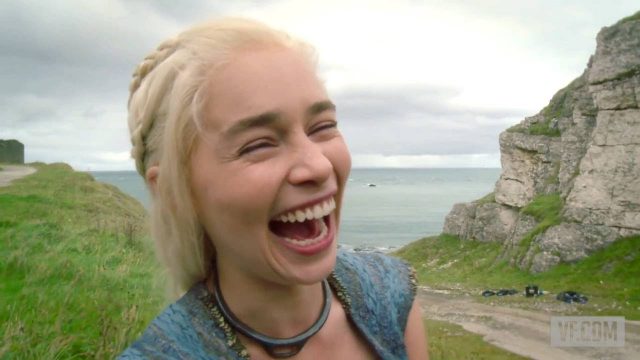 Espressività e mimica facciale
Quello che tutti possiamo notare ogni volta che Emilia è presente in video o sulle foto pubblicate sui social è l'incredibile mimica del viso. La solarità che emana e l'empatia che ci veicola è incredibile. Tutto ciò dimostra quanto la Khaleesi di Game of Thrones sia adatta a interpretare la protagonista di una comedy. Secondo noi per un attore, soprattutto un interprete di commedie, l'espressività e la bravura nel comunicare l'ironia e la sua ilarità sono fondamentali. Emilia Clarke in questo sembra essere perfetta.
Aggiungiamo che spesso la Madre dei Draghi sembra essere totalmente fuori controllo e incredibilmente impacciata ai limiti dell'assurdo, come vestisse da sempre i panni di una caricatura vivente. Pensate che nella nuova stagione di Futurama ha interpretato e doppiato una fioraia priva di olfatto che si innamora di Zoidberg.
Sarà l'inizio di una nuova vita artistica per la bella Emilia?!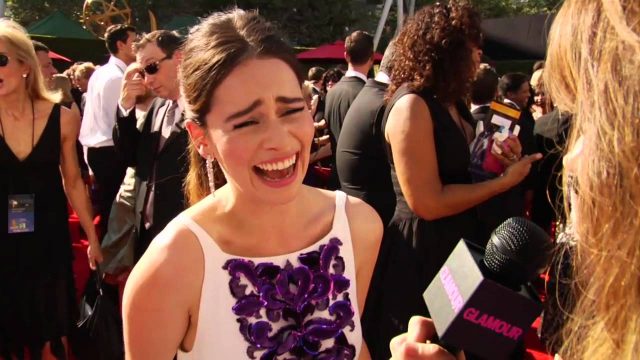 Carattere
Oltre all'aspetto meramente interpretativo c'è anche un aspetto caratteriale. L'indole della Clarke è giocosa e frizzante. In tutte le varie interviste che ha rilasciato nei talk show più importanti, come The Graham Norton Show, la regina dei draghi di Game of Thrones riesce a intrattenere e a far ridere il pubblico con risposte incredibilmente ironiche. Non si vergogna delle scene di nudo delle prime stagioni e riesce a scherzarci sopra, raccontando aneddoti come un bravo interprete di stand-up comedy. Ci sembra quindi che l'indole della Clarke sia protesa verso un possibile ruolo da protagonista di una commedia proprio perché è innato dentro alla ragazza questo spirito giocoso che riesce a trasmettere a chi la guarda.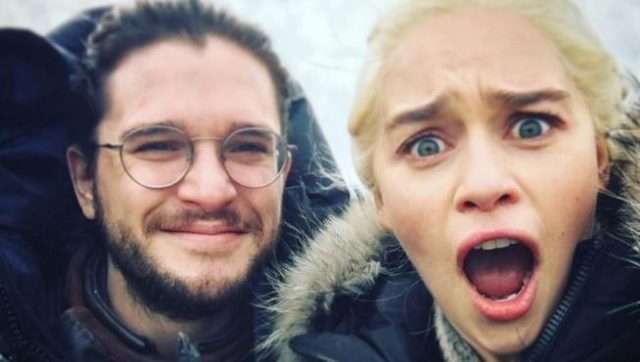 I video in rete sono un'ulteriore prova
Ultima ma non ultima ragione per cui il futuro di Emilia Clarke le potrebbe riservare un ruolo da protagonista in una comedy sono i video che possiamo trovare in rete. Sulle pagine e i gruppi facebook che radunano migliaia di appassionati di Game of Thrones ci sono decine di video in cui vengono messi insieme i momenti più assurdi e comici della ragazza. Backstage con errori mentre recita, pubblicità ironiche in cui si prende in giro da sola e compilation di espressioni buffe di Emilia. Ce n'è uno poi in particolare in cui la Clarke prova a far entrare gli spettatori dentro alla scenografia e dentro al backstage di Game of Thrones che è spettacolare.
Oltre a questo c'è l'amore dei fan che sembrano apprezzare questo suo lato caratteriale. Non si tratta solo della predisposizione dell'attrice, ma anche dello stesso pubblico che sembra già pronto a vederla in vesti diverse da quelle di regina. Insomma, sembra davvero che Emilia Clarke dopo Game of Thrones possa rinascere in una serie tv comedy.
Noi non vediamo l'ora di vederla in questa possibile nuova avventura.