ATTENZIONE: questo articolo contiene spoiler sulla settima stagione di Game of Thrones!
Lord Baelish, conosciuto anche come Ditocorto, è stato sicuramente uno dei personaggi più odiati di Game of Thrones. Proprio per questo motivo il finale della settima stagione della serie ha soddisfatto gran parte dei fan. Quando il pubblico ha capito che Sansa avrebbe condannato a morte Baelish probabilmente non si aspettava che la sua fine sarebbe davvero arrivata presto. Sono però stati soddisfatti nel momento in cui Arya ha reciso la gola di Ditocorto.
La morte di Lord Baelish è stata appagante, ma una nuova teoria suggerisce che Ditocorto sia ancora vivo e farà quindi ritorno nell'ottava stagione di Game of Thrones.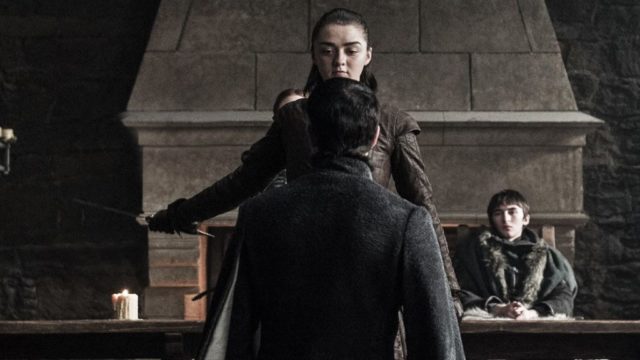 La teoria è stata spiegata da un utente di YouTube dal nome Neo. Si basa essenzialmente su un semplice fatto: Ditocorto avrebbe pagato uno degli Uomini senza volto per prendere il suo posto a Grande Inverno dopo aver realizzato che Sansa lo avrebbe condannato.
Una particolare scena presente nel quinto episodio della settima stagione sembrerebbe dimostrare quanto sostenuto da questa teoria. In questa scena Arya vede Ditocorto consegnare una moneta a una giovane donna. Questa gli avrebbe sussurrato: "Your time's up" (Il tuo tempo è scaduto). È stato questo passaggio a generare la teoria di Neo: da quel momento in poi, il personaggio di Ditocorto era in realtà la giovane donna che indossava il volto di Lord Baelish.
Già nella quarta stagione Ditocorto aveva confermato che il suo bisnonno era originario di Braavos, la terra degli Uomini senza volto. Questo spiegherebbe la connessione del personaggio a quel mondo. La moneta che Arya ha visto potrebbe quindi essere la stessa che Jaqen H'ghar le aveva consegnato per giungere a Braavos.
Lo stesso Aidan Gillen, interprete di Lord Baelish, ha dichiarato durante un'intervista con il Los Angeles Times che non ha mai immaginato il suo personaggio come un uomo che piange. Le sue parole sembrano quindi contraddire quanto abbiamo visto durante la scena della sua morte: un Ditocorto spaventato e incredulo. Ecco quanto dichiarato:
Non credo che Lord Baelish abbia lacrime di coccodrillo. E non penso che a Baeish piaccia versare lacrime, soprattutto di fronte ad altre persone. Nel corso delle stagioni ho provato a mostrare qualcosa di nuovo…un lato umano forse un po' più caldo. Ma se c'è una cosa che non è mai trapelata è la vulnerabilità, la debolezza del personaggio.
Ditocorto è uno dei personaggi più subdoli e doppiogiochisti del piccolo schermo. Se avesse davvero previsto la sua imminente morte, avrebbe certo provveduto a cambiare le carte in gioco. E ne sarebbe stato capace. Se così fosse sarebbe quindi ancora vivo: lo rivedremo nell'ottava stagione di Game of Thrones?