In Game of Thrones uno dei personaggi che ci ha senz'altro più incantato è stato Tyrion Lannister. Fin da subito si è scoperto essere diverso dagli altri membri della sua famiglia. Un uomo di cultura non privo di sensibilità ed empatia, con una grandissima predisposizione alla strategia oratoria e politica.
Dalla prima all'ultima stagione il folletto di casa Lannister ha subito notevoli trasformazioni nel suo percorso di crescita (e qui abbiamo tentato di analizzarle), ma ciò per cui vogliamo ricordarlo sono i momenti della storia in cui il suo intervento si è dimostrato cruciale o di grande assist per il background narrativo di Game of Thrones.
All'interno dell'ampio ventaglio di decisioni e contesti che vedono Tyrion Lannister protagonista, abbiamo cercato di stilare una classifica delle cinque migliori decisioni prese dal nostro eroe. Dalla meno alla più importante, cerchiamo di ripassare insieme la sua incredibile storia.
5) La liberazione di Jaime Lannister poco prima della distruzione di Approdo del Re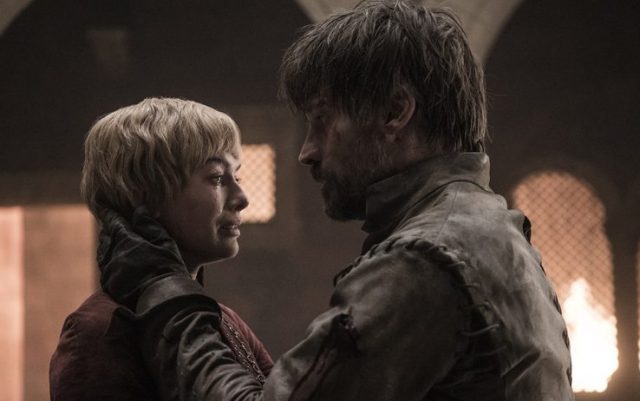 Siamo nell'ultima e ampiamente criticata ottava stagione di Game of Thrones e stiamo per assistere a uno dei massacri più sadici e "ingiustificati" dell'intera serie tv. Daenerys si prepara allo scontro finale con Cersei Lannister, schierando le sue forze migliori per mettere la parola fine al gioco del trono.
Poco prima dell'assedio, Tyrion Lannister si reca da Jaime, prigioniero della Khaleesi, e in gran segreto lo libera, con la speranza che possa fuggire insieme a Cersei e regalare a Daenerys una vittoria senza vittime. Pur nella sua ingenuità, e nel fallimento di questo piano, rimane una delle migliori decisioni del folletto, poiché rappresenta insieme alla soluzione delle campane in segno di resa l'ultimo disperato tentativo di Tyrion di fare la cosa giusta.
Tyrion Lannister prova a fare sempre la cosa migliore per lui, per le persone a lui care e per il suo popolo, trovandosi spesso nella scomoda posizione di nemico e incompreso. Anche in questo caso la decisione di liberare Jaime riscatta il suo onore, soprattutto nei confronti del compianto Varys.