Spoiler alert: non proseguite con la lettura se non siete in pari con la visione di Game of Thrones 8.
Quando due sceneggiatori pieni di talento nella trasposizione cinematografica di libri si ritrovano senza la guida di un certo scrittore sadico di nostra conoscenza, ecco che vengono generati momenti di non trascurabile assurdità.
Si perché la sensazione generale è che Benioff e Weiss lasciati a briglia sciolta commettano errori e banalità varie – del tutto evitabili con un po' di attenzione – e in particolare questo accade nell'episodio The Bells. Peccato perché il livello registico di questa puntata è altissimo. Inutile citare la bellezza delle sequenze di Arya e della battaglia dei Clegane. Peccato però che quanto accade nella mente di Daenerys a metà episodio ci venga spiegato al di fuori della serie tv, tra interviste e approfondimenti.
Il lavoro che è stato fatto per la costruzione e soprattutto distruzione degli edifici di Approdo del Re e della Fortezza Rossa poi è stato meticoloso e davvero molto realistico, come anche la realizzazione delle ferite delle vittime.
Forse su questo fronte si potevano evitare delle persiane verdi dal taglio moderno in un contesto medioevale ma pazienza.
Preparatevi quindi a una carrellata delle più grandi assurdità riscontrate in questo episodio. Nel frattempo, un buffetto caloroso a tutte le bambine chiamate Khaleesi sull'onda dell'entusiasmo di qualche anno fa, quando questo personaggio sembrava totalmente positivo.
1) L'onniscienza di Daenerys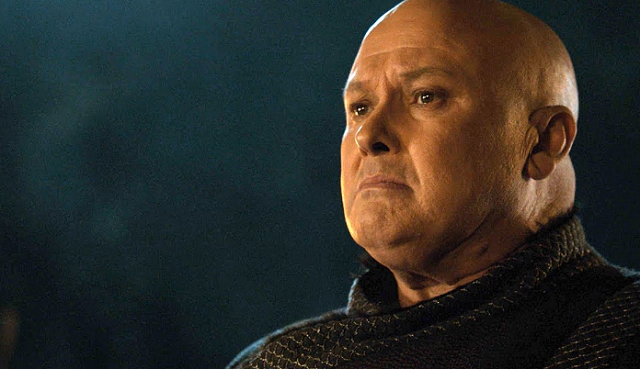 Non è ben chiaro come Daenerys sia riuscita a smascherare Varys, e dire che questi è riuscito a sopravvivere a svariati re e regine. Sopratutto ignoro come sia riuscita a ricostruire perfettamente tutti i vari passaparola intercorsi riguardo le origini di Jon. O del perchè in tutto questo venga punito solo il Ragno. Mi è anche oscuro anche il motivo per cui Tyrion se ne prende la colpa, quando nel momento del confronto aveva solo confermato l'idea che Dany si era già fatta della vicenda.