La lama di Ilyn Payne scivola sulla carne, e la testa mozzata di Ned Stark rotola via. Abbracciata alla statua di Baelor il Benedetto c'è Arya Stark, che osserva gli ultimi istanti di vita del padre. Questo evento segna l'inizio effettivo del suo viaggio in Game of Thrones, che la porta da Westeros fino agli Uomini Senza Volto e al suo allenamento per diventare Nessuno.
Ma lo diventa davvero?
No. O almeno non è così scontato come sembra.
Tutto il percorso che Arya compie – tanto nei libri delle Cronache quanto in Game of Thrones – ruota attorno a tre chiavi principali, sconosciute agli adepti del Dio dei Mille Volti: famiglia, vendetta, identità personale.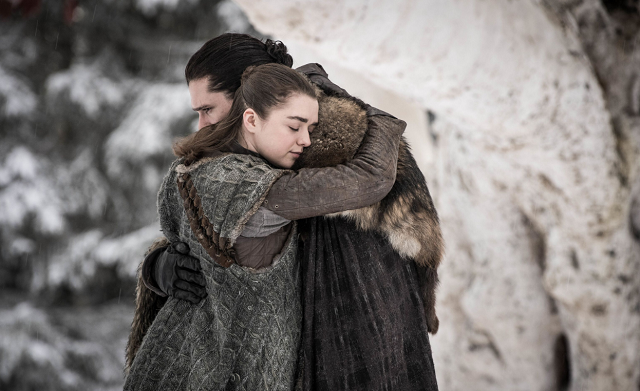 Famiglia: sangue di Stark
Essere un Uomo senza Volto significa non appartenere più a nessuna famiglia, perdere ogni legame d'amore e d'affetto. Esattamente quel che viene chiesto a Arya: l'uomo gentile – nella serie tv con l'aspetto di Jaqen H'ghar – la invita a rinunciare al suo passato. Arya ci prova, senza riuscirci.
Tutte le sue azioni sono mosse dal profondo legame con la famiglia. D'altronde è nel suo sangue: gli Stark sono lupi, e come i lupi vivono il branco, se ne prendono cura, lo proteggono. S'azzuffano (pensiamo al non idilliaco rapporto con Sansa), ma poi si stringono contro ogni minaccia esterna.
Dalla morte di Ned, Arya cerca di ricongiungersi con i suoi famigliari, siano essi a Grande Inverno, a Delta delle Acque o alle Torre Gemelle dei Frey. Sconfitta l'Orfana e decisa a lasciare Braavos, Arya fa rotta verso la sua terra natia. Convinta dalle parole di Frittella, torna a Grande Inverno, ritrova Sansa e Bran e resta al fianco degli Stark contro il Re della Notte.
Raggiunge l'obiettivo con cui si è aperto il suo viaggio: tornare a casa.
"Siamo una famiglia. Noi quattro, gli ultimi degli Stark".
La gioia e il sollievo alla vista di Jon – la persona che più al mondo la capisce – e l'abbraccio che si scambiano rende ben chiaro che quella è la vera Arya Stark.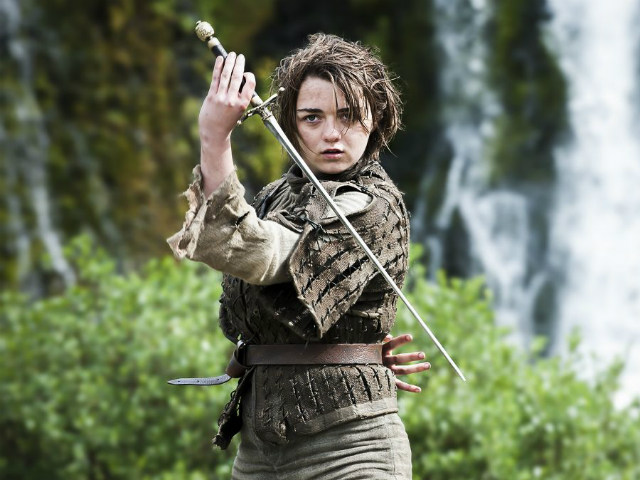 Vendetta: la lista dei nomi
La vendetta non è contemplata dagli Uomini Senza Volto. La morte è un dono, il loro compito è portare le anime designate al Dio dei Mille Volti. Le uccisioni per motivi personali non sono consentite.
Arya, invece, tiene stretto a sé il desiderio di vendicarsi di chi le ha ucciso famigliari e amici, e di chi ha abusato di lei. La lista dei nomi è (quasi) tutto ciò che la conforta.
Dopo le Nozze Rosse e dopo aver abbandonato il Mastino è sola, senza parenti o alleati. Tenta di raggiungere Jon, ma il destino la porta a Braavos, nell'unico posto al mondo in cui può diventare abbastanza brava da imparare come uccidere i suoi nemici.
Tuttavia, nonostante gli insegnamenti degli Uomini Senza Volto, Arya non lascia andare la sua sete di vendetta. Uccide Meryn Trant perché lo ritiene l'assassino di Syrio Forel. Tornata a Westeros si dirige alle Torri Gemelle: uccide Walder Frey e tutta la sua casata per vendicare Catelyn e Robb. Fa la sua parte nell'assassinio di Ditocorto, artefice delle disgrazie della sua famiglia.
Proviamo a ipotizzare che a tornare a Westeros sia davvero Nessuno, che indossa il volto di Arya Stark: i nomi della lista possono essere intesi come doni da portare al Dio. Tuttavia la lista non viene conclusa: il Mastino è perdonato; l'intento di uccidere Cersei viene abbandonato; della volontà di uccidere Melisandre non v'è più l'ombra. Ciò stona con quello che sappiamo degli Uomini Senza Volto, assassini che portano a termine le missioni di cui sono incaricati.
Le morti provocate da Arya affondano le radici nel suo vissuto e sono motivate da un desiderio di vendetta, non dal compito di Nessuno di portare in dono la morte.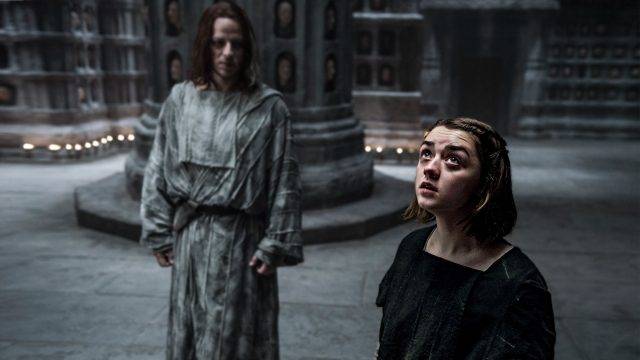 Identità: tra Arya e la Morte
Gli insegnamenti degli Uomini Senza Volto mirano ad annullare totalmente l'identità personale. Per loro non è nient'altro che una maschera da indossare quando è necessario; lo scopo è celare quello che vi sta dietro: il dono della Morte. Riflettendoci, quella è l'unica identità che posseggono gli Uomini Senza Volto, e li accomuna tutti.
Lungo il suo percorso in Game of Thrones, Arya danza tra varie identità: dalla figlia ribelle di un lord di alto rango (Arya), a un ragazzino orfano (Arry), a un coppiere per Tywin Lannister, alla figlia di un combattente dei Tully quando viaggia con il Mastino. E ancora: Salty nella sua traversata per Braavos; Lanna durante gli addestramenti alla Casa del Bianco e del Nero; Beth la Cieca quando le viene a mancare la vista; Mercy quand'è incaricata di uccidere Lady Crane.
Tenta di lasciarsi alle spalle Arya Stark, impara a mentire, a fingersi qualcun altro. Eppure Arya resta in lei: nei sogni di lupo, nel desiderio di tornare a casa e in quello di vendetta. In Ago, di cui non riesce a disfarsi.
Più volte durante la permanenza alla Casa del Bianco e del Nero vediamo Arya vacillare, divisa tra il desiderio di diventare Nessuno e l'attaccamento al suo passato. Alla fine la sua vera identità riemerge. Anzi. La sceglie. Diventa così brava da uccidere l'Orfana, portando a Jaqen il suo volto, ma alla fine afferma, fiera:
"Una ragazza è Arya Stark e sto tornando a casa".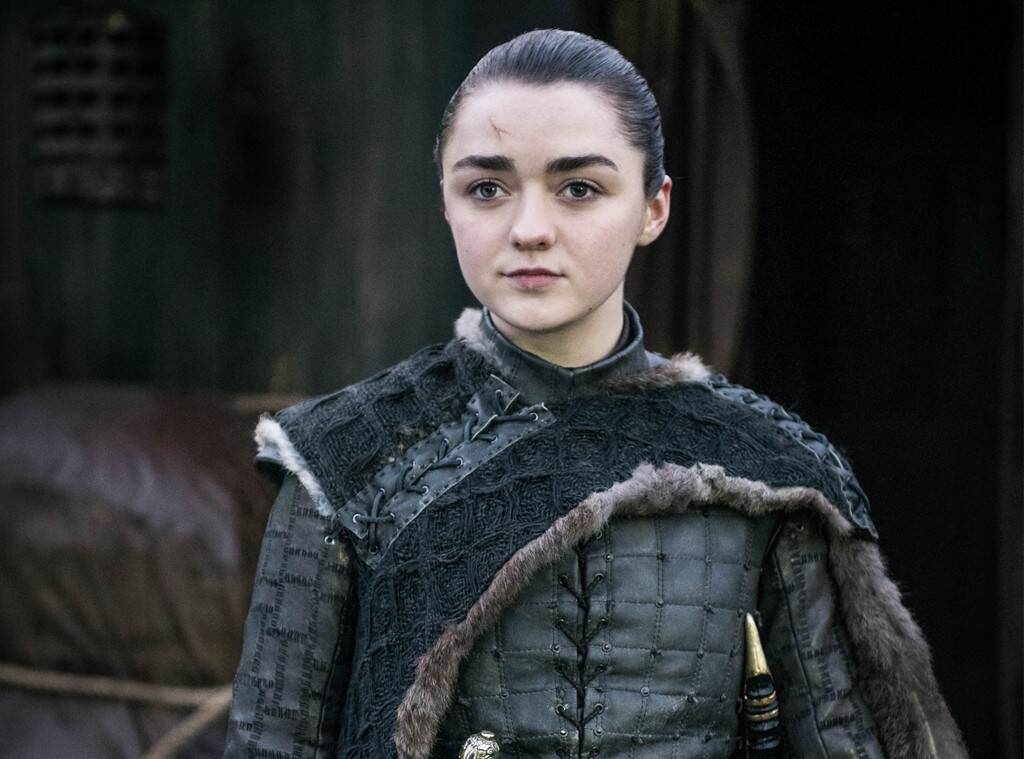 La ragazza che torna a Westeros non ha più l'innocenza e l'impulsività dell'Arya il cui mondo era chiuso tra le mura di Grande Inverno e della Fortezza Rossa. Non è nemmeno la ragazzina disperata in viaggio verso casa. Violenze, solitudine, vendetta, viaggi e allenamenti l'hanno resa una combattente molto abile (quasi al limite del sovrannaturale), una donna consapevole di se stessa e delle proprie capacità.
Più schiva, fredda e dura, ben lontana dalla chiassosa e implacabile figlia di Ned Stark.
Ma non è nemmeno Nessuno, poiché manifesta impulsi, pensieri e comportamenti caratteristici di Arya. Non vediamo in lei la devozione, elemento chiave degli Uomini Senza Volto, che sono servitori, strumenti nelle mani del Dio. Arya fa le sue scelte e alla fine segue la sua inclinazione: salpare per diventare un'avventuriera, non un'assassina.