Nulla rende più l'idea di una sconfitta come mostrare uno stendardo a brandelli sventolare nel vento. Nel silenzio. Se c'è qualcosa che Game of Thrones in questi anni ha saputo insegnarci è che si può comunicare in molti modi. Anche senza dire nulla. HBO ci ha messo a disposizione tre promo in poche ore. Tre teaser diversi tra loro ma con un incredibile e drammatico filo conduttore: la fine.
Ognuno dei promo ha un nome di lancio. Anche questo non è lasciato al caso. Nulla lo è in Game of Thrones. I prime due sono stati Together e Survival (qui potete vederli). A distanza di un giorno: Aftermath. Conseguenze.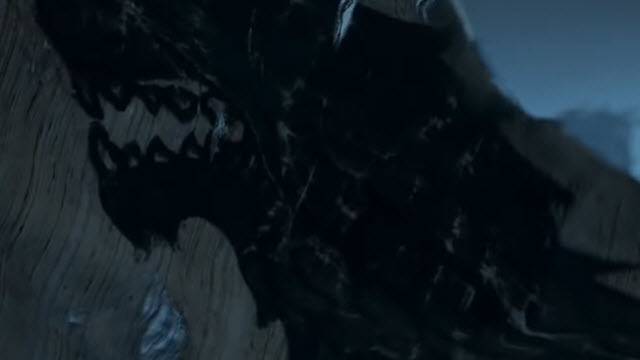 Il teaser Together mostrava varie scene d'azione. Immagini di personaggi che hanno attraversato, su lati contrapposti, molti dei conflitti che hanno imperversato finora in Game of Thrones. Tra gli altri possiamo ammirare: Cersei, Arya, Jon Snow, Tyrion, il Mastino. Ma ce ne sono molti altri. Suddetto teaser iniziava con una battuta dello stesso Tyrion, implorante verso il suo interlocutore:
Dobbiamo combattere insieme ora. O morire.
Survival, invece, risultava più "calmo". Quella quiete trepidante che anticipa la tempesta. Il silenzio di una schiera armata prima di scendere in battaglia. Nonostante ciò aveva i suoi colpi. Jaime Lannister a bordo di una nave della Flotta di Ferro piena di soldati, per esempio. E una voce fuori campo che lanciava un chiaro messaggio:
Questo va oltre la lealtà: riguarda la sopravvivenza.
Immagini chiaramente tratte da ciò che comporrà l'ultima stagione di Game of Thrones. Immagini superbe e cariche di una tensione che giustifica da sola l'attesa spasmodica del suo pubblico. Sarebbe bastato questo. Il messaggio era chiaro: combattete insieme per la sopravvivenza. Together. Survival. L'aspettativa alzata ai limiti del tollerabile. Ma no. HBO ha voluto fare di più. E ci ha mostrato le conseguenze. Aftermath.
Uno stendardo degli Stark a brandelli nel vento. Silenzio. Grande Inverno è caduta e abbandonata. La neve ricopre tutto. Solo l'algido vento del Nord a sferzare la scena.
A questo punto la camera percorre la desolazione di Grande Inverno. I segni della battaglia sono ovunque. Anche le sue conseguenze. Aftermath. Poi però iniziamo a muoverci con lo sguardo dentro il castello. Nessun suono. Nessun rumore. Solo neve, neve ovunque. Poi qualcosa avviene. L'inquadratura indugia su un piccolo oggetto. Una spilla. Nell'abbandono totale potrebbe passare inosservata. Ma non è una spilla qualunque, è la "Mano della Regina" che Daenerys diede a Tyrion nominandolo "Primo Cavaliere". Qualche istante dopo vediamo "Ago". La spada di Arya, regalo di Jon Snow.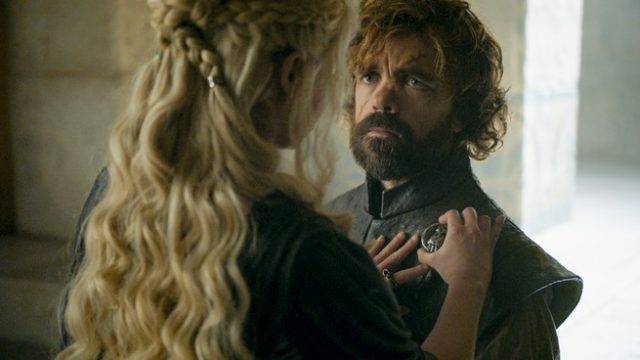 Lo sguardo della camera ci porta verso i camminamenti. Di nuovo fuori. Di nuovo neve. Un colpo di vento e una piuma si alza nell'aria. La piuma è un elemento caratterizzante in Game of Thrones. Un simbolo che lega storie e personaggi. In un primo momento ovviamente la mente ci porta a Lyanna e a quella lontana prima stagione in cui re Robert posava la piuma sulla mano protesa della statua nelle cripte. Nella quinta stagione però Sansa indossa la stessa piuma dopo averla raccolta. Quindi potrebbe essere legato anche a lei. O, perché no, a entrambe.
La piuma scende dolcemente verso la desolazione sottostante. Una ruota. L'inquadratura continua a scendere mostrando i resti della sedia a rotelle di Bran. La neve copre completamente la visuale. Solo qualche frazione di secondo. Una mano. No, non è un mano. È la mano d'oro di Jaime Lannister quella che si intravede a terra. L'immagine si rende più chiara con la neve diradata dal vento. Il moncherino dorato è a terra. Poco più in là sulla ruota di un carro, vediamo una catena. Niente è ciò che sembra all'apparenza in Game of Thrones. E quella che poteva essere una semplice catena, mentre ci avviciniamo, diviene chiaro essere una delle catene dei draghi di Daenerys.
Distruzione e abbandono. Questo è quello che ci è stato mostrato. Ma manca ancora qualcosa. Il peggio è per la fine. O forse è la fine stessa.
Nell'algido freddo del Nord l'inquadratura indugia per una frazione di secondo su un cumulo di neve. Il vento si alza e con esso la neve. Una spada. Lungo Artiglio, ancestrale arma tramandata nella famiglia Mormont e ora brandita da Jon Snow. Ma qui è sola. Semicoperta dalla neve e con l'impugnatura macchiata di sangue. L'unica traccia di rosso che spezza la monotonia cromatica del ghiaccio. Buio.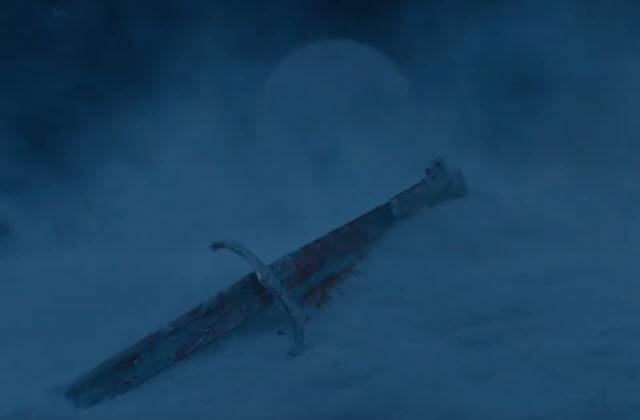 Abbiamo detto che questo Aftermath non ci presenta, verosimilmente, ciò che vedremo nell'ultima stagione di Game of Thrones. Ma non possiamo ignorare quanto fatto da HBO con questi tre promo. Together, Survival e Aftermath. Se da un lato pareva ovvio che le forze in campo a sud della barriera dovessero unirsi per combattere e sperare di sopravvivere. Questo teaser insinua il sospetto che potrebbe non bastare.
I personaggi indirettamente citati: Tyrion, Arya, Lyanna (o Sansa), Bran, Jaime, Daenerys e Jon Snow potrebbero non bastare a fermare il Re della Notte. Certo la caduta di Grande Inverno, almeno su questo possiamo concordare che non reggerà l'urto dell'orda, non rappresenta la fine di tutto. Ma a che prezzo verrà difesa? Quali e quanti cadranno prima di accettarne l'abbandono e ripiegare più a sud? Curioso che in questo teaser non ci siano accenni diretti, se non Jaime, alla regina Cersei. Riferimenti però presenti nei precedenti due promo. Quelli che davano i maggior avvertimenti: Insieme e Sopravvivenza. Come si comporterà di fronte al pericolo che avanza? Potrebbe essere lei l'ago della bilancia? Domande che troveranno risposta fra pochi giorni.
L'aspetto indubbiamente più affascinante di quest'ultimo teaser è la totale assenza di parole. Il titolo dice tutto: Conseguenze. Qualcuno potrebbe vederci un sogno di Bran. Che lo sia o meno, davvero poco importa. Nella sua algida bellezza queste immagini sono perfettamente didascaliche.
Se il Re della Notte non viene fermato non sopravviverà nulla. Un assoluto immobile e imperituro inverno sulla terra. Un equinozio infinito che si dilata fino a coprire e sopprimere ogni altra stagione.
Potrebbe anche essere una previsione di Sam, per quel che vale. Quello che davvero importa è che le conseguenze saranno sangue e distruzione. E abbandono. La bellezza di queste scene silenziose è che a loro modo urlano il proprio messaggio. Non immagini destinate alla produzione ma una sinfonica sequenza di ciò che tutti noi sappiamo accadrà: Grande Inverno cadrà. E porterà con se chiunque cerchi di impedirlo. Non ci sarà pietà o riposo. Ogni lega sara ceduta al prezzo più alto. Nel suo non dire nulla, Aftermath, ci ha parlato nel modo più sincero e cristallino di ciò che vedremo negli ultimi sei episodi di Game of Thrones: l'inverno è arrivato.
Together. Survival. Aftermath.