Lo sappiamo. L'inverno è arrivato. Mai come questa volta però HBO ci tiene a farcelo ben capire. Da pochi minuti è infatti uscito un nuovo teaser dell'ultima e conclusiva stagione di Game of Thrones. E siamo certi potrebbe non essere l'ultimo. L'attesa per il 14 aprile sta diventando spasmodica. E questa volta quello che ci viene mostrato è, se non inaspettato, certamente disarmante nella sua semplicità.
Quello che si vede in mezzo al ghiaccio e al vento è la caduta di Grande Inverno. Lo stemma degli Stark, il metalupo, che sventola sbrindellato nel gelido vento del Nord. I colori sono sulle tonalità del vitreo ghiaccio. La camera sale leggermente mostrandoci il cortile interno dell'ancestrale dimora dei lord del Nord abbandonata. Le tracce evidenti di una battaglia. L'aria è carica di sconfitta. Tutto è abbandonato e coperto di neve. Piume.
Anche in questo teaser le piume tornano come elemento scenico e drammaturgico. Ali oscure, oscure parole. Il peggio deve ancora arrivare.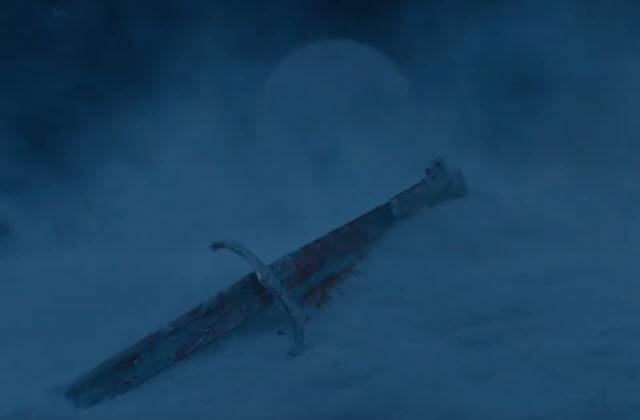 La camera sale dal basso verso l'alto a inquadrare quello che non avremmo mai voluto vedere. Lungo Artiglio, l'antica spada dei Mormont, la spada di Jon Snow a terra. Semicoperta dalla neve. La camera si allontana mostrando il portale d'accesso di Grande Inverno e la neve mossa dal vento. Buio.
Come sempre dobbiamo tenere presente che è solo un teaser. Ma mai come stavolta HBO ha voluto trasmetterci una sensazione di sconfitta. Mai come questa volta hanno voluto darci il peso di quello che sta arrivando. Tutto in questo teaser ci fa respirare l'algido vento del Nord che è arrivato per prendersi tutto. E non lasciare nulla come lo conoscevamo.
Dobbiamo resistere meno di due settimane per la stagione finale di Game of Thrones. Dobbiamo resistere più di quanto pare abbia fatto Grande Inverno? Ne saremo davvero capaci?