L'attesa per l'ultima e decisiva stagione di Game of Thrones sta raggiungendo livelli a dir poco epici. La stessa HBO infatti ha lanciato una caccia al tesoro globale che sta affascinando milioni di utenti in tutto il pianeta. Di che si tratta? È presto detto. Sono state nascoste sei copie del famigerato e ambito Trono di Spade in varie zone del mondo. HBO ha rilasciato un video di un'ora con l'immagine del primo trono nascosto.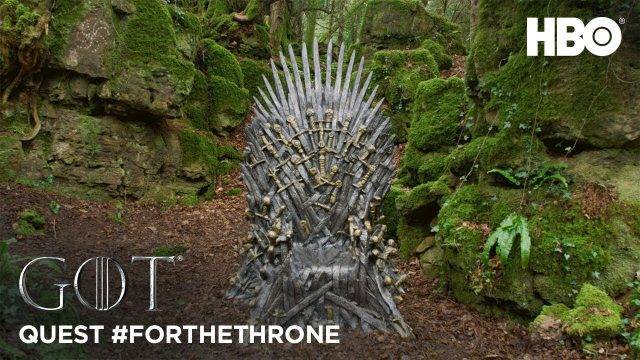 Con l'hastag #ForTheTrone, la casa di produzione della serie tv ha disseminato, in vari luoghi del mondo, sei riproduzioni a grandezza naturale dello scranno di Approdo del Re. Il trono forgiato con le mille spade che si inchinarono ad Aegon il Conquistare, primo re Targaryen, dei Sette Regni.
Sul sito ufficiale dell'iniziativa forthethrone.com è possibile visualizzare dei video a 360° dei luoghi dovo sono state nascoste le ambite sedute. Il primo video mostra il trono all'interno di una foresta. Mentre il secondo in una distesa di ghiaccio. L'ardita ricerca è anticipata da una frase simbolo di Game of Thrones, pronunciata da Oberyn Martell:
È un mondo grande e bellissimo. Molti di noi vivono e muoiono nello stesso luogo in cui sono nati e non arriviamo mai a vederne uno, non voglio essere come la maggior parte di noi
Chiunque riuscisse a scovare i troni dovrebbe poi reclamarli. Per fare questo è sufficiente farsi fotografare seduto sul Trono di Spade e postare la foto sui social con l'apposito hastag: #ForTheTrone, apputno.
Quale sarà la ricompensa per chi reclamasse il trono? Non lo sappiamo me è facile immaginare gloria e onore imperituri! Oltre a legare in qualche modo il proprio nome a Game of Thrones.
Questo gioco per i fan affianca una più sensibile e apprezzabile iniziativa. HBO infatti ha deciso di invitare il suo pubblico a donare il sangue presso la Croce Rossa, con il motto: "Westeros ha dato il sangue #ForTheThrone. Ora tocca a te. Dona oggi e salva delle vite".
Ecco il video dell'iniziativa: