Raramente abbiamo assistito a una puntata in grado di dividere il pubblico e la critica come The Long Night. Game of Thrones 8×03 ha letteralmente spaccato in due il seguito di questa straordinaria serie tv che da otto anni monopolizza la serialità televisiva. È stato detto davvero molto su questo episodio, nel bene e nel male, che in questo articolo non ci preme riaffrontare. Sarà sufficiente ricordare che una delle critiche maggiori ha riguardato la scelta di girare l'intera puntata con una resa iperrealistica dell'immagine e di conseguenza della sua fotografia. In buona sostanza la lamentela su questo aspetto verteva sull'eccesso di "buio" che rendeva, a molti, complesso seguire cosa avvenisse.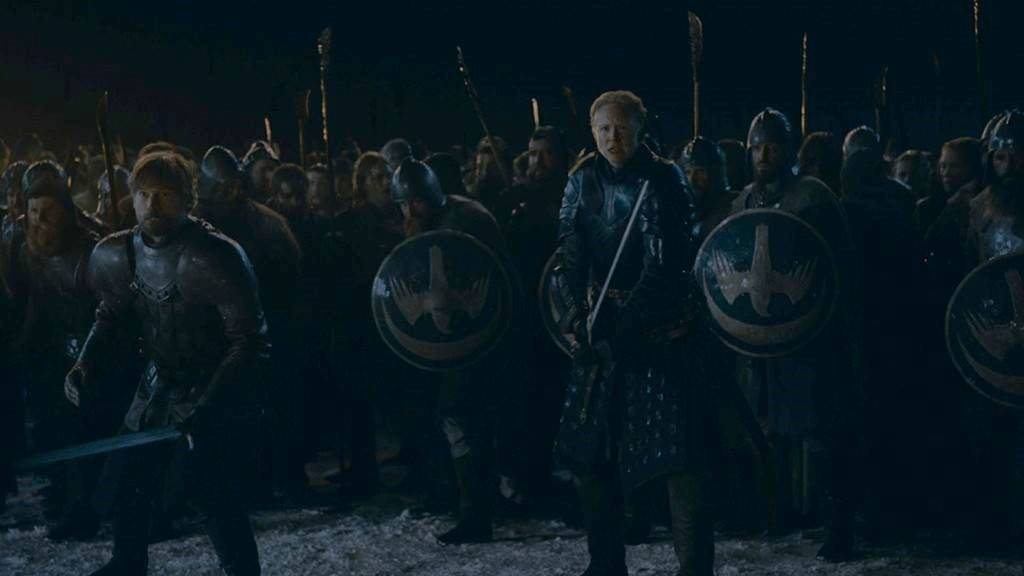 I commenti negativi sono stati in numero sufficiente da spingere lo stesso direttore della fotografia a esprimersi (qui nel dettaglio). Personalmente, per quel poco o nulla che vale, sono dell'idea che la scelta del buio mostrato non sia un problema. Può piacere o non piacere, ma rientra nella libera scelta artistica che è solo appannaggio del regista. O dell'artista in genere. Si vede solo e unicamente quello che ci vogliono mostrare. Foss'anche nulla.
Ovviamente in una situazione limite come quella di questa Game of Thrones 8×03 il mezzo tecnico utilizzato può fare la differenza rispetto alla scelta artistica. Come l'illuminazione in una galleria d'arte per ammirare un dipinto del Caravaggio. Una buona illuminazione d'ambiente può valorizzare od ostacolare la resa di ciò che ne è rappresentato. E il parallelo con Caravaggio, maestro dei giochi di luce e ombra, non è casuale.
In quest'ottica è davvero interessante il lavoro svolto da alcuni fan e canali YouTube che hanno agito sulla luminosità del filmato in modo da "aprire tutto" e permettere a tutti di vedere quei particolari che a molti potrebbero essere sfuggiti.
Cerchiamo quindi di vedere, verbo non casuale, ciò che la HBO ha ritenuto meglio oscurare. Iniziamo dall'arrivo degli Estranei, dopo la drammatica carica dei cavalieri Dothraki. Lo spegnersi delle lame infuocate che segna l'ineluttabile inizio della battaglia contro l'esercito del Re della Notte. Tutti abbiamo colto, ma sarebbe meglio dire intuito, lo sconforto e la disperazione nelle fila in attesa. Pochi sparuti cavalli che tornano impazziti dalla paura del massacro inconsapevole nel quale si sono trovati. Il video disponibile in rete ci mostra invece il dettaglio delle reazioni sui volti silenziosi in attesa.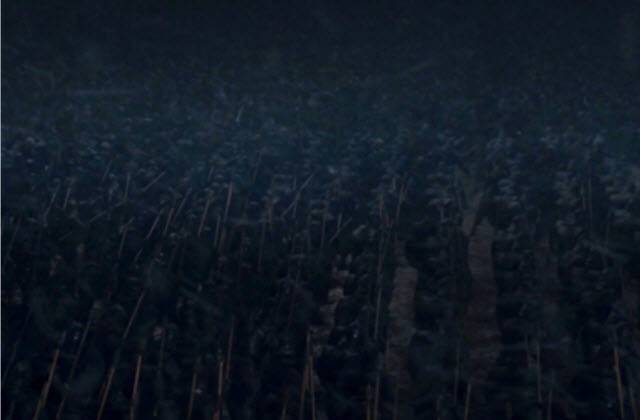 Verme Grigio che incarna l'algido spirito del guerriero forgiato da mille battaglie per un momento manifesta sgomento. Prima che l'usuale meccanica della lotta ripristini il suo controllo, con il gesto dell'elmo indossato, ci mostra un volto straniato. Forse, per la prima volta, solcato dalla paura. Gendry impietrito pare cercare conforto nello sguardo del Mastino che a sua volta tenta di perforare con gli occhi l'oscurità davanti a sé. L'oscurità che è la nostra, che è la sua. Vediamo il leggero movimento di capo con cui Jorah Mormont si rivolge a Tormund confermandogli il massacro certo dei Dothraki.
Ma sono i morti a emergere in tutta la loro catastrofica immensità. Una valanga umana, o disumana, che investe e travolge gli eserciti del Nord. Le fiere truppe del Nord, i Bruti, come gli Immacolati, non possono fare altro che indietreggiare. O soccombere. Nelle immagini schiarite si vede bene Brienne che incita chi può sentirla di non arretrare. Si vede Jaime Lannister, lo Sterminatore di Re, alzare istintivamente il braccio per difendersi dall'inarrestabile impatto. Vediamo Podrick, il Mastino e il Lord della Folgore che si battono con indomita, ma purtroppo inadeguata, efficacia.
Vediamo più di tutto i corpi dilaniati e smembrati dalla moltitudine incontenibile di morti.
Nel buio quasi totale: "Dracarys". Ecco le fiamme dei draghi che tagliano e si insinuano nell'oscurità. Nel video vediamo i dettagli di Drogon e Rhaegal che provano a pareggiare le sorti dello scontro. Le ali, gli artigli, le scaglie. Me è la tempesta di ghiaccio e vento evocata dal Re della Notte a palesarsi in tutta le sua disarmante maestosità. Come un'essenza viva che non dà scampo. Non concede speranza.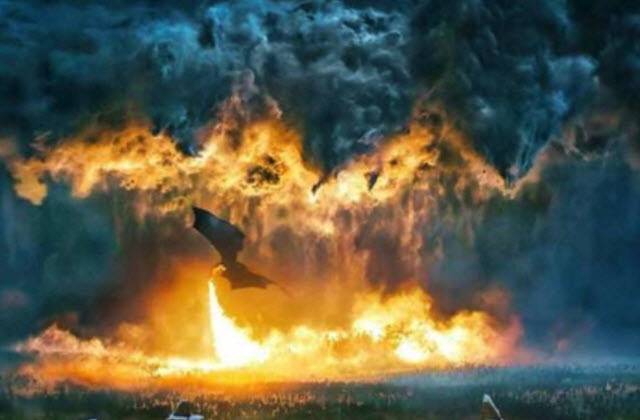 In altre due scene abbiamo la possibilità di cogliere ulteriori dettagli nei video messi su Reddit dai fan. La prima è l'epico scontro volante tra i draghi. La lotta totale tra Viserion e Rhaegal coinvolge cavalcature e cavalieri. Le immagini sovraesposte mostrano fino a che punto arrivi la violenza e la ferocia dello scontro. Riusciamo quindi perfettamente a vedere le profonde artigliate che ognuno si scambia con l'altro. Ci è chiaro quanto vicino arrivino le zanne di Viserion a Jon Snow al punto da afferrargli il mantello. Il morso profondo e potente di Rhaegal che strappa via una porzione del muso del drago morto. Vediamo tutto questo fino all'intervento di Rhaegal e Daenerys che riescono a disarcionare il Re della Notte.
Nella seconda scena disponibile su Reddit di questa Game of Thrones 8×03 siamo invece nelle cripte di Grande Inverno. L'estremo e forse inopportuno tentativo di salvare chi non poteva combattere e che si è invece tramutato in una inevitabile carneficina. Quando il Re della Notte ha attinto al suo negromantico potere per risvegliare i morti, come molti fan avevano intuito, anche gli antichi Stark lì sepolti hanno risposto al richiamo alla vita. Il dettaglio che possiamo vedere nel filmato mostra il panico assoluto che invade gli astanti. Corpi smembrati e dilaniati dagli antichi cadaveri.
Vediamo quindi la fuga di Sansa e il tentativo di Tyrion di mettere in salvo gli altri.
Quando dietro al grande sarcofago trovano riparo (inciso necessario: i momenti tra i due sono sempre eccellenti) possiamo vedere sullo sfondo donne e uomini che fuggono disperati verso una salvezza che non ci sarà. Abbandonato il loro temporaneo rifugio altri corpi si accasciano contro le statue degli Stark mentre altri vengono intercettati dai resuscitati.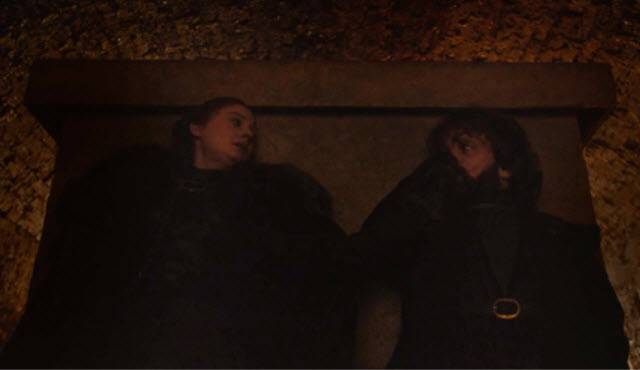 Il video infine fa luce (letteralmente!) sulla incolmabile devastazione che trovano davanti ai propri occhi gli sparuti sopravvissuti alla caduta del Re della Notte. Le cripte sono solo il pallido ricordo di ciò che erano. Le possiamo ora distinguere nella loro tremenda distruzione. Tra i resti delle statue giacciono i cadaveri di quelli che erano vivi e i corpi semi-polverizzati degli antichi Stark.
La domanda alla quale queste immagini ci conducono è solo una: sarebbe stato meglio vederle così? Davvero come sostiene il direttore della fotografia è stata solo una questione di supporto? Non vi è una risposta giusta. Ognuno di noi, con il proprio gusto e la propria esperienza di questo Game of Thrones 8×03 può e deve darsi la propria risposta. Quello che conta ora, come per i sopravvissuti alla Lunga Notte, è andare avanti. Forse con un po' di amaro in bocca per ciò che abbiamo perso.
Leggi anche – La recensione di Game of Thrones 8×03