Premesso che questo primo episodio ha generato in egual misura applausi e polemiche, siamo tutti d'accordo nel gioire per il tanto atteso ritorno di Game of Thrones (sparatevi la nostra recensione). Finalmente, dopo un lunghissimo anno e mezzo di attesa, scopriremo il nome del concorrente che potrà sedersi sul trono e regnare fino all'Happy ever after che tanto agogniamo. Purtroppo per noi non c'è il televoto, altrimenti Tormund sarebbe sul trono già da un paio di stagioni, ruttando e dando soddisfatte pacche nel sedere a Brienne mentre ricorda a Jon Snow che l'ha visto nudo e ce l'ha piccolo.
Un paio di considerazioni a caso (non richieste) sulla 8×01 di Game of Thrones.
Partiamo dal principio, che dite? Jon e Daenerys, dopo aver fatto un ingresso in pompa magna a Grande Inverno, che negli abitanti del posto ha generato meno entusiasmo della vittoria a Sanremo di Giò di Tonno e Lola Ponce nel 2008, decidono di uscire in esterna e lanciarsi in un diabetico ed evitabilissimo garino tra i monti innevati del Nord che solo se Fierobecco e Falkor si fossero aggiunti alla competizione ci avrebbe fatto sbadigliare di meno. Non contenti, decidono di limonare (male) in una radura innevata sotto l'occhio apparentemente geloso del drago Drogon. Ecco, io mi chiedo: perché a cinque giorni dalla messa in onda nessun genio ispirato della rete si sia ancora lanciato nella creazione di un meme di Drogon con tanto di nuvoletta in testa che pensa "Fai poco il fenomeno Romeo che quella è tua zia"? Comunque sia, volendo fare dell'ironia oppure no (e sì, mi dispiace ma qui vogliamo farla per cui se siete irritabili scegliete una serie meno avvincente a cui appassionarvi!) il tempo dedicato a questa scena stile "Desideria e l'anello del drago" potevano dedicarlo ad altro. A mostrare il povero Bronn ad Approdo del Re, ad esempio.
Gli Stark sono di nuovo tutti sotto lo stesso tetto!
Ma della gioia di questa cosa ne vogliamo parlare? Meglio farlo perché considerata la mobilità espressivo facciale dei quattro protagonisti può sembrare che gliene freghi meno del meteo del 21 a chi lavora a Pasquetta (eroi… un giorno ci sarà una serie anche su di voi!). E a meno che non saltino fuori foto compromettenti di un botox party della sera prima delle riprese della scena che giustifichino le performance, restiamo tutti un po' perplessi.
Sempre a Grande Inverno, Daenerys ci tiene a far notare a Jon che ha capito di non piacere a Sansa. Lui cerca di farle capire che la sorella ha creduto fin da bambina di avercela di traverso e quindi di non prendersela troppo ma Daenerys è pur sempre una ragazza per cui gli dice: "Sì ok, tanto che mi frega, mica deve diventare la mia migliore amica". Ma poi gli fa notare che lei è comunque la regina per cui sti c***i, però pensa lo stesso: "Sia chiaro che non m'importa nulla di quella lì, però se non m'invita a fare l'happy hour con Arya e Brienne poi mi sente". Sì, perché Jon ormai è rimasto l'unico uomo di casa Stark.
Bran è ufficialmente entrato a far parte della categoria arredi da giardino, tanto che a nessuno crea problemi lasciarlo una notte all'agghiaccio (sì ok, però almeno il telo sopra metticelo che poi c'è umidità e si rovina la vernice) e quindi è destinato a ritrovarsi con due pianeti tra le gambe entro la fine del mese.
Tyrion ormai l'abbiamo perso. Fa battute scontate che persino il povero Varys, che dopo la spoilerata da parte di Melisandre nella stagione scorsa si guarda giustamente intorno con l'aria di uno a cui stanno per fare un esame della prostata a tradimento, gli dice: "Sì va beh bravo, faceva più ridere Hodor."
No aspettate, Hodor. Ma solo io ho una paura folle di vederlo tra le file degli Estranei che tenta di rifarsi su Bran per tutte le volte che lo ha scarrozzato in giro come uno zaino Invicta?
Torniamo a Tyrion e scusate il lapsus ma il mio cuore non si è mai ripreso.
Tyrion, oltre che alla sua verve da cabarettista, ha decisamente perso le sue doti politiche. Appena alla riunione di condominio in casa Stark l'aria inizia a farsi tesa, neanche Jon avesse chiesto agli altri condomini di accollarsi la tassa delle spese condominiali di quello disoccupato del terzo piano, il piccolo Lannister decide di intervenire in difesa dello stesso. Parte bene, sta quasi per placare gli animi, poi se ne esce con un "..e i Lannister stanno arrivando per rubarvi il Natale!", generando un brusio di commenti contrariati che neanche nel salotto della De Filippi il giorno della Scelta. Ah sì, e pure Sansa lo prende in giro, consigliandogli di darsi una svegliata. Sansa… a Tyrion, ok.
Quello di Westeros è diventato un mondo senza legge e senza Dio, gente.
Si va beh, ma non gira tutto intorno a Grande Inverno, giusto? Cersei che fa? Cersei ad Approdo del Re recluta gente e valuta la sua prossima mossa, ancora palesemente contrariata circa quello che è successo durante la fine della scorsa stagione e decide di prendere provvedimenti. Eh sì, perché non le è andata giù la figura becera che ha fatto quando si è tenuta da lei la riunione di condominio l'ultima volta, sorvolando sugli spuntini portati da Snow (la carne aveva decisamente una brutta cera, poco conta se poi l'ha fatta flambè!). Dopo essersi studiata l'ingresso a dovere, con guardie, cappe dorate e Montagna al seguito (e ovviamente il solito sguardo di una a cui continuano a fare lo stesso taglio di capelli alla Nino d'Angelo da due stagioni a questa parte), arriva alla riunione.
Ma non solo c'è chi arriva dopo di lei, ma le scippa pure l'entrata a effetto. Per fortuna in questi giorni è uscito il trailer del live action di Aladdin e non potendo scritturare Will Smith all'ultimo minuto, prova almeno a scippargli l'idea dell'ingresso trionfale ad Agrabah in groppa agli elefanti, ma nemmeno questa gli riesce. "Qualche testa rotolerà presto per questo" direbbe un'altra famosa regina. Per fortuna non quella di Euron, che portavoce del verbo "chi l'ha dura la vince", chiede alla sovrana di compilargli il foglio di valutazione della fine dello stage dopo essersela portata a letto. Questa, avendo Qyburn come ginecologo, butta giù bicchieri di vino e fa sesso senza paturnie nonostante sia incinta.
Attendiamo con ansia il momento in cui Euron ruberà qualche famosa movenza a De Sica per aggiornare Jaime sui suoi progressi con la Regina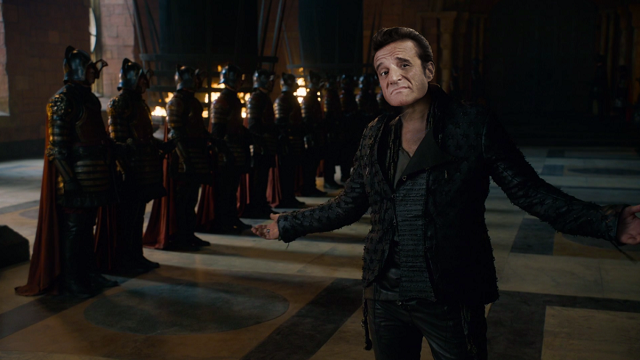 Concludiamo la prima puntata de I #DeliridiSpade con il momento What the f**k che più ha soddisfatto i fan di Game of Thrones, quello su cui quasi nessuno ha avuto da ridire.
Protagonista Jaime Lannister, l'uomo a cui non fa paura neanche Equitalia, che riscopre il suo onore e decide di andare a Grande Inverno per contribuire alla causa, nonostante sia consapevole che al suo arrivo ci sarà chi dovrà prendere il biglietto per fare la fila insieme a gli altri che vogliono fargliela pagare. Arriva a casa Stark, scende da cavallo, si guarda intorno sorridendo (inspiegabilmente), poi si accorge che il Mastholmen dell'Ikea in cortile è in realtà il povero Bran, ancora vivo, divenuto in teoria un supercazzuto veggente. Ma forse poi non così tanto visto che, anche se volendo potrebbe rivedersi il goal di Grosso a Berlino nel 2006 quando gli pare, non riesce comunque a prevedere l'arrivo esatto del suo arcinemico.
Infatti Bran, per non perdersi l'effetto a sorpresa e il momento dell'arrivo del suo ospite (ne hai ancora da imparare sull'argomento giovane Cersei, figlia dell'estate), decide di passare la notte in giardino, consapevole che da quando non ha più la povera Meera al suo servizio potrebbe anche attraversare la terza dimensione in sedia a rotelle e nessuno noterebbe la sua assenza.