Game of Thrones 8 è arrivata, come l'inverno che ci ha sempre annunciato. E l'inverno è cambiamento. Tra gli elementi più caratteristici e riusciti di questa straordinaria serie tv targata HBO c'è indubbiamente la sua iconica sigla d'apertura. Una sigla che non è solo esercizio stilistico di altissimo livello, ma è fin dal suo esordio elemento funzionale, nel corso delle stagioni, per assolvere a necessità narrative.
Due le caratteristiche principali. La prima quella di fornire al pubblico la visione d'insieme degli scenari in cui si svolge la narrazione. L'opening riesce letteralmente a fornire una mappa chiara dei luoghi e degli spazi della scena. Un po' come avviene nei libri, soprattutto fantasy, in cui l'autore si preoccupa prima di mostrare dove avverranno gli eventi. Quando vediamo la sigla, insomma, abbiamo una geografia chiara e diretta. Il secondo aspetto, non meno importante, è stato quello di raccordo. Ricordare allo spettatore dove si trovassero i personaggi principali dell'episodio rispetto al precedente ed evidenziare i punti salienti nella narrazione del singolo episodio che stava per incominciare.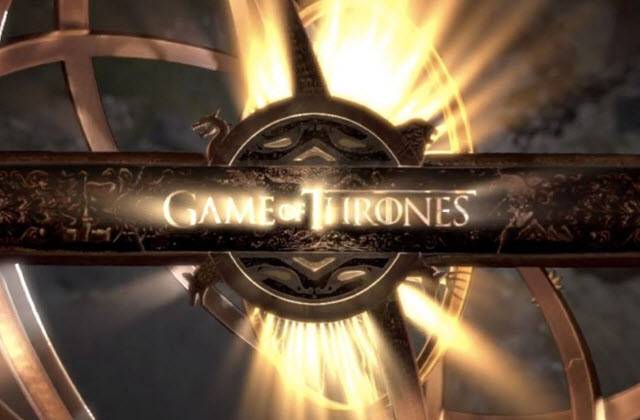 Tutto questo in Game of Thrones 8 cambia. La nuova sigla sposta letteralmente le intenzioni della produzione dall'aspetto narrativo a quello funzionale, potremmo dire drammaturgico. E questo avviene con un movimento di camera dall'esterno verso l'interno, sottolineando una volta in più la centripicità del Trono di Spade. Ma andiamo con ordine.
Quali sono le ragioni che hanno spinto Elastic, che si occupa degli opening credit di Game of Thrones, a modificare funzionalmente la sigla? Diverse, ovviamente. Le nuove tecnologie e la crescita della CGI, indubbiamente, che hanno permesso di andare oltre quanto già fatto. Scendere in un livello di dettaglio mai visto prima e non permesso quando la sigla fu inizialmente pensata.
Ma, anche, come hanno avuto modo di dichiarare in questi giorni Angus Wall e Kirk Shintani, i due direttori creativi della Elastic:
"Entrando nell'ultima stagione, non siamo necessariamente tenuti a continuare a creare queste location, perché tutti sanno dove si trovano e cosa rappresentano. Ci ha dato la possibilità di immergerci un po' più in profondità in ognuna delle location e non preoccuparci di dover localizzare il pubblico. […] È stato bello essere in grado di esplorare a fondo queste diverse località in questa stagione, mentre visiteremo sette località diverse nel corso della sequenza del titolo. Le telecamere dovevano solo trasportare il culo da un luogo all'altro per adattarsi a sei o sette località. Questo era un po' più maestoso".
E maestoso è la parola giusta. Come abbiamo spiegato anche in questo articolo, l'apertura di Game of Thrones 8 ci mostra infatti tutto il lavoro svolto. Le familiari note dello splendido tema composto da Ramin Djawadi ci riportano immediatamente a Westeros come se il tempo dall'ultimo episodio visto non fosse mai passato. Il consueto astrolabio ci mostra già una prima grande novità, delle tante che annunciano l'inizio di Game of Thrones 8. Non il cervo ma il drago. Rispetto alle passate stagioni l'immagine d'apertura è il crollo della barriera da parte di Viserion cavalcato dal Re della Notte. Lo stile "meccanico" della sigla è ovviamente rimasto immutato. Troppo iconico e troppo perfetto per poterlo mutare. Ma se non varia la forma necessariamente deve variare la sostanza.
Il movimento della camera sembra quasi ripercorre l'attacco dall'alto del drago verso la Barriera. Il punto di vista attraversa l'apertura ruotando di spalle. Elegante, raffinato e decisamente interessante. Il punto di vista quindi per la prima quarantina di secondi è principalmente "all'indietro". La camera si allontana dalla Barriera e ci mostra cosa accade dietro di noi. L'avanzata degli estranei mirabilmente rappresentata da uno strato di ghiaccio che si compone e avanza verso sud.
Già questo movimento visivo nel suo complesso è una seconda novità. Ma il susseguirsi incalzante dei cambiamenti non ci permette di soffermarci oltre.
Fin'ora anticipazioni non ne abbiamo avute ma, come detto, questa nuova sigla è qualcosa in più di una semplice mappa. È narrazione. L'inquadratura sorvola Ultimo Focolare, l'antica roccaforte degli Umber. Notiamo una spirale avvolgere l'antico castello. Senza bisogno di spoiler se avete visto il primo episodio ne capirete la rilevanza funzionale.
A questo punto lo sguardo riprende il suo viaggio verso sud. Ancora con un movimento dapprima frontale e poi posteriore. Winterfell. Grande Inverno. I miglioramenti tecnologici messi in campo sono ora evidenti. Il dettaglio di Casa Stark è già impressionante. E non è ancora nulla. Scendiamo fino a sfiorare il grande Albero Diga e ci tuffiamo, di nuovo, all'indietro. Ecco la vera grande novità di questa nuova sigla per Game of Thrones 8: siamo all'interno di Grande Inverno.
Con il consueto meccanismo della costruzione animata vediamo comporsi gli interni: non più, dunque, solo le città dall'alto ma l'interno dei luoghi fondamentali. Dapprima la Sala Grande, dove si svilupperanno alcuni dei momenti principali il primo episodio. E poi le cripte. Lo stesso Shintani ha sottolineato la complessità della gestione dell'illuminazione di questo passaggio. L'effetto tremolante delle candele è realmente superbo.
Di nuovo l'astrolabio. E una nuova scena. Abbiamo appena lasciato Grande Inverno e ciò che vediamo non può che essere legato agli Stark. In una sola immagine ci viene presentato il tema del tradimento. Una serie di riferimenti racchiusi in pochi frame. Il meta-lupo impalato alle torri gemelle dei Frey con il loro richiamo alle Nozze Rosse. Il leone Lannister a osservare la scena. La testa mozzata del meta-lupo, simbolo evidente della decapitazione di Ned Stark. Infine l'uomo scorticato che la sorregge, emblema di Casa Bolton. In pochi secondi è racchiusa la storia recente degli Stark. Sublime.
Nuovo cambio scena. Dall'alto, Approdo del Re. La visuale in volo radente ci mostra la consueta costruzione della città. Attorno a noi questa volta.
Si parte dalla Fossa del Drago per addentrarci poi all'interno della Fortezza Rossa con una discesa frenetica da una delle torri. Vediamo quindi i sotterranei della fortezza dove possiamo ammirare la grande balestra ammazza draghi e l'imponente teschio di Balerion. Un presagio? Lo scopriremo presto.
Arriviamo nel cuore di ciò che sarà Game of Thrones 8. La sala del Trono di Spade. Mentre si compone l'ambito scranno alle sue spalle vediamo capeggiare lo stemma dei Lannister. Qui il riferimento è duplice. Da un lato ovviamente Cersei, colei che per ora siede sul trono. Ma dall'altro e forse più importante il nocciolo stesso di questa conclusiva stagione. Chi siederà sul Trono di Spade? Una sigla dunque che dalla funzione narrativa che sempre ha svolge, in questa conclusiva stagione, anche un aspetto drammaturgico.
Si sarebbe potuto chiudere qui. Ma sarebbe suonato troppo didascalico. E una sigla che già nasce didascalia dei luoghi della narrazione, non poteva terminare così.
L'effetto centripeto tramite il quale dall'esterno delle città sono arrivati nell'intero degli edifici si riflette anche nella circolarità della sigla. Si parte dall'astrolabio e lì si deve chiudere.
Abbiamo iniziato con un drago, Viserion, che abbatte la Barriera e con i draghi si deve terminare. L'ascesa di Daenerys Targaryen, la Madre dei Draghi. Per pochi secondi abbiamo un'immagine molto potente con cui ci viene riportata l'attenzione su di lei. Un astro nascente sullo sfondo di cavalli inginocchiati d'innanzi ad un gigantesco drago, anticipato da tre più piccoli. Il riferimento ai dothraki e alla "Non Bruciata" è così evidente che averlo tenuto come ultima immagine prima della fine della sigla non può essere un caso.
Rispetto agli anni passati Game of Thrones 8 ha deciso di sorprenderci fin dalla sua sigla iniziale. Quella che è sempre stata una piacevole e coinvolgente overture è diventata da oggi qualcosa in più. È divenuta anch'essa parte integrante l'epica e superba narrazione delle vicende del Trono di Spade.