Attenzione: evitate la lettura se non volete imbattervi in spoiler su Game of Thrones 8×01
Persino la casalinga di Voghera, la stessa che di solito bingewatcha ferocemente le fiction più becere, ha atteso impazientemente questo momento per due, infiniti, anni: Game of Thrones , "la serie violenta col nano, i draghi e gli zombie" è tornata. Eccome se è tornata. E l'ha fatto con un episodio in cui è successo di tutto mentre non succedeva praticamente niente, come in fondo capita sempre nelle puntate migliori.
Perché dobbiamo dirlo: vi aspettavate i botti, eh? Volevate le grandi guerre e le morti eccellenti fin dal primo episodio, vero? Niente, dopo due anni d'astinenza vi siete beccati la solita decina di riferimenti alla carenza di attributi tra gli uomini di Westeros, qualche flirt (fan)servito sul piatto d'argento, un mascellone a caso e una scena romantica che manco Gli occhi del cuore nelle sue giornate peggiori. Ah, e Jon che non deve più attendere il ritorno di Ned Stark per capirci qualcosa, col Night King che fa l'artista. E Bran che guarda male tutti. E Bran che guarda male Jaime che guarda basito Bran mentre i draghi guardoni guardano male Jon.
Niente male, vero? Niente male, ragazzi. Davvero niente male, anche se a molti non è piaciuta. Non è andata giù, perché tutto sommato siamo arrivati alla 68esima puntata su 73 e non abbiamo ancora capito manco che diavolo voglia quel discolo palliduccio e taciturno che vuole ammazzare tutti. Tutti, esclusa la casalinga di Voghera che gli direbbe di parlare di più, mangiare qualcosa e prendere un po' di sole. Ma ora basta con i convenevoli: siamo qui per dare i voti. Alla 8×01 di Game of Thrones. E pure a Dumbo, senza dimenticare il dragone tamarro.
LE PAGELLE DI GAME OF THRONES 8X01
BENVENUTA AL NORD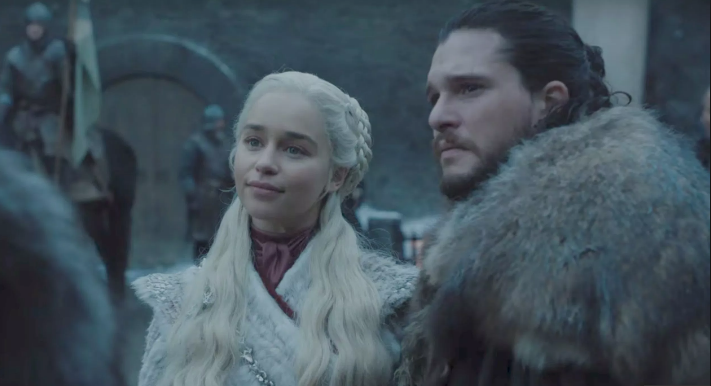 Partiamo, ovviamente, da quello che è successo a Winterfell. Jon è tornato a casa per presentare la nuova fiamma alla famiglia, ma non tutto è andato per il verso giusto. La fidanzata, ricchissima e dall'alto lignaggio, infatti, non si è presentata benissimo: convinta di poter ottenere dal Nord il reddito di cittadinanza per migliaia di Immacolati, un'orda di Dothraki e due mastodontici animali domestici, sperava di poter scroccare pasti e posti letto per tutti in un clima gelido da spending review. Chiedendo inoltre di giurare fedeltà, allo stesso tempo, ai duri uomini del Nord, da poco indipendenti e reduci da anni e anni di sventurate avventure con chiunque arrivasse dal lontano Sud. Tutto ok, no?
Sansa, ovviamente, non l'ha presa benissimo, e all'urlo di "prima i nordisti" ha mandato a quel paese la cognata e pure il frate… cugino. Siamo convinti che i guai che causeranno i milioni di non morti in arrivo appianeranno le sottili divergenze tra gli Stark e il resto del mondo, ma è innegabile che Dany non sia partita col piede giusto. A differenza del Mastino, che ha un modo tutto suo per mostrare il suo affetto nei confronti di Arya. Di Gendry, che flirta con la stessa come se non ci fosse un domani (situazione tra l'altro possibilissima). E di Podrick. Uno che non abbiamo sentito parlare, ma che siamo convinti stia facendo strage di cuori nei migliori bordelli di Winterfell.
Daenerys non ha portato manco il vino – VOTO 0
Jorah marca a uomo Daenerys dopo l'annullamento dell'ordine restrittivo – VOTO 8 (millimetri di distanza)
Jon sfotte la sorellona sapientona e sfida Arya a chi ce l'ha più grossa. La spada – VOTO 4 (anni d'età)
Sansa è diventata la figlia che Cersei e Ditocorto non hanno mai avuto – VOTO 30 (e lode)
L'insuperabile affetto paterno del Mastino nei confronti di Arya – VOTO 100
L'inarrivabile dignità di Sam – VOTO 1000
DROGON SPECIAL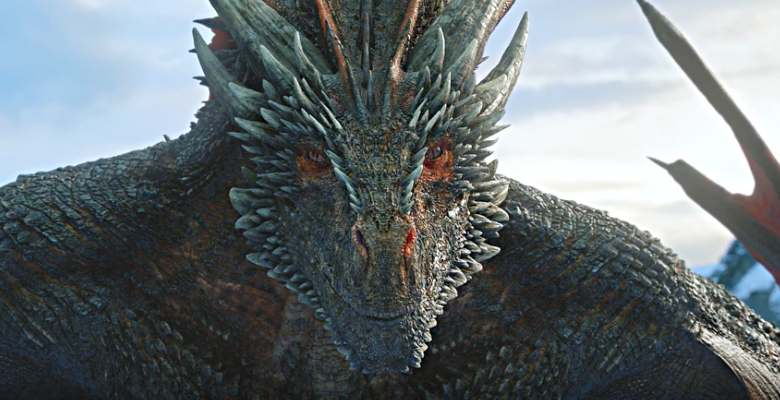 Poi c'è la scena. Quello strano momento in cui gli sceneggiatori de Gli occhi del cuore hanno fatto irruzione con un mitra negli uffici di D&D e li hanno obbligati a dar loro un'occasione. Perché non ci spiegheremmo in altro modo le improbabili lezioni di guida di Jon con Daenerys. E ancora di più quella sequenza melensa che… boh. Con Dany che ha ripreso pari pari le battute di Ygritte nella caverna. Harington che non sa limonare manco per finta e ha con la Clarke la stessa chimica che hanno Lena Headey (Cersei) e Jerome Flynn (Bronn) dopo la loro rottura.
Con i draghi guardoni e perplessi, trattati dalla coppietta di ragazzini come se fossero due cinquantini modificati e tamarrissimi. Così, de botto. Senza senso, con valanghe di dollari di CGI buttati a caso. Le montagne del Nord di Westeros non sono i colli bolognesi, ma è chiaro che qualcuno, capace allo stesso tempo di scrivere la scena meravigliosa con Jon e Sam, abbia esagerato col vino.
Anche se abbiamo un dubbio: guardate bene la faccia che ha fatto Drogon al momento del limone famigerato. Guardatela bene, perché ci ha ricordato lo sguardo frizzante e pieno di vita di un ragazzino che conosciamo molto bene.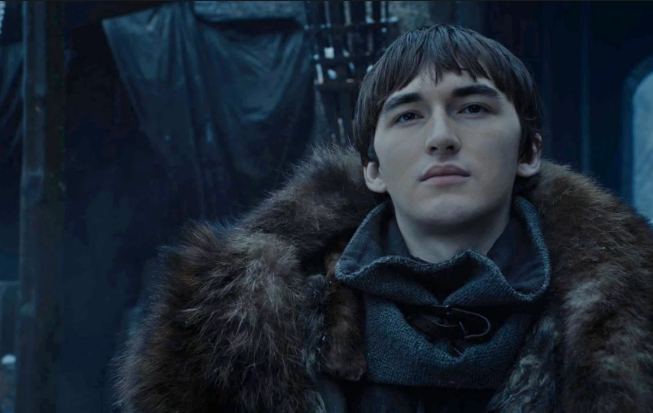 Bran, fatti una vita.
Meno male che Rhaegal ha il cambio automatico – VOTO 8
Persino Drogon ha capito molto più di Jon – VOTO 8
Jon porta la ragazza nello stesso posto della prima volta con l'ex – VOTO 3
Manco Moccia – VOTO 3 (metri sopra il cielo)
SOGNANDO DUMBO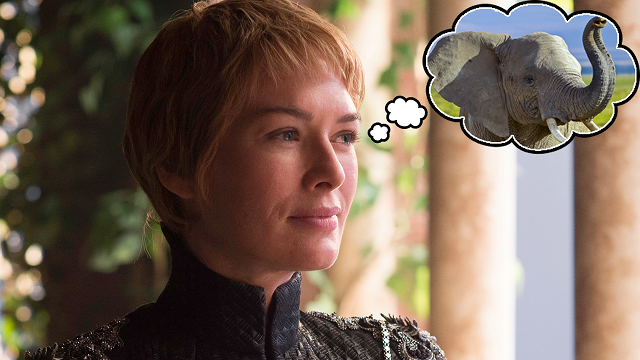 A King's Landing, intanto, la Mad Queen se la spassa. Brinda all'avanzata dei non morti verso Winterfell, concede una notte di fuoco a Euron e si gode i ventimila uomini della Golden Company, "faticosamente" conquistati con l'oro dei Tyrell e l'ennesimo prestito della Iron Bank. Ma anche qua non tutto è andato per il verso giusto.
Mancano gli elefanti.
Cersei voleva gli elefanti. Perché voleva gli elefanti? Non è sufficiente il live action di Dumbo? Perché li voleva con tanta determinazione?
Abbiamo elaborato qualche teoria a riguardo.
Voleva volare in groppa a uno di loro. Mica dev'essere un'esclusiva dei draghi.
Voleva darne uno a Qyburn per fonderlo con la Montagna.
Sono meno fastidiosi degli esseri umani.
Voleva un Maestro del Conio dalla memoria lunga.
Voleva spacciare la presunta discendenza Lannister/Baratheon di uno di loro per metterlo sul Trono di Spade dopo la sua morte.
Optiamo per la due, senza alcun dubbio. Anche se la uno è piaciuta a mezzo mondo.
Il Ridge Forrester della Golden Company morirà male dopo tre puntate e due battute – VOTO DICKON TARLY
Qyburn ha giocato per due anni con la mano del non morto – VOTO 9
Euron si fa fregare da Theon e non porta la ragazza al cinema. Anche se ha lo sconto pirati – VOTO 2
La Montagna è molto più espressiva di Jon – VOTO 10 (sotto minaccia)
GAME OF THRONES 8X01 – GLI OSCAR DEL TRONO
VOLEVO LA VIGNA AWARD – TYRION LANNISTER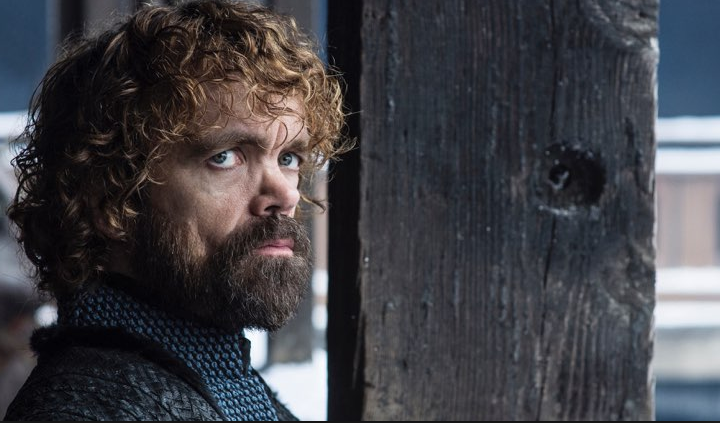 No, non lo riconosciamo più. Si fa zittire da Varys per l'ennesima, scontata, battuta sugli eunuchi, cerca di conquistare il difficile pubblico del Nord promettendo l'arrivo dei Lannister (i Lannister!) e si fa maltrattare dall'ex moglie come se fosse l'ultimo arrivato. Carissimo Tyrion, che fine hai fatto? Rivogliamo il genio di un tempo, subito. E ricordati, prima o poi, di raccontarci come finisce la storia dell'asino e l'alveare.
ERA UN'INSTALLAZIONE ARTISTICA AWARD – IL NIGHT KING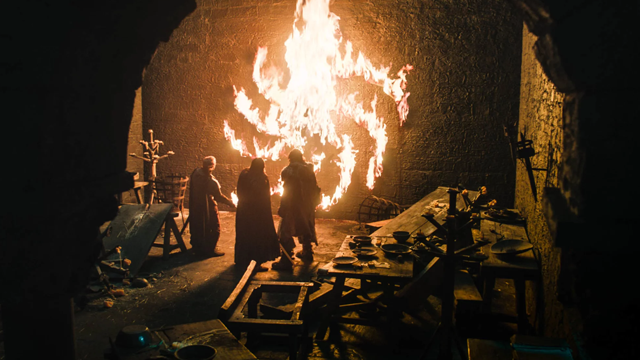 Anche Hitler, da giovane, voleva fare il pittore. Stiamo attenti agli artisti falliti. Teniamoli sotto controllo con grandissima cautela.
MI MANCA HODOR AWARD – BRAN STARK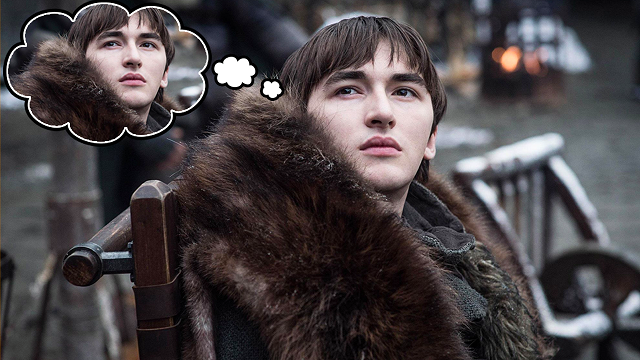 Nessuno si è messo il problema di portarlo dentro, vero? Cinquanta minuti fermo in quel dannato cortile, a guardare male tutti con quell'arietta creepy che il Night King, a confronto, è un compagnone di bevute. "Aspettava un vecchio amico", dice. Ma Hodor, probabilmente, non arriverà mai.
HO SEMPRE AVUTO GLI OCCHI BLU AWARD – TORMUND GIANTSBANE
Grazie.
IL TOTOMORTO
THEON GREYJOY (99,9%)
(Non) è stato un piacere, Theon.
JAIME LANNISTER (85%)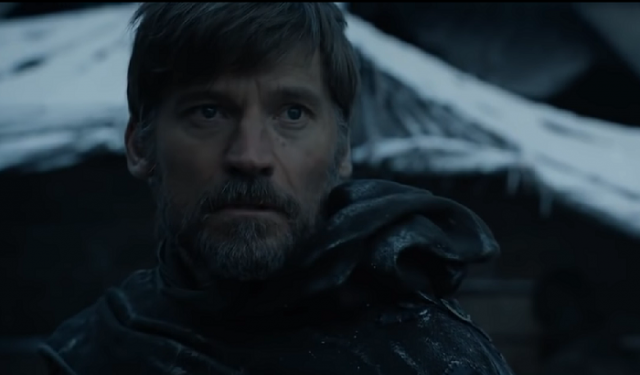 Jaime si è presentato da solo a Winterfell (sì, Winterfell), accolto da Bran Stark (sì, Bran Stark). Per incontrare la figlia del Re pugnalato alle spalle (sì, lei) e un esercito di non morti che bussa alle porte (sì, loro). Fate un po' voi.
BRONN (55%)
Avremmo voluto dargli il Coito interrotto Award, ma erano finite le statuette. Dovrà accontentarsi di una valanga d'oro per ammazzare con una balestra le due persone al mondo che più si avvicinano alla sua idea di amicizia. Fai la cosa giusta, carissimo.
LYANNA MORMONT (0,1%)
Ma chi l'ammazza questa.
IL TOTOTRONO
JON SNOW (60%)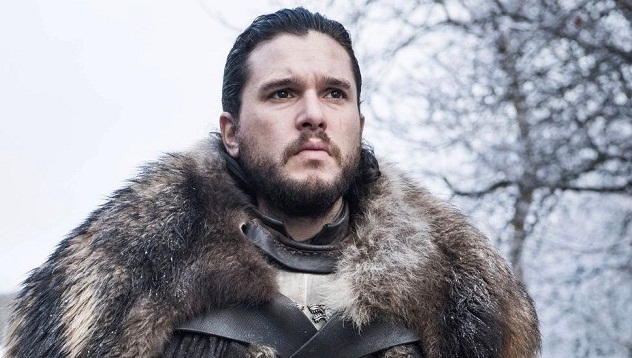 È davvero necessario dare una spiegazione?
SANSA STARK (38,8%)
Magari su gentile concessione del cugino Targaryen in seguito alla dipartita della cognata. E ora provate a pensare come avreste reagito otto stagioni fa di fronte ad un'affermazione del genere.
OLENNA TYRELL (1%)
Ha più possibilità lei da morta che un milione di persone vive.
IL GATTO DI TOMMEN (0,1%)
I gatti ottengono sempre tutto quello che vogliono, e lui ha più carisma del suo vecchio padrone. Poi è morto solo una volta.
FRITTELLA (0,1%)
Noi ci speriamo sempre.
Antonio Casu