Finalmente ci siamo, la tanto agognata Game of Thrones 8 è finalmente a nostra disposizione. Le teorie che abbiamo formulato in questo ultimo anno sono tantissime (leggi l'ultima qui), come le speranze dei fan più fedeli riposte nella clemenza degli autori di non sacrificare i propri personaggi preferiti. Soprattutto ora, che solo cinque episodi ci separano dal The End definitivo.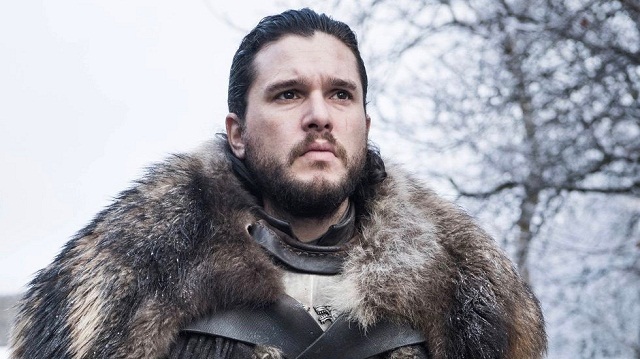 Ora, premesso che questo primo episodio di emozioni forti non ne ha regalate moltissime, laddove per emozioni forti parliamo chiaramente di morti e colpi di scena sconvolgenti, ci sono un paio di cose su cui ormai in molti hanno alzato un sopracciglio. Se non altro a causa dell'attesa spasmodica che abbiamo accumulato in questo lungo anno senza notizie da Westeros.
Alcune aspettative sono state ampiamente sublimate, tipo l'attesissima reunion dei fratelli Stark sopravvissuti (va beh, Bran ormai ha l'emotività dirompente di uno che alla recita scolastica delle medie impersona il sole sullo sfondo, ma ormai ce ne siamo fatti una ragione).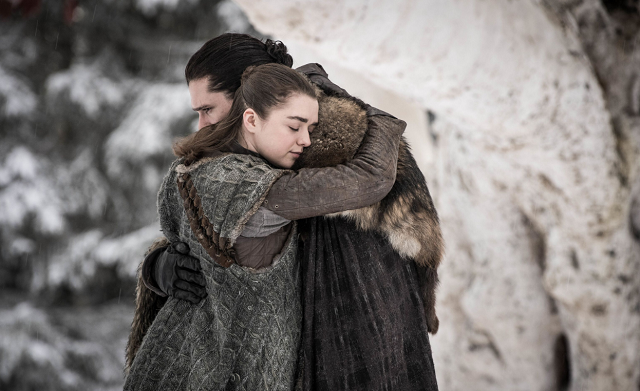 Per fortuna ci pensa Arya a sbloccare finalmente la sua di emotività, tornando a saltare tra le braccia di Jon come quando l'abbiamo conosciuta nella prima stagione, quando era solo una bambina troppo vivace per il suo rango. Anche l'incontro tutto sguardi taglienti e sorrisi abbozzati tra le due lady di ferro ha tenuto fede alle aspettative,Sansa (ormai le vogliamo bene da quando si è fatta malmenare da tutti i Sette Regni diventando una fredda, lucida e a tratti persino sarcastica capoclasse) e Daenerys, che dal canto suo ci tiene a precisare subito che lei ce l'ha più lungo.
Non importa cosa, è più lungo di quello degli altri e basta.
Quello che ha fatto alzare più di un sopracciglio invece è stata la decisione di come rivelare al vero erede del trono la verità circa la sua nascita e il suo rango. È dalla fine della sesta stagione che aspettiamo di vedere la faccia di Jon nel momento in cui gli verrà rivelata, e soprattutto a chi toccherà l'onore della più grande rivelazione di questa stagione. Capisco che non ci fosse esattamente l'imbarazzo della scelta, gli unici a saperlo erano l'ormai cugino Bran e l'amico del cuore Sam Tarly, e nessuno dei due, per un motivo o per l'altro, sembrava proprio idoneo al ruolo. Però ammettiamolo: il momento della rivelazione ce lo siamo veramente immaginato diverso.
Ma partiamo dal principio e cioè da quando abbiamo sentito il primo scricchiolio.
Allora, abbiamo Daenerys, accompagnata dal ritrovato e fedelissimo Jorah, che vuole conoscere l'uomo artefice della salvezza dell'amico. Quattro chiacchiere fatte di convenevoli e sorrisi e poi salta fuori che Daenerys ha giustiziato padre e fratello di Sam. Comprensibile la reazione del compagnone Tarly che inizia, ovviamente, a piangere, così come quella di Jorah e della Madre dei Draghi, i quali sembrano due che hanno appena detto a un bambino che Babbo Natale non esiste la sera della vigilia. Capiamo anche che Sam sembra essere l'unico in tutto il Nord a porgere alla giovane Targaryen il rispetto che merita, al contrario di tutti gli altri che la studiano guardinghi come se temessero che sia lì lì per farsi detonare, e che quindi non se la senta di avere un vera e propria manifestazione di rabbia contro di lei. Però insomma, diciamo che gli autori a questo giro non si sono esattamente sprecati nel dedicare al povero studioso qualche secondo di umanità in più.
Sia chiaro che nessuno si aspettava la versione maschile di Meryl Streep ne I Ponti di Madison County e nemmeno che il poveretto le rispondesse con un "E tu non sei la vera erede al Trono, tiè!", ma così poca emozione ha fatto storcere l'arcata sopraccigliare (ancora) a qualcuno.
Cambio di scena, Sam si congeda e fugge all'esterno sconvolto ma per poco, perché sembra più turbato dalla presenza di Bran in giardino che aspetta il 57/B, piuttosto che dall'aver appena scoperto di essere orfano. Il ragazzo gli scarica senza tante cerimonie il fardello della sconvolgente rivelazione sulle spalle e continua la sua attesa.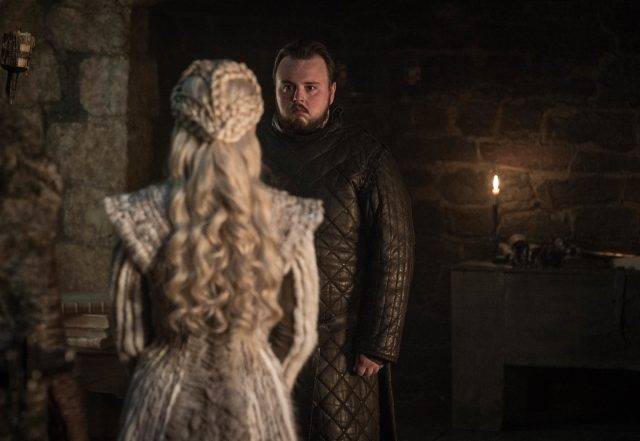 Cambia ancora la scena, siamo nei sotterranei, Jon accende candele e a un tratto sente un rumore alle spalle. Ora, era proprio necessario far entrare Sam in scena (questa sequenza per giunta, così a lungo attesa e immaginata dagli spettatori di tutto il mondo) con l'aria di uno ubriaco che sta cercando l'accendino per terra a un concerto? Non dico che doveva entrare con la parata però magari così anche no. Saluti e baci e un rapido "mica lo sapevi che la tua ragazza mi ha dimezzato la famiglia, vero?" e poi via, sgancia la bomba.
Il resto della qualità nella scena è tutta da addossare a Kit Harington che si fa prestare un etto di espressività da Bran al piano di sopra che ancora aspetta il tram nel cortile.
Facendo un accurato sforzo di empatia possiamo metterci nei panni degli showrunner e supporre che chiudere questa stagione, l'ultima di questa fantastica e amatissima serie, non sia stato semplice, e che in molti di loro avranno dormito male e magari siano stati anche oggetto di minacce da parte di amici e famigliari fan dello show (provate a pensare a quanto rendereste la vita un inferno a vostro marito o a vostro figlio se potessero scegliere il finale de Il Trono di Spade!).
Però fino a un certo punto. Perché in fondo anche loro, gli autori, devono fare i conti con noi. I pazzi che questa serie l'hanno amata forsennatamente fino a ora. Ognuno di noi ha girato la propria personale scena nella sua testa riguardo alla rivelazione più sensazionale delle ultime stagioni della serie. Ci sforziamo un'altra volta in più e conveniamo che il tempo è poco e le cose da dire sono tante così come le storie dei protagonisti, secondari e non, che necessitano di una degna conclusione.
Ciononostante non riusciamo davvero a perdonare la fretta con cui hanno fatto conoscere a Jon la verità.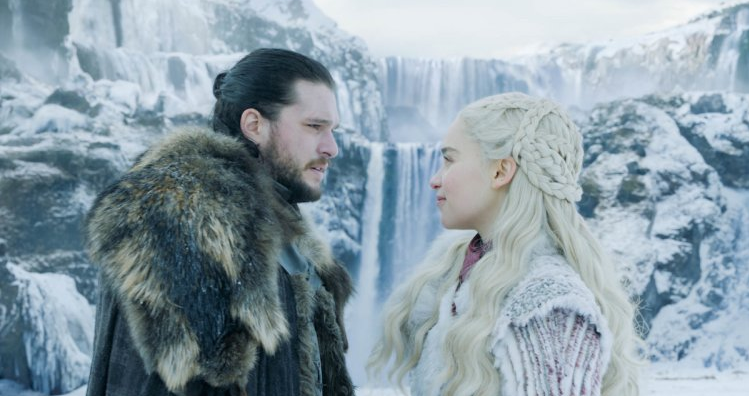 Fortunatamente, per i più delusi restano ancora altri aspetti della rivelazione da dover mettere in scena. Il resto degli Stark che scopre di avere un re in famiglia (rivedremo Sansa sorridere di nuovo dunque), il Nord che capisce di aver eletto un Targaryen come guida del loro fiero e xenofobo popolo e poi lei, Daenerys, che sono otto stagioni che ha una sola garanzia nella vita, che su quel maledettissimo trono ci si deve sedere lei perché è rimasta l'ultima a fare Targaryen di cognome. Ancora per poco.