Si sa che Game of Thrones è la serie tv con il più alto numero di teorie che circolano in rete. Più si avvicina il debutto dell'ottava e ultima stagione (14 aprile, save the date!) dello show HBO, più queste teorie aumentano in frequenza e numero. Una delle più assurde e chiacchierate è quella riguardante Arya, secondo molti la ragazzina sarebbe morta a Bravos e quella che vediamo adesso non sarebbe quindi più lei.  Ma non solo, ci sono anche teorie riguardanti la finta morte di Ditocorto, Bran come Re della Notte e chi più ne ha più ne metta.
Una nuova teoria che sta circolando sul web riguarderebbe Melisandre e il suo ruolo nell'ottava stagione di Game of Thrones. L'ultima volta che l'abbiamo vista a Dragonstone è nella 7×02. Mentre è a colloquio con Varys, la Donna Rossa osserva l'arrivo di Jon Snow per poi prendere congedo da Westeros, ma non senza lasciare noi e Varys con una frase misteriosa:
Tornerò, caro Ragno, un'ultima volta. (…) Devo morire in questa estranea terra, proprio come te.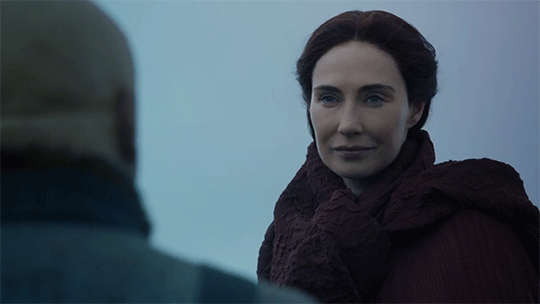 Sembra abbastanza chiaro quindi che rivedremo Melisandre prima della fine ma le circostanze rimangono avvolte nel mistero. 
Secondo una teoria proposta da un utente su Reddit, Melisandre rivestirà un ruolo chiave nel riportare Viserion dalla parte di Jon Snow e Daenerys.  Per capire bene, però, dobbiamo prima fare un piccolo passo indietro.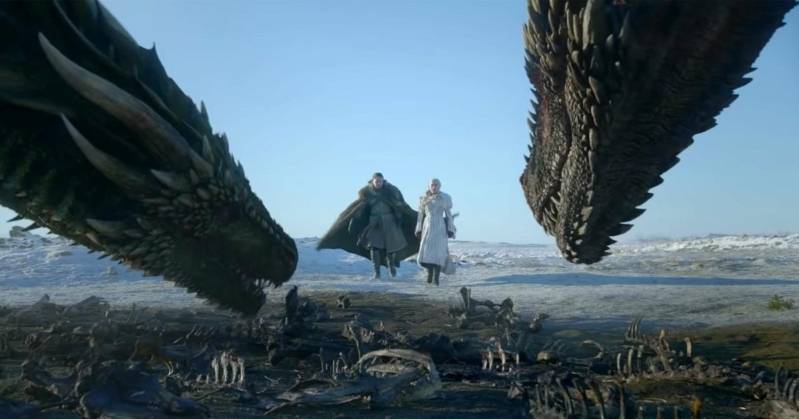 Come tutti i fan hanno visto, al termine della settima stagione, il Night King ha riportato in vita Viserion trasformandolo in una sorta di drago zombie. Con la temibile bestia tra le sue fila, il re degli Estranei non solo ha aggiunto un'arma non indifferente al suo arsenale, ma è stato anche in grado di abbattere la Barriera che da millenni proteggeva Westeros. Il pericolo è ormai alle porte. In virtù delle sue origini Targaryen (confermate ufficialmente), Jon Snow non è più un bastardo ma il legittimo erede al Trono di Spade, e come se non bastasse una delle "tre teste" citate più volte (anche da Rhaegar, suo padre, quando Daenerys ha una visione di lui nella Casa degli Eterni).
Quindi è sempre più probabile che nell'ottava stagione di Game of Thrones vedremo Jon cavalcare un drago. Ma quale? 
Secondo la maggior parte dei fan, il drago in questione sarebbe Rhaegal (il che sarebbe un riferimento simbolico al padre biologico di Jon) ma non tutti sono pienamente d'accordo. Una fazione ritiene infatti che potrebbe essere Viserion il drago che verrà cavalcato da Jon ed è qui che entra in gioco Melisandre.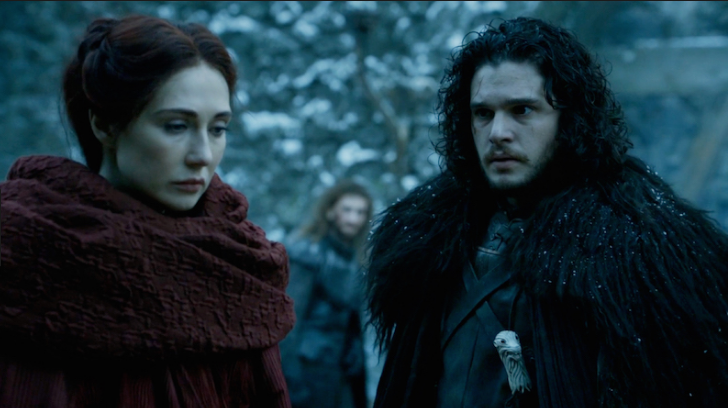 La sacerdotessa si sarebbe recata a Volantis in cerca di altri devoti del culto di R'hllor. Con il loro aiuto la Donna Rossa sarebbe in grado di riportare indietro Viserion, come d'altronde ha già fatto con Jon. Questo, secondo alcuni, potrebbe creare un collegamento tra i due personaggi legandoli indissolubilmente. Secondo l'utente Reddit il drago tornerebbe, ma diverso. Viserion diventerebbe un drago di ghiaccio e la combinazione con Jon/Aegon Snow/Targaryen rappresenterebbe l'unione perfetta tra ghiaccio e fuoco.
Questa teoria, per quanto affascinante, sembra fin troppo complessa. L'ottava stagione di Game of Thrones avrà già tantissima carne al fuoco e tra le numerose (per non dire infinite) teorie che circolano sul web, questa appare un po' troppo inverosimile. È anche vero però che il ruolo di Melisandre nell'ultima stagione dia adito alle ipotesi più disparate.
La verità si rivelerà a partire dal 14 aprile, con l'ultima stagione di Game of Thrones.