La tazza di caffè Starbucks avvistata nell'ultimo episodio The Last of the Stark di Game of Thrones 8 sul tavolo di fronte a Daenerys Targaryen ha suscitato scalpore su Internet tra i fan e la creazione di moltissimi meme. Ora è la stessa Madre dei Draghi a parlare, rivelando la verità su come la tazza di caffè sia arrivata fino a lì.
Durante un'apparizione a Late Night with Conan O'Brien questa settimana, Liam Cunningham (che interpreta Ser Davos Seaworth, il Cavaliere delle Cipolle nello show), interrogato sul fatto, ironizzava affermando che Emilia Clarke "probabilmente beve troppo caffè".
"Che bastardo!" ha ribattuto la Clarke al Los Angeles Times con una risata. "Liam è così sfacciato. Non bevo nemmeno il caffè, tantomeno quello di Starbucks. Sono inglese, bevo solo tè e la mia casa ne è piena. La cosa divertente è che la tazza incriminata non è neanche di Starbucks."
In un post su Instagram di questo mercoledì, Emilia Clarke ha pubblicato una sua foto risalente al periodo delle riprese. Appare insieme a Peter Dinklage (l'interprete di Tyrion Lannister) e nientemeno che il defunto Khal Drogo, l'attore di Aquaman Jason Momoa .
Nella sua didascalia, Clarke ha spiegato che Momoa era uscito dal set per uscire con i suoi vecchi co-protagonisti nello show e prendersi un caffè in compagnia. La reunion ha coinvolto talmente tanto i presenti che si sono totalmente dimenticati della della tazza di caffè lasciata sul tavolo, praticamente a favore di camera.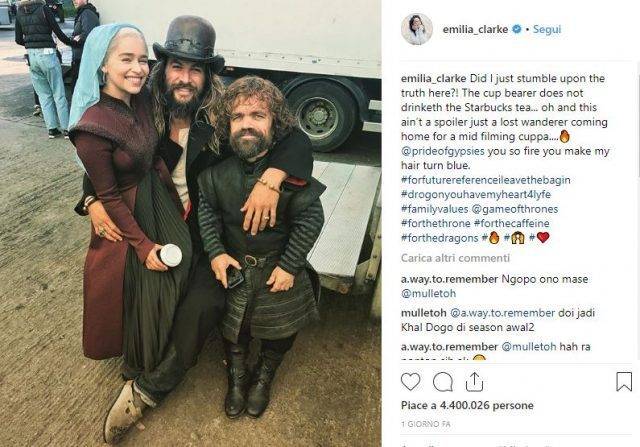 In molti si sono chiesti se la presenza di Momoa accanto ai protagonisti di Game of Thrones 8 fosse un indizio sul suo ritorno nello show, come avvenne per la seconda stagione in occasione di una visione.
Sfortunatamente per la delusione di molti fan, Clarke ha anche svelato il motivo della sua apparizione. Sembra che Momoa fosse presente nei paraggi per un altro ruolo e non per tornare nei panni di Khal Drogo.
Voi cosa ne pensate? Vogliamo crederle o sperare ancora un po' sul ritorno di Khal Drogo?