Manca poco più di un mese e finalmente la nostra curiosità potrà essere soddisfatta. Il 14 aprile debutterà il pilot di Game of Thrones 8 e, considerato anche il lungo tempo trascorso dal finale della settima stagione, abbiamo avuto modo in questi mesi di leggere e formulare le teorie più assurde. Poi, in un neutro pomeriggio di marzo, una bomba viene sganciata: il trailer ufficiale. Considerando le tempistiche, probabilmente anche l'unico trailer ufficiale.
Questo filmato di quasi due minuti non sfugge al sempiterno paradosso dei trailer: li si attende perchè si muore dalla curiosità, ma quando li si vede si esce più confusi e più curiosi di prima. Però qualcosa si capisce. Senza formulare una teoria per ogni frame presente nel trailer (altrimenti servirebbe un trattato e non un articolo), vediamo cosa abbiamo capito dal primo vero assaggio di Game of Thrones 8.
Il primo blocco del trailer (per intenderci, prima che compaia il logo HBO) è scandito dai respiri e dalle parole di Arya Stark:
"Conosco la morte. Ha molti volti. Non vedo l'ora di vedere questo".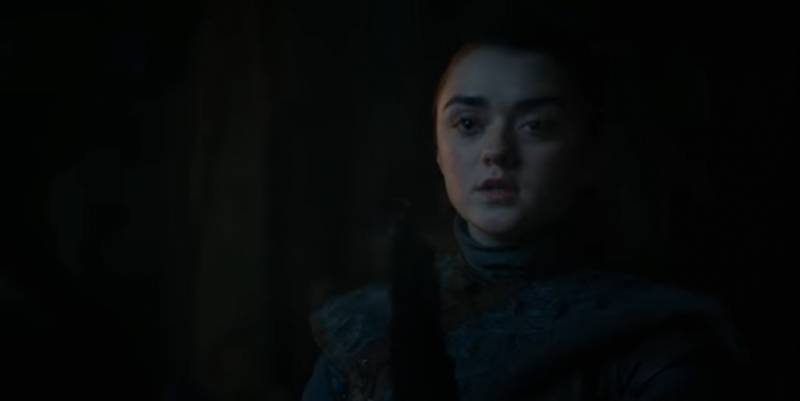 La ragazza ci appare prima ferita in volto e intenta a fuggire in quelle che sembrano i sotterranei di Grande Inverno. Nella scena in cui conclude la frase, è senza ferita e armata di quello che sembra un pugnale di Vetro di Drago. Nel mentre, vediamo ser Davos che passeggia nervosamente sulle mura di Grande Inverno e Varys nascosto con donne e bambini in una stanza poco illuminata.
Tutte queste scene sembrano poter essere collocate nella fase che precede la grande battaglia con gli Estranei. Sappiamo, infatti, che in una puntata ci sarà uno scontro epico, e sembrerebbe che il terreno sarà proprio Grande Inverno. Arya è forse ferita perchè ha combattuto un Estraneo, rivelatosi troppo forte al punto da metterla in fuga?
La seconda parte del trailer di Game of Thrones 8 sembra essere, invece, quasi una presentazione dei presenti (non tutti). La voce di Bran ci fa da narratrice, dicendo:
"Tutto quello che hai fatto ti ha portato dove sei ora. Nel luogo a cui appartieni. Casa".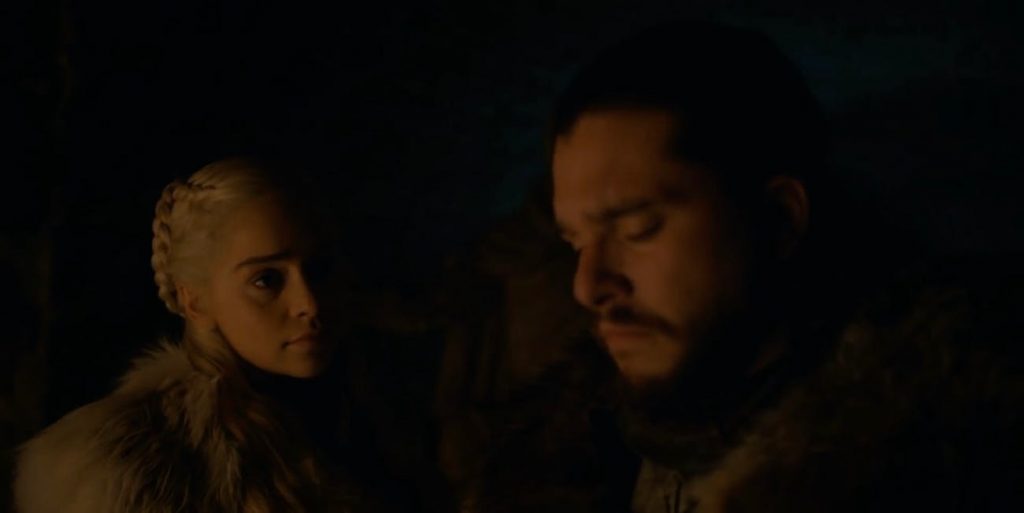 Sembrerebbe plausibile ritenere che Bran si stia rivolgendo a Jon Snow in questo momento. Ci vengono mostrate poi delle navi dei Greyjoy: le prime tre sembrano essere di Theon, probabilmente in un'operazione di soccorso per salvare la sorella. Nel frame successivo, invece, vediamo la Golden Company trasportata su una nave presumibilmente di Euron (le navi hanno infatti vele con sigilli diversi dalle precedenti): non dimentichiamo che è questa la commissione che l'uomo ha ricevuto da Cersei nell'ultima stagione, reclutare l'esercito della Compagnia.
Ci viene svelato poi che Tormund e Beric sono ancora vivi (qui potete trovare un articolo in merito), sarà interessante capire come si sono salvati dal crollo della parte di Barriera che stavano sorvegliando. Vediamo successivamente una Cersei sorridente (forse per l'arrivo dell'esercito con Euron) e l'ingresso di Jon, Daenerys e gli Immacolati a Grande Inverno. Di questo avevamo già certezza dal brevissimo spot in cui ci era stato mostrato l'incontro tra la Targaryen e Sansa: quest'ultima, inoltre, è mostrata affascinata dalla vista di uno dei draghi di Daenerys.
In quello che possiamo considerare il terzo blocco del trailer, è Jon Snow a farci da Cicerone, ribadendo un concetto che in realtà diffonde dalla scorsa stagione:
"Stanno arrivando. Il nostro nemico non conosce stanchezza, non si ferma, non prova niente".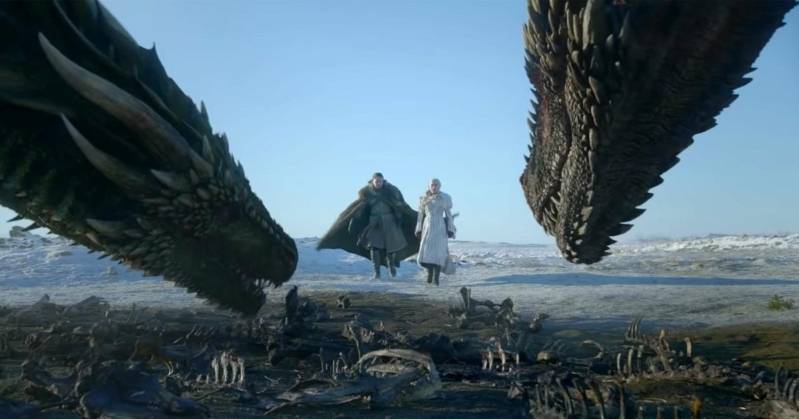 Interessante l'abbinamento delle scene con le parole: mostrare, ad esempio frame di preparazione alla guerra mentre Jon afferma "non conosce stanchezza, non si ferma" e frame di un bacio tra Verme Grigio e Missandei mentre dice "non prova niente" crea un bellissimo contrasto tra quelle che sono, sotto ogni punto di vista, le differenze tra vivi e morti. Ad ogni modo, il primo frame di questo blocco è un incontro nella cripta di Grande Inverno tra Jon e Daenerys: i due non sembrano due innamorati, ma sono visibilmente affranti. Che abbiano forse scoperto la verità sulla loro parentela?
Seguono, poi, altre scene di preparazione a battaglie: vediamo infatti Gendry che lavora per creare armi col Vetro di Drago, ser Jorah pronto a combattere, il citato bacio tra Verme Grigio e Missandei, Jaime Lannister che infilza nemici in quello che sembra il fumo di un incendio, e infine Cersei, intenta a bere con gli occhi lucidi un calice di vino. È chiaro che questo è il blocco che maggiormente punta a confonderci, vista la quantità di piccolissime scene che si susseguono apparentemente slegate tra loro.
Penultima fase di questo trailer è caratterizzata dalle parole di Jaime Lannister, in quella che sembra essere la sua ultima evoluzione:
"Ho promesso di combattere per i vivi. Intendo mantenere quella promessa".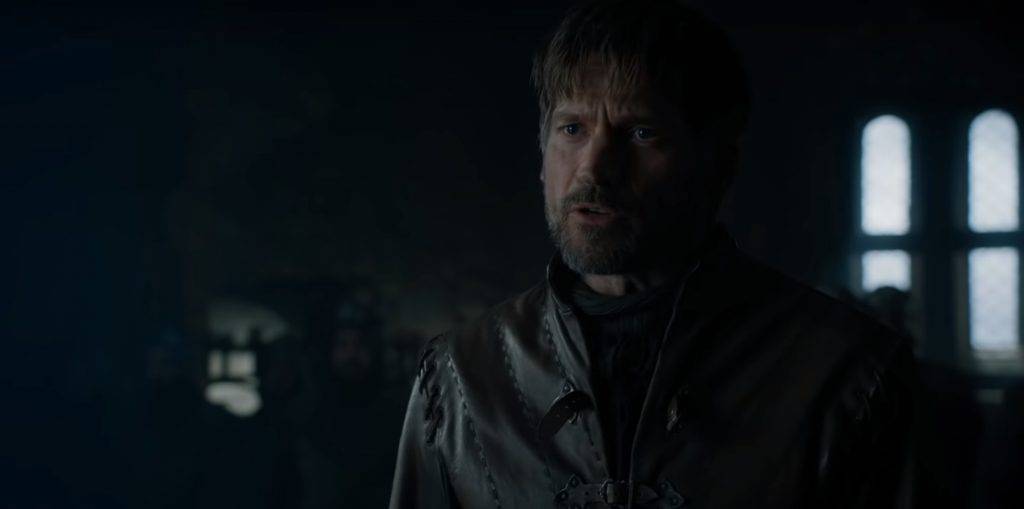 Prima però di capire in che situazione lo Sterminatore di Re stia pronunciando queste parole, abbiamo una più ampia visione dei due draghi di Daenerys in volo, scena che si ricollega allo spot in cui Arya è entusiasta di vedere le due creature: frame qui riproposto. Vediamo poi ancora Verme Grigio intento a prepararsi a combattere, Jon Snow presso il famoso Albero vicino Grande Inverno e, finalmente, Jaime. Sembra che l'uomo stia parlando a Jon Snow, visto l'ambiente interno molto simile alle stanze di Grande Inverno.
Lo stesso Re del Nord è poi catapultato nello stesso ambiente infuocato in cui abbiamo visto poco prima Jaime, ma è solo. A questo si aggiungono alcune espressioni affrante: quella di Sansa, quella di Daenerys e quella di Tyrion, unico momento in cui il consigliere della Madre dei Draghi viene mostrato nel trailer. I draghi, inoltre, sembrano in uno spazio aperto, con ossa (umane?) sul terreno, e potremmo supporre che, vista la presenza di Jon e Daenerys, sia la zona della Barriera distrutta dal Re della Notte. Una specie di sopralluogo, che però rivela qualcosa di più: Jon ha cavalcato uno dei draghi. L'ultima scena prima del frame finale è quella di Drogon che sputa fuoco: potrebbe essere la causa delle scene in cui abbiamo visto Jon e Jaime?
Ed eccoci, alla fine del trailer di Game of Thrones 8: siamo nei momenti che precedono la battaglia di Grande Inverno. Vediamo schierati gli Immacolati e nello specifico Brienne, Pod e Jorah in attesa di qualcuno: questo qualcuno sono gli Estranei, e il frame che chiude il trailer è la visione delle zampe anteriori di uno dei cavalli morti con cui sappiamo gli esseri si spostano. Fine.
Solo il trailer è stato già un piccolo viaggio. Chissà che cosa sarà Game of Thrones 8. Ormai manca poco.