Un bambino corre nei boschi, supera un ruscello, indugia sulla neve con le sue piccole gambe. Corre tra la folla, assiepata nel cortile di Grande Inverno, nella prima puntata di Game of Thrones 8. Corre febbrilmente, schiacciato nella sua piccolezza da una selva di gambe e braccia, i capelli rossi che spiccano tra la gente. Si arrampica su un albero per vedere meglio, per respirare non più l'aria viziata del suolo, ma l'aria fresca del cielo. L'aria che respirano i draghi.
Corriamo con lui tra la folla, zigzagando tra gli abitanti del castello, tra i loro stracci. Sentiamo il suo respiro affannato, il freddo, i piedi gelidi e bagnati. Ci arrampichiamo con lui sull'albero e infine ci guardiamo intorno.
Tutto è rimasto come lo ricordavamo.
Grande Inverno è un gigante ancora semi addormentato, adagiato su un fianco coperto di neve. I suoi abitanti già si affannano al suo capezzale, riscaldando i suoi arti e donandogli vita. Grande Inverno è ancora viva. È passata di mano, ha visto guerre, morti e sangue, ma è ancora qui. Come la prima volta che l'abbiamo vista, ormai otto anni fa. Il suo sguardo severo nasconde però un sorriso materno.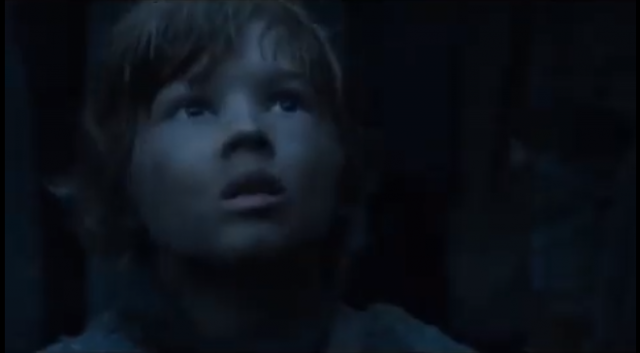 Game of Thrones finisce com'era iniziata, in una circolarità della narrazione che ci evoca ricordi di anni fa. Quando per caso, per curiosità o per sincera passione, abbiamo cominciato a guardare questa serie.
Questo bambino senza nome, dai capelli rossicci e il viso gentile, ci ricorda il Guardiano della notte che per primo ci metteva di fronte alla terribile realtà degli Estranei. Nella sua breve corsa all'aperto, prima di varcare le porte di Grande Inverno, un po' il nostro cuore si ferma. Temiamo che all'improvviso una mano gelida spunti da chissà dove e afferri quel bambino.
Che i suoi occhi si tingano di azzurro, e il suo respiro si condensi nel gelo eterno.
E quando le porte di Grande Inverno lo accolgono, ci sentiamo anche noi un po' più a casa. Perché Game of Thrones ci ha insegnato questo. Molte cose sono cambiate in queste sette stagioni, ma Grande Inverno è rimasta per tutti noi sinonimo di casa, di famiglia.
Correndo insieme a lui, tra le gambe della gente, ci sentiamo un po' anche Arya. Non la gelida killer capace di cambiare viso con un gesto, e di togliere la vita senza un sussulto. Ma la bambina dal viso tondo, curiosa, che scappa dai fratelli per vedere per prima chi sta arrivando. La Arya del primo episodio, che vediamo replicata in questo ragazzino senza nome, che ci prende per mano portandoci nel fango di Grande Inverno. La macchina da presa rende esplicito il parallelismo, indugiando sul viso di una Arya compiaciuta, mescolata tra la folla, prima che la corsa riprenda.
Lo vediamo scalare l'albero, prima dall'alto, come se gli tendessimo la mano per aiutarlo, poi dal basso, come se lo spingessimo. Questo bambino è anche un eco del piccolo Bran. Il ragazzino che scalava qualsiasi superficie e che dalla caduta si rialza, più forte e più disumano di prima.
Questo bambino ci ricorda quindi il giovane Guardiano della notte, Arya, curiosa nel primo palpito della sua giovinezza, e Bran nella sua vivacità stroncata. Ma chi è davvero?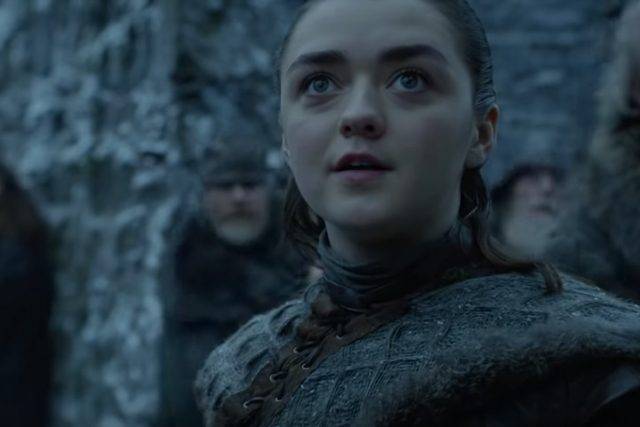 Gli accorgimenti presi in questa prima scena fanno in modo che questo bambino ci sia simpatico. Che ci preoccupiamo per lui, che siamo curiosi di conoscere il motivo di tanta fretta. Che vogliamo assolutamente vedere quello che vede lui.
Poi finalmente il suo sguardo si apre in una panoramica su un paesaggio innevato. La telecamera lo inquadra tenendolo lontano solo quel tanto che basta per mostrarci dove si sta muovendo, scegliendo spesso il suo punto di vista. Conducendoci nella narrazione, che si snoda in maniera speculare a quella della leggendaria puntata 1×01 di Game of Thrones, come vi avevamo detto in precedenza.
Non è il primo elemento che ricorre quasi uguale dall'ormai lontano primo episodio, ma è quello che crea più fidelizzazione nel pubblico. Per l'elemento familiare di Grande Inverno, per il fatto che il primo sguardo sull'ultima stagione lo abbiamo attraverso gli occhi di un bambino.
E come bambini, tutti siamo rimasti a bocca aperta a guardare, avidi di questi ultimi scampoli di Game of Thrones.
E la scelta di affidare questa importante prima scena a un bambino non è casuale. Quel bambino siamo tutti noi. Il rapporto che si crea tra lo spettatore e questo personaggio senza nome, che scomparirà subito dopo aver assolto il suo compito, è strettissimo e studiato alla perfezione. Studiato per farci immedesimare, per portare per la prima volta, non in punta di piedi, ma con una vera e propria irruzione sullo schermo, lo spettatore dentro l'azione.
E dunque mettiamoci comodi, torniamo bambini. Non a fianco di Jon nell'ultima grande battaglia. Non sul dorso di un drago. Nemmeno dietro agli occhi inespressivi del Re della Notte. Ma mano nella mano di un bambino, corriamo dentro la storia, per un'ultima, grande, corsa.