Vino. Mai finire il vino. Se il re del vino era Re Robert, non si può dire che i Lannister siano da meno: nello specifico Cersei e Tyrion hanno una vera dipendenza. Potremmo addirittura individuare nel vino una tematica di Game of Thrones, come il sesso e la violenza. Ad ogni modo, abbiamo imparato che non è una puntata del Trono di Spade se non c'è del buon vino rosso ad accompagnarla.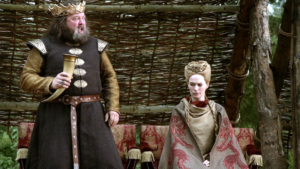 La 9ª puntata. Gli attenti osservatori si saranno accorti che fin dalla prima stagione, la penultima puntata rappresenta un momento di vero trambusto per tutta la storia. La morte di Ned Stark, la Battaglia delle Acque Nere, le Nozze Rosse, la Battaglia alla Barriera, la fuga di Daenerys su Drogon e infine la Battaglia dei Bastardi. Questo non vuol dire assolutamente che nelle altre puntate tutto scorra liscio come l'olio. Semplicemente, un fan di GoT sa che quando arriva la nona puntata, qualcosa sta per succedere (ma ora che nella prossima stagione ci saranno solo 7 puntate, come faremo?).
Non dire gatto se non ce l'hai nel sacco. Il pensiero relativo a questo modo di dire parte principalmente dall'episodio del duello fra Oberyn e la Montagna: ormai il primo lo aveva battuto, ma ha aspettato troppo a dargli il colpo di grazia, e ha fatto la fine di un'anguria schiacciata da una macchina. Ma in generale, è chiaro che mai si può dare per scontato qualcosa a Game of Thrones: se lo fai, la tua fine è imminente.