Di nuovo l'appuntamento settimanale con Fear The Walking Dead. La terza puntata della seconda stagione rappresenta il tanto atteso crossover con la mini serie "Flight 462", legata come le altre, al grande mondo di The Walking Dead.
L'episodio si apre proprio con un flashback di Alex che cerca disperatamente Jake in mare. La disperazione e il terrore sono subito tangibili. Lo spettatore si ritrova spiazzato perchè non sa che cosa sta succedendo: non tutti erano a conoscenza di "Flight 462" e dei suoi collegamenti possibili con Fear The Walking Dead. Allo smarrimento iniziale si somma l'adrenalina per il salvataggio di Alex, si sovrappongono le domande..che cosa sarà successo a Jake? E agli altri sopravvissuti sul galleggiante? Scappano dagli zombie o da altre minacce più umane? Nelle puntate precedenti ci eravamo abituati all'idea che gli zombie potessero anche nuotare e farsi trascinare dalle correnti perchè tenuti a galla dalla loro assenza di vita; quindi l'adrenalina dei primi secondi cresce quando capiamo che quelle persone sono circondate dai morti viventi, che quelle persone hanno già capito che cosa devono fare per sopravvivere e quali strade da percorrere devono prendere in considerazione.
Per la prima volta dall'inizio di Fear The Walking Dead, dopo il titolo, vediamo Strand in preda ad una strana agitazione. L'uomo sicuro, con il piano nascosto, l'uomo che sembra aver programmato tutto e previsto l'apocalisse che li circonda, l'uomo in grado di abbandonare con freddezza chiunque non sia indispensabile, proprio quell'uomo sembra vacillare. Alla sua insicurezza viene immediatamente accostato il coraggio di Travis che, a costo della sua vita, è disposto a buttarsi in mare per eliminare l'ostacolo che li farebbe avvicinare al pericolo. E' come se gli autori volessero indirizzarci verso un giudizio tra i due "leader" a confronto, esattamente come successe tra Rick e Shane. Da una parte Travis di cui conosciamo la storia e l'evoluzione, un uomo solido che per la sua famiglia farebbe di tutto, che ha già avuto il coraggio di fare cose terribili ma che da un punto di vista morale rimane quasi intoccabile perchè giustificato da un bene superiore. Dall'altra parte della bilancia invece c'è Strand, uomo astuto, forte, ben organizzato e deciso che pian piano sta mostrando tutte le tessere del suo puzzle. Ha acconsentito a portare Daniel per le sue capacità di pesca e Travis per le sue doti come "aggiusta-tutto", le loro famiglie per ovvi e necessari motivi. Forse aveva intravisto un potenziale alleato in Nick, ma i suoi veri scopi sono tracciati e il suo finto buon salvataggio sulla barca non regge più.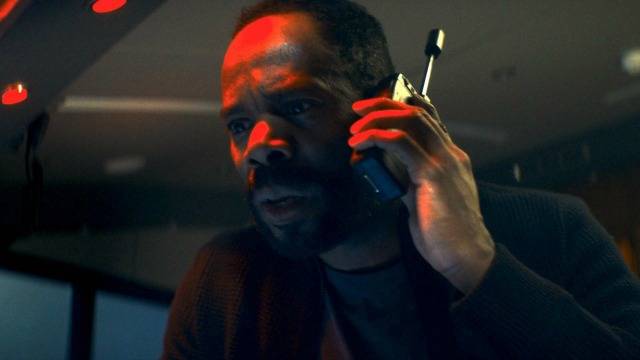 Nel frattempo, anche i caratteri risoluti dei ragazzi cominciano a venire fuori. Una sfrontata e malata Ofelia affronta suo padre per la richiesta delle medicine agli altri del gruppo, mentre Chris, Alicia e Nick si propongono per raggiungere la spiaggia per raccogliere ogni genere di presidio per la sopravvivenza.
Ogni membro del gruppo fa la sua parte ed è così che si riesce ad andare avanti. A parte Ofelia, ancora sotto infezione, i ragazzi e Daniel partono per la spiaggia; Travis pensa alla barca, mentre a Madison viene lasciato il compito di supervisionare Strand e di percorrere la via della diplomazia in eventuali trattative.
L'incidente di Travis sott'acqua ci riporta immediatamente all'inizio della puntata in cui avevamo lasciato in sospeso la sua colluttazione con lo zombie, mentre dall'altra parte del mare Chris ricerca tra le macerie dell'aereo un riscatto per se stesso. In qualche modo trova la maniera di superare il "trauma" della scomparsa della madre facendo la stessa cosa che suo padre ha fatto per lei. Dona all'uomo spacciato che gliela ricorda la "pace" che crede si meriti, togliendosi così, almeno in parte, un po' di sofferenza dal cuore. Non solo Chris trova quella che cerca davvero, ma anche Nick e sua sorella hanno un momento in cui possono sorridere insieme. Non è scontato nel mondo di Fear The Walking Dead. Così come non è scontato per Daniel trovare un rosario e trovare un ancora lontana nella fede in qualcosa di più grande.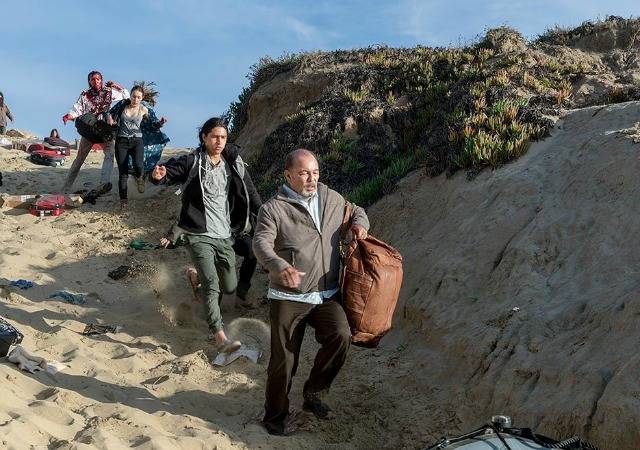 Come previsto, sulla spiaggia la situazione degenera. Anche Alex si trovava lì, probabilmente per il loro stesso motivo e alla fine si riunisce al gruppo. Gli zombie arrivano, spietati, da ogni parte della fortunata terraferma. La sequenza è carica di emozioni e tensione. Esattamente come prima ogni membro del gruppo fa qualcosa e l'unione riesce a fare la forza.
Puoi avere un fucile o essere il miglior sopravvissuto del mondo, ma se non hai qualcuno a guardarti le spalle, in questo mondo non vai da nessuna parte. 
Così Nick, nella sua scoperta del "travestimento" si rivela essere la carta vincente al momento giusto. Il gruppo riesce a tornare alla barca, ma con loro ci sono anche Alex e Jake. Così i nodi vengono al pettine. Il piano "Mexico" viene reso pubblico e viene appoggiato da Travis che però si scontra nuovamente con Strand sull'accogliere o no i due nuovi arrivi.
Siamo sempre lì. Scelta giusta, scelta sbagliata. Fiducia, non fiducia. Egoismo e salvezza (quasi) sicura o altruismo e forza del gruppo? Rick o Shane? Leader buono o leader cattivo? Una sfumatura dell'uno o una sfumatura dell'altro?
La risposta, forse, è nelle parole di Alex:
"Gente..davvero ne state discutendo?!"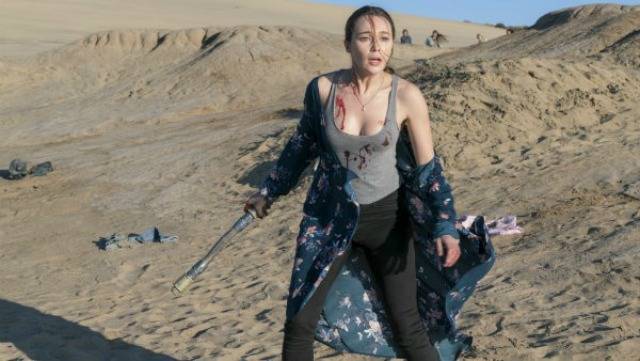 Un saluto agli amici di Fear The Walking Dead Italia !