# #
Nello scorso episodio di Fear The Walking Dead (qui la recensione) avevamo visto aprirsi numerosi scenari, positivi e negativi, per ciascun personaggio e ciascun luogo.
# #
In questa puntata, la 2×11 di Fear The Walking Dead, ritroviamo dapprima Madison e Strand.
Ci viene così spiegata la loro fuga dai tavoli del bar circondati dagli zombie, il modo in cui per l'ennesima volta sono riusciti a salvarsi e il loro ricongiungimento con Alicia ed Elena. Il trucco imparato da Nick sta cominciando a tornare utile a tutti i vari personaggi per scappare da situazioni scomode e mortali.
L'attenzione si sposta poi su Nick e sulla sua volontà di rimediare al pessimo scambio avuto con le bande del luogo che tengono i beni confiscati e si fanno pagare per i generi di prima necessità. La moneta, come ben ci viene ricordato, è l'oxicodone che, per giunta, comincia a scarseggiare.
# #
La situazione di Nick e il suo lavoretto per la comunità ci ricordano una delle regole maestre del mondo di Fear The Walking Dead. Non importa chi tu sia, che passato tu abbia, quali sconfitte tu abbia avuto, quali vittorie e quali glorie. Non importa nulla. Importa solo ciò che puoi fare per te e per gli altri. Solo ciò che puoi fare per sopravvivere. 
Quindi servono le qualità di chiunque, anche quelle di un tossicodipendente, di una persona che nella vita pre-apocalisse si sentiva inutile e senza uno scopo.
Tu sai che questo ci farà solo guadagnare tempo, vero?
Sì. Più tempo, più speranza.
Fear The Walking Dead sta delineando altre regole, linee generali che questo nuovo mondo vuole trasmettere. Tutti servono, su questo non ci sono dubbi, ma altri elementi accomunano gli esseri umani sopravvissuti. La stanchezza della fuga, il volere un ruolo in cui rimanere. Non importano le condizioni, le regole, importa solo che lo si possa, in qualche modo, chiamare casa. 
Per questo Madison e Strand si lasciano perquisire e cercano un accordo con Oscar, per questo Nick cerca di dare una mano con le sue capacità da 'drogato', per questo Alicia insiste nel voler restare e combattere e per questo viene dato valore a tutte le persone che sembrano degne di fiducia.
Uno dei temi più importanti di questa puntata di Fear The Walking Dead è proprio la fiducia. Non è facile aprire il proprio cuore e la propria mente a persone sconosciute che si possono giudicare da sguardi e due minuti di conversazione. Non è facile, ma per sopravvivere ovviamente bisogna fare anche quello. Madison non ci pensa due volte a chiedere ad Oscar un accordo e Oscar non ci mette più di cinque secondi per accettarlo, nonostante gli scontri ai piani inferiori. L'ex-drogato Nick parla a lungo con il farmacista durante il loro lavoro e alla fine decide di fidarsi più della persona che della sua storia con il morso. Alla fine dei conti non fa nulla di più di lui e la fiducia viene reciprocamente scambiata, proprio come in un baratto di cibo.
Un'altra questione che rende tutti i sopravvissuti uguali davanti allo specchio del nuovo mondo di Fear The Walking Dead è il riflesso di tutte le persone care che ciascuno ha perso. Nessuno è immune alla morte di coloro che ama, chiunque ha subito perdite e nessuna vita vale più di un'altra.
Uno è più importante di altri?
Non c'è il tempo di dedicarsi alla felicità dei bambini, ad un sorriso sincero e a un gioco mai dimenticato. Non c'è il tempo perchè prima che una sorta di allegria sincera possa insinuarsi nei cuori dei protagonisti, ecco un emissario della morte. Ecco il sangue che chiede il suo conto per quegli attimi di gioia, che arriva a ricordare in che razza di mondo sono. 
Pablo. La prima risposta al titolo della puntata. Pablo, il fratello di Luciana, è morto.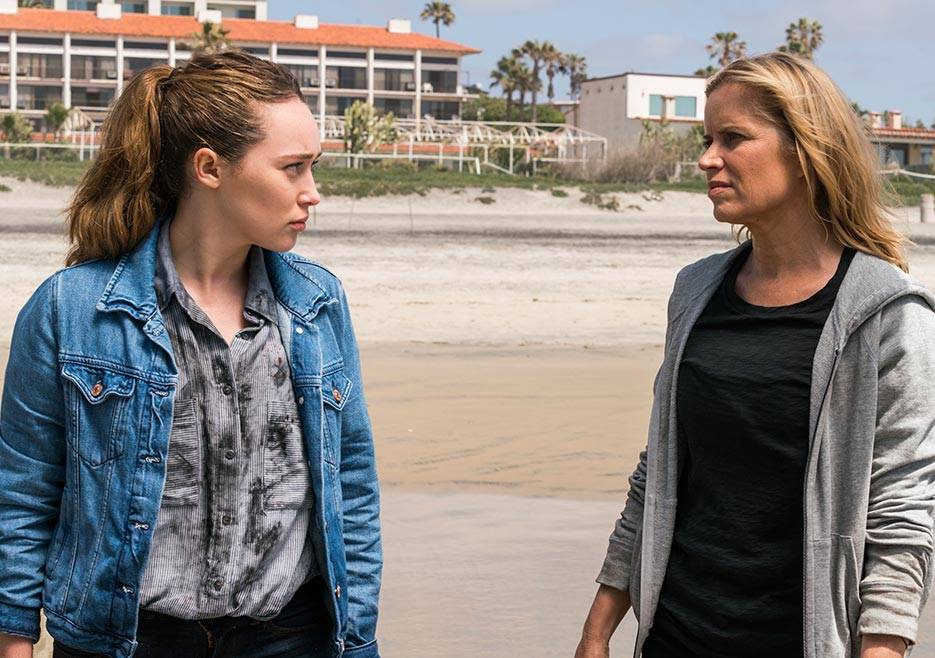 Il dialogo tra Alicia e Madison, il primo vero dopo che entrambe hanno pensato il peggio per l'una e per l'altra, è molto profondo. La madre riconosce le proprie colpe e più importante di tutto è pronta a riconoscere il valore di sua figlia. Alicia ricambia il gesto facendole notare che le persone la seguono e la ascoltano perchè lei riesce a donar loro la speranza di qualche giorno migliore. Di fatto anche lei riconosce quindi il ruolo della madre in quel contesto.
Proprio lì all'hotel, nel frattempo, ad Alicia viene un'idea. Il metodo dell'andare stanza per stanza è buono ed efficace, ma richiede moltissimo tempo. Alicia e Madison ci ragionano su. Il tempo è prezioso, il tempo è speranza, il tempo è sopravvivenza per cui non va sprecato. Attirare gli zombie per lasciarli alle correnti marine si trasforma in un buon modo per risparmiare qualche giornata di lavoro e fortificare quanto prima l'hotel.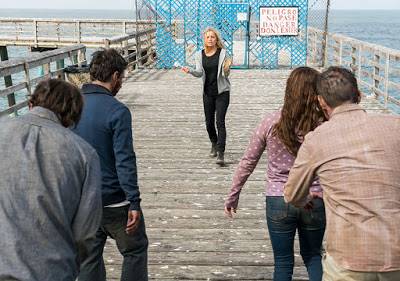 La simbologia di questa operazione è molto forte. Gli ospiti, come li chiama Elena, si devono ritrovare tutti nella sala principale dell'hotel, grazie alla quale poi possono accedere all'impalcatura sul mare. Il passaggio del branco di morti vicino al calcio balilla è un ossimoro evidentissimo. La morte intacca tutto e non è possibile sfuggirli, gli si può dare solo una direzione sperando di prendere il binario parallelo, ma distaccato.
Sopravvivere sembra tipo mangiare merda.
Ti ci abituerai. 
Lo afferma Nick, ma d'altronde i fili invisibili di tutti i protagonisti sono uniti insieme per formare un unico grande groviglio. Sopravvivere significa anche accontentarsi, abbassare la testa quando serve, rischiare la vita se necessario. Sono tutte quelle cose, però, che ti permettono di tenere alto il viso alla sera e guardare negli occhi le persone che ami perchè il tuo cuore batte ancora e non nel corpo di uno zombie.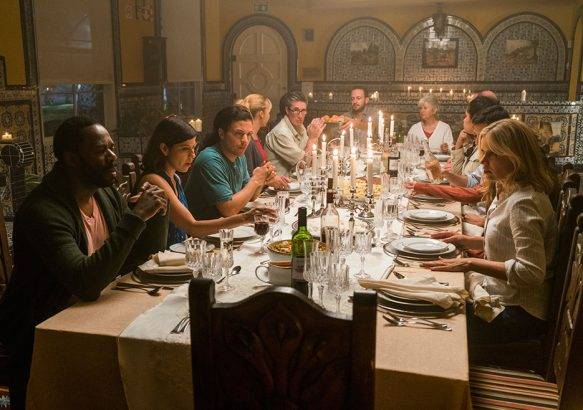 Non è giusto. Non lo è. Per nessuno. Anche che tu viva così, non è giusto. Per te. Per lei. Quella non è tua moglie. Non più. La morte vi ha separati. I vostri voti si sono sciolti. Non sarai più lo stesso. Ma poi..una mattina ti sentirai una persona nuova. Qualcuno che ancora non conosci. La persona che diventerai. Così è accaduto a me. Lascia che ti aiuti. Lascia che aiuti Jessica.
Jessica. Ecco il secondo nome a fianco a Pablo.
Mentre da una parte Nick e Luciana si uniscono, chiarendo la loro forte intesa, il loro legame e il loro nuovo senso di appartenenza alla casa, nell'hotel si consuma una cena che ha il profumo di covo di amici. Così le case acquistano il loro vero valore e Strand entra nella stanza di Jessica per aiutare e porre fine alle sue sofferenze, suggellando così, definitivamente, la nuova alleanza.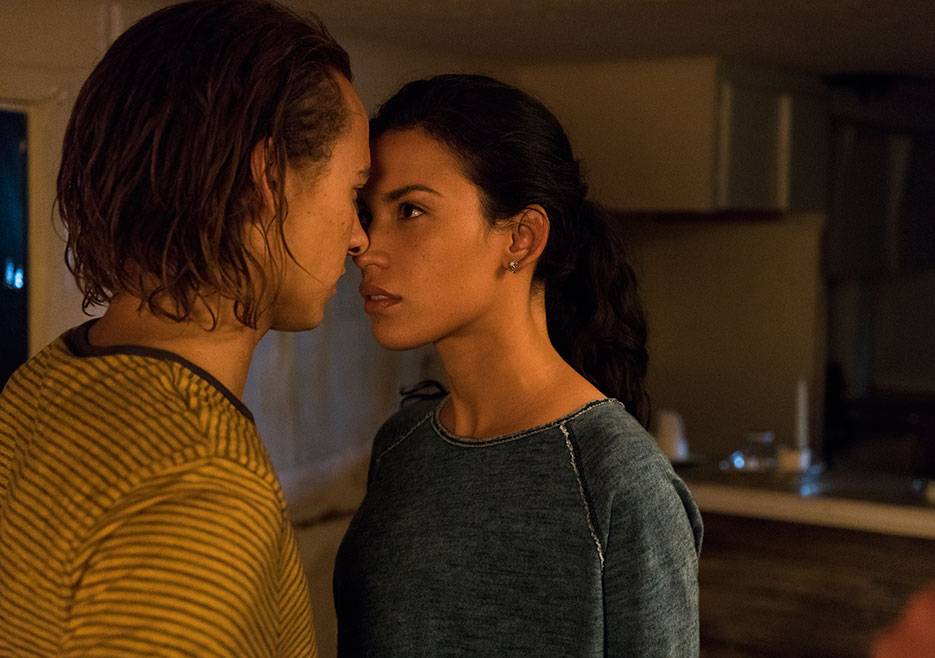 Non dimenticate di passare dai nostri amici di Fear The Walking Dead Italia !