Al penultimo episodio prima del finale di metà stagione, Fear The Walking Dead preme per lasciare l'ennesimo segno positivo sulla tabella di marcia. Il gruppo è affaticato, stanco e comincia a sentire il pungente odore degli insuccessi, delle false speranze e delle strade sbarrate. Non è tutto però, perchè la forza di queste persone sta proprio nel continuare a voler sopravvivere stando insieme.
Nella 2×06 di Fear The Walking Dead, tutto comincia dal titolo della puntata "SICUT CERVUS" che con due semplici parole ci rimanda immediatamente ad un tema religioso. Molto brevemente viene ripreso l'inizio del Salmo 41-42 che narra di un pellegrino ebreo alla ricerca del Signore (Sicut Cervus desiderat/Come il cervo anela..). Il paragone con il nostro gruppo di protagonisti è rapido perchè anche loro hanno viaggiato per molto tempo e si sono trasformati prima di trovare un nuovo luogo in cui poter ricominciare.
"I tempi che stiamo vivendo ci mettono alla prova. Mettono alla prova il nostro Credo, mettono alla prova la nostra Fede. Dove sta nostro Signore? Ci ha abbandonati? Se ne sta a guardare? Io stesso ho pensato: "quale Dio ci metterebbe alla prova in questo modo?". Ma poi ho guardato dentro di me e ho scoperto che la risposta a questa domanda è insita nella domanda stessa. Il Dio in cui credo, il Dio che io conosco non farebbe una cosa del genere. Questo non è Dio! Questa cosa, questo male che si è abbattuto su di noi ci vuole allontanare da Lui, vuole allontanarci dalla nostra Fede, si alimenta dei nostri dubbi. Non arrendetevi, non alimentatelo, non arrendetevi. Combatteremo contro il Male, lo faremo sopravvivendo"
Il tema della Fede è la ruota che fa girare tutta la puntata. I canti dei bambini, l'Omelia del parroco, la struttura in cui tutti si rifugiano, l'esperienza di Daniel, il voler vivere insieme con poco, tutto rimanda alla soluzione finale: un piccolo angolo di Paradiso che argini l'Inferno che l'umanità sta vivendo. Fear The Walking Dead, come la serie madre, deve affrontare lo sconforto dei fedeli o la larga speranza che hanno in un mondo devastato in cui Dio sembra essersi nascosto. Ritornano alla mente Rick, nel suo dialogo solitario con il crocifisso, Carol, con il rosario e le lacrime per Sofia, Hershel, con le benedizioni ad ogni corpo spento e l'incrollabile fedeltà che lo ha sempre accompagnato. Come loro, il gruppo di Travis affronta l'ennesima nuova realtà in mille modi particolari.
In una sequenza fredda e distaccata a tal punto da togliere il fiato, senza musica di sottofondo, vuota e lasciata appositamente cruda, Daniel non riesce ad uccidere un piccolo zombie, Chris lascia da sola Madison senza cercare di salvarla e Nick piange mentre deve uccidere una bambina. Che questi personaggi stiano tutti arrivando ad un punto di svolta decisivo? Cosa avrebbero potuto fare di diverso? Davanti all'orrore che sono costretti a vivere è quasi impossibile non cambiare radicalmente.
Quando raggiungono il piccolo Paradiso, il posto dove "ci si sente come se il resto del mondo non esistesse più", la prospettiva non cambia, ma peggiora.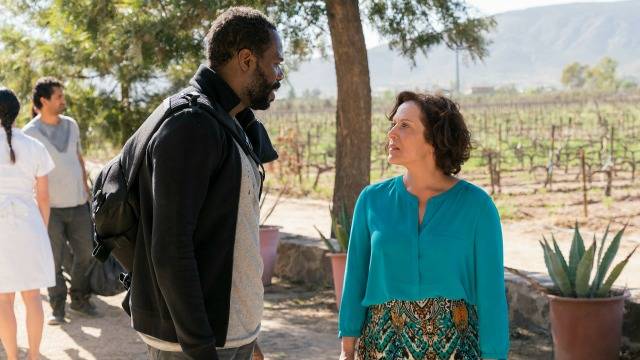 Il gufo della moneta iniziale ritorna sottoforma di sensi di colpa e impressionabilità nel cuore di Nick che sembra fare un passo indietro dalla sua tenacia e due passi verso la sincerità con le altre persone. Nick si rivede in tutto e per tutto nella sua prima visione di uno zombie, quello di Gloria, la sua amica. Si rivede nel suo incidente, nelle sue urla, nella sua sua corsa e si dichiara finalmente "stanco" di tutta quella morte. Per un attimo, davanti a Celia, è come se si togliesse la maschera di invulnerabilità conservata fino a quel momento.
Daniel non riesce a darsi pace, come se avesse il presentimento che qualcosa non sta andando per il verso corretto. Troppe coincidenze lo hanno riportato in quel luogo, troppi ricordi e visioni lo tormentano. Lui però non è più quello di prima, ha dovuto fare cose e sperimentarne altre. Tutto ciò che ha fatto lo ha profondamente cambiato e turbato. Per lui la morte non è una strada per una nuova vita e gli zombie non sono quelli che verranno dopo. La sua testardaggine, compresa dell'allontanamento dalla figlia, lo porta comunque ad avere ragione. I suoi sospetti su quel luogo troppo perfetto sono fondati: ci sono i morti nascosti che vivono di fianco a loro, a un centimetro dalla loro nuova vita. Il paragone con il fienile della fattoria di Hershel è quanto di più logico possa esser ripreso. Le persone di Celia e Celia stessa non hanno ancora capito come vanno le cose, cosa succede dopo la morte, quanto il cervello non sia più guidato dall'amore ma da una fredda sete di sangue umano.
Viene anche affermato che i veri mostri del nuovo mondo di Fear The Walking Dead non sono gli zombie, ma le persone che li uccidono non dando loro modo di continuare la loro esistenza come meglio credono. Quindi chi sono i mostri? Le persone che cercano di salvarsi uccidendo i morti, anche se bambini, anche se preti, anche e giovani chierichetti? Oppure sono gli esseri striscianti e irrequieti che cercano in tutti i modi di sopravvivere? La risposta sta in che cosa i nostri protagonisti credono o non credono.
Non c'è modo di sapere se gli zombie siano davvero totalmente morti oppure no, ma una cosa è certa, chi non combatte, non sopravvive. Chi resta a guardare senza agire, muore. Chi perde una persona, è costretta ad ucciderla, ma trova il coraggio di non farsi trascinare nel dolore ha già vinto in partenza.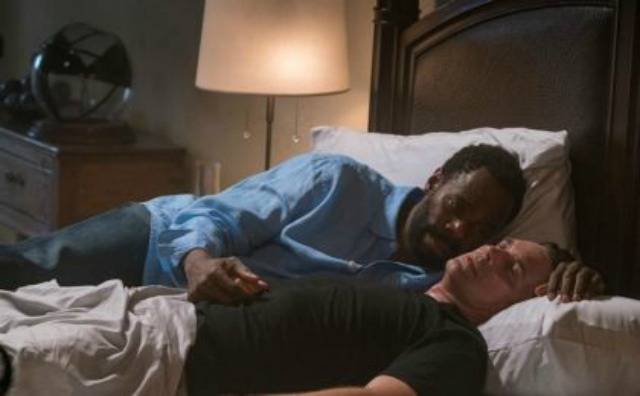 Un saluto ai nostri amici di Fear The Walking Dead Italia !