THE SNOWMEN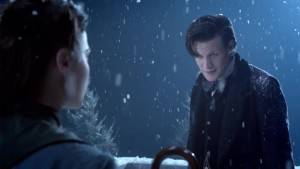 Questa puntata l'abbiamo vista col cuore spezzato: avevamo appena detto addio ai Pond, i nostri Pond, i nostri bellissimi Pond. E non eravamo solo noi ad avere il cuore spezzato: il Dottore si è addirittura rinchiuso nella sua TARDIS, nascondendosi tra le nuvole nella Londra vittoriana. Ed è proprio Clara Oswin Oswald, una cameriera conosciuta per caso, a spronarlo a riprendere a vivere e a tornare a essere il Dottore. Così il nostro alieno preferito inizia a indagare su degli strani fenomeni che si stanno verificando: la neve sembra avere vita propria…
Insomma, anche le eco di Clara gli danno lo stesso avviso: Run, you clever boy, and be a Doctor.
Curiosità: la voce della Grande Intelligenza è quella di Ian McKellen (l'attore che ha interpretato leggende quali Gandalf e Magneto).
Nota di merito: il Dottore qui appare vestito come iconograficamente fa Sherlock Holmes e i riferimenti al grande detective creato dalla penna di sir Arthur Conan Doyle si sprecano.
E altra citazione, passata spesso inosservata, è Simeon/Grande Intelligenza che dice: winter is coming. GoT docet.