"Moffat, i BAFTA in testa te li tiro."
Questo è stato il mio primo commento sensato al termine della visione di The Husbands of River Song, speciale di Natale di Doctor Who. Un piccolo capolavoro di umorismo, allegria, buoni sentimenti (? Okay, in effetti River sta progettando un omicidio a sangue freddo perché… beh, è River, è psicopatica, l'hanno programmata così. E noi l'amiamo per questo, no? E anche il Dottore l'ama per questo, ricordate? Tasha: "They engineered a psychopath to kill you." Eleven:" Totally married her. I'd never have made it here alive without River Song.") e quel pizzico di tristezza (okay, diciamo pure vagonata) che caratterizza sempre la produzione del nostro amato/odiato showrunner.
Insomma, una commedia agrodolce, di cui sentivamo il bisogno per prenderci una pausa da tutta la tensione emotiva a cui siamo stati sottoposti durante la stagione appena conclusa. Tra Skaro, il Fantasma del Dottore senza occhi, la creazione di Me, i Sandmen e la morte di Clara con relativa prigionia di Twelve, noi poveri telespettatori innocenti non è che ci siamo propriamente divertiti. Abbiamo ammirato la coerenza di una storyline praticamente perfetta, ma tra lacrime e senso di vuoto. Con questa puntata, invece, Moffat compie un ulteriore passo in avanti: ci fa piangere, sì, ma di commozione e di gioia.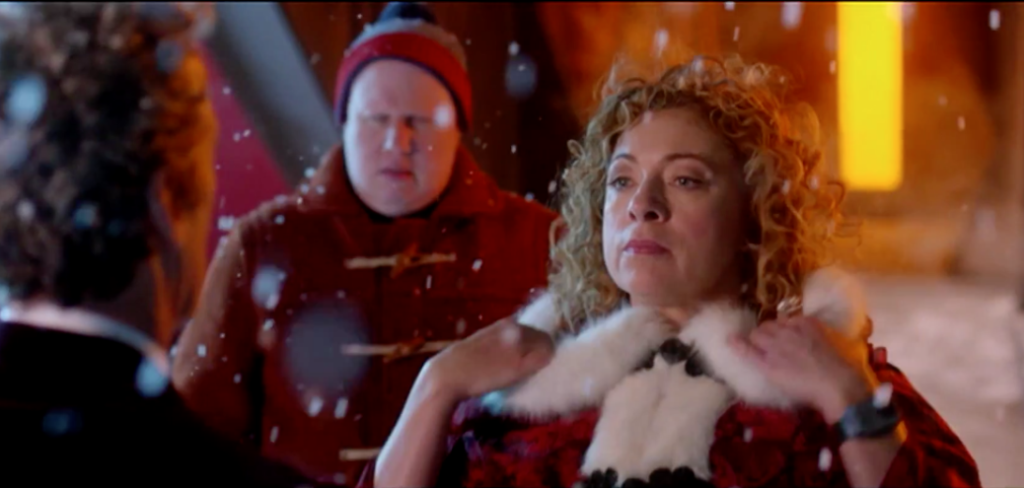 Ma analizziamo assieme la puntata. Cominciamo con il Dottore che ha in testa un paio di corna da renna perché la TARDIS ha deciso di tirargli su il morale. Poi, dopo aver deciso di spacciarsi per un chirurgo, per un gioco di parole tra surgeon e Doctor, si ritrova a presentarsi davanti alla regina Hydroflax, che altri non è che… River Song. Una River Song che non lo riconosce (e all'inizio uno pensa che sia una sua versione molto giovane, che magari ha appena incontrato il Dottore, e che è sposata con un altro. Un altro che vuole assassinare perché in realtà ha sposato… un diamante! E sì, questa cosa è così da River che non possiamo non ridere. Risate acuite dai continui scambi col Dottore, che tratta come un idiota: epica la scena in cui cerca di rubare la TARDIS dichiarando, a un allibito Dottore, che lo fa spesso. Ma ancora meglio è ciò che segue: Twelve che entra nella sua macchina del tempo, nella sua cabina blu e finge di non averla mai vista, lanciandosi in una frenetica e appassionata disquisizione su come sia BIGGER ON THE INSIDE.
Ora, quello che vorrei sapere io è: Peter, tesoro mio, quanto hai pagato Moffat per farti scrivere quella scena? Perché è così evidentemente da Capaldi o – meglio ancora – da fan questa cosa, che seriamente mi chiedo quanto l'abbia stressato per averla. Che volesse farla probabilmente da tutta la vita è evidente dalle battute: "finalmente è il mio turno" e "ho sempre desiderato vedere questa scena fatta bene".
Comunque, tornando alla puntata, si rivela essere un misto di inseguimenti, battute, azione ben mescolati. Altra piccola perla riguarda River e la sua ricerca del Dottore, chiamando la sua missione Damsel in distress.
Ma, nonostante tutta questa parte dinamica e divertente, l'angoscia e la tristezza sono sempre in agguato: il diario di River che è quasi pieno, lei che non riconosce il Dottore perché non sa nulla del nuovo ciclo di rigenerazioni, la sua fredda e terrificante consapevolezza che lui non la ami perché amare il Dottore è come amare le stelle e non ci si può aspettare di essere ricambiati. E il tutto mentre Twelve è lì, accanto a lei, che cerca di farsi riconoscere. Straziante.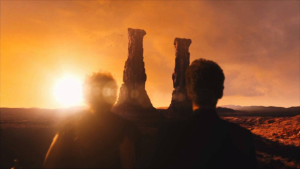 Come straziante è la consapevolezza finale di entrambi che quella sarà l'ultima sera che passeranno insieme, smorzata dal fatto che su Darillium una notte duri ben 24 anni. Che sembra solo una battuta per farci ridere, ma dovrebbe anche farci pensare: il Dottore che non fa che scappare da tutta la vita decide di donare ben 24 anni della sua vita a River. 24 anni senza poter fuggire, senza poter correre, senza potersi distrarre in alcun modo. E questa è la prova d'amore più grande che possa farle.
Ultimo appunto: con questo speciale si chiude il cerchio della storia della professoressa River Song. La loro ultima notte su Darillium viene infatti descritta da Moffat in Silence in the Library e Forest of the Dead, le prime due puntate in cui compare questo personaggio.
È dunque la fine per River Song? Io spero di no. In ogni caso, possiamo solo rimetterci alla clemenza (?) di Steven Moffat e fare la cosa che sappiamo fare meglio: aspettare…