# #
#DeliridiSpade è la rubrica del martedì sera di Hall of Series che vi racconta ironicamente l'episodio di Game of Thrones andato in onda il giorno prima. Siamo tornati, carichi di birra e VINOH
# #
Avete presente quella puntata che fate finta d'aver visto negli ultimi due giorni e in realtà avete già archiviato da una settimana? Quella che non doveva essere spoilerata in alcun modo e di cui si sapeva già tutto? Non bastava il leak completo delle trame della stagione di Game of Thrones, gli hacker stronzi e gli indiani malandrini: si è messo in mezzo pure il bidello spagnolo della HBO al quale si sconsiglia di affidare la valigetta con i codici nucleari.
Siete contenti d'averla trovata cinque giorni prima, vero? Lasciate perdere. Di questo passo produrranno l'ottava stagione con quattro spicci e ci ritroveremo con i draghi di cartapesta, gli Estranei con le maschere di carnevale, i metalupi interpretati da spaventosi chiwawa inquadrati dal basso per sembrare più grandi e i mantelli dei Guardiani della Notte ricavati dai tappetti più scadenti dell'IKEA. L'ultima è vera? Visto? La deriva è già iniziata.
# #
C'è solo una cosa peggiore delle puntate mandate in onda prima del tempo: l'80% delle persone che guardano le puntate prima del tempo. Il 50% di essi spoilera allegramente, il restante lo fa con frasi che sono criptiche solo nella loro testa. Tipo:
"Io non sono uno spoileratore ma… per fortuna gliene sono rimasti due". 
"Io non sono uno spoileratore ma… meno male che è intervenuta Daenerys". 
"Io non sono uno spoileratore ma… il Re della Notte è bravissimo nel lancio del giavellotto". 
Dai, iniziamo. A meno che non abbiate già visto anche la settima, l'intera ottava stagione e il porno con protagonisti Tormund e l'orso spiritato.
Un paio di considerazioni a caso (non richieste) sulla 7×06 di Game of Thrones
Se Game of Thrones fosse sempre stato così veloce, avremmo visto le Nozze Rosse nella quinta puntata e la serie sarebbe finita quattro stagioni prima: purtroppo non abbiamo avuto l'occasione di dover sopportare Pycelle per meno tempo.
Daenerys che si lamenta della statura di Jon ha la stessa credibilità delle donne che ti guardano male se rispondi "Niente" alla domanda "Che hai?".
Un tempo Tyrion ci sapeva fare con le donne. Ora cerca di farsele amiche evocando la loro morte.
Le strategie di Tyrion hanno portato in dote l'eliminazione di due casate alleate e un drago, oltre alla possibile perdita degli Immacolati. D'ora in avanti Daenerys si affiderà ai consigli di Cersei.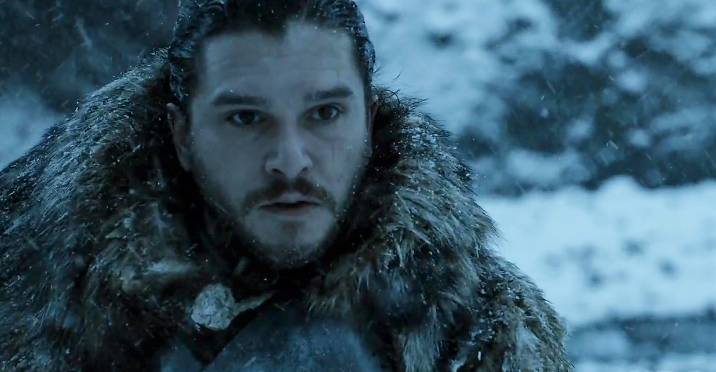 Jon continua a rimpiangere i bei tempi in cui era steso in un tavolo senza dover dire niente.
La prossima volta che penserete di aver fatto tutto il possibile per conquistare una ragazza, ricordatevi di Jorah circondato da migliaia di non-morti.
Normalmente chi vede la neve per la prima volta reagisce così…
… ma Gendry è un caso a parte.
Di questo passo Tormund potrebbe andare oltre il concetto di "Basta che respiri".
"Camminare è buono, combattere è ottimo, scopare è la cosa migliore".
Al povero Beric è rimasta solo una vita.
Comunque questa storia della spada fiammeggiante sa di tamarrata da sagra del paese per rimorchiare la ragazza di turno.
Il Mastino lo sa e si è dato al tiro al bersaglio.
I corvi di Westeros sono più veloci di Whatsapp.
Se tutte le ragazze si presentassero puntuali agli appuntamenti come fa Daenerys con Jon, il mondo sarebbe un posto migliore.
Una stagione senza uno Stark morto male non è una vera stagione di Game of Thrones.
Questi sono Benioff, Weiss e uno stronzo di passaggio nel momento in cui hanno avuto la trovatona di Benjen:
F4: basito, il pubblico.
Ma chiunque abbia fatto il chierichetto in chiesa almeno una volta nella vita ha sognato di usare così il turibolo per l'incenso.
I non-morti hanno un futuro nel campo dei traslochi.
Gli Estranei si portano sempre dietro le catene per le giornate ghiacciate come un qualunque automobilista in Val Brembana. Di che vi sorprendete?
"Le coltellate al cuore metaforiche sono una stronzata, vero?"
"Il freddo mi spacca la pelle". 
"Ghost è molto affettuoso".
"Sono allergico alle cipolle. Stronzo d'un Cavaliere". 
"Il sesso nelle caverne è piuttosto intenso". 
"Non conosco nessun Olly". 
Arya è la classica sorellina rompipalle che molti di noi hanno o hanno avuto, con l'unica differenza che lei è un'assassina professionista con una valigia piena di volti. E un fratello eroinomane.
Lyanna Mormont non si vede da quattro puntate, Euron da tre e un paio di tette dai tempi di Missandei, mentre Pycelle è stato in scena per sei stagioni in due terzi delle puntate: la vita sa essere maledetta.
Un saluto da Jon Snow e dal suo tentativo di sostituire Viserion!
Antonio Casu