Attenzione: questa recensione contiene spoiler.
Con Chilling Adventures of Sabrina 3×05 passiamo il traguardo della prima metà e abbiamo un quadro più chiaro di cosa sta succedendo.
Nella puntata precedente abbiamo scoperto contro chi ha a che fare Sabrina: una congrega di streghe devote al culto pagano (per saperne di più trovare la recensione qui). Finalmente capiamo che nel mondo ci sono diverse streghe che attingono il loro potere da fonti altrettanto diverse. Che sia la chiave di volta per riottenere i poteri perduti?
Tuttavia, oltre ai pagani c'è un problema più impellente: Lucifer/Padre Blackwood vaga libero per Greendale. È inutile dire che il diavolo sia in cerca di vendetta contro la congrega che lo ha rinchiuso e contro i mortali che hanno cospirato contro di lui. Lucifer è un narcisista e Blackwood non è da meno. Insieme sono una forza crudele e invisibile.
Chilling Adventures of Sabrina 3×05 ricorda alla sua protagonista quanto suo padre possa essere malvagio e meschino. Tanto da diventare una presenza ingombrante anche quando non c'è.
Partiamo infatti da ciò che resta di Lucifer, cioè Nick, il quale è imbottito fino al midollo di droghe. La scena è quella di un tossico in astinenza che cerca di riversare tutto il suo odio verso coloro che lo amano e cercano di salvarlo. Sabrina non vuole fare altro, tanto che mette a repentaglio la sua reggenza agli inferi pur di trovare una soluzione al suo male. Può l'amore salvarla? È facile conoscendo la giovane strega che possa farcela. Lei ci crede fermamente e, anche di fronte alla crudeltà e ai tradimenti del giovane amante, si fa forza.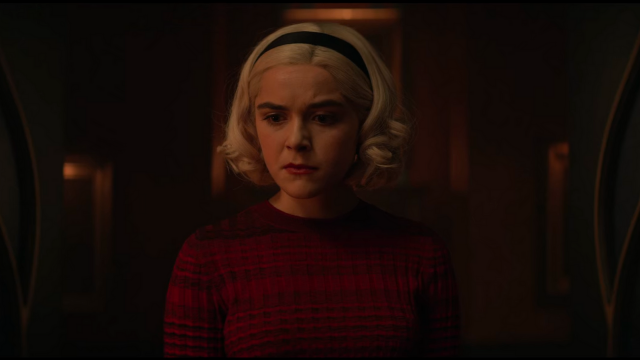 Ci pensa la corte degli inferi a rimetterla in riga. Sebbene lei non voglia perdere tempo con la seconda sfida, Lilith le ricorda i suoi doveri come regina. Per farle capire quanto sia complicata la situazione la stessa madre dei mostri rivela alla sua congrega che lei ormai siede sul trono dell'inferno.
Proprio questo però potrebbe essere il problema che la affligge, infatti sembra che il costante rifiuto di Sabrina per il trono infernale renda debole l'equilibrio dell'universo. Ma come potrebbe accettarlo dopo aver combattuto tanto? Ancora una volta la sua carica femminile prende il sopravvento. Non accetta di essere lei la causa della perdita di potere della sua stessa comunità ma vi porrà rimedio lo stesso.
Torna di nuovo il tema della famiglia e della congrega, per cui la nostra protagonista farebbe qualsiasi cosa. Sono tutti spaventati dalla mancanza di Lucifer e non resta loro molta magia, per questo lei accetta la sfida della corte infernale.
Non basterà però Sabrina o il signore oscuro per salvarli, per questo anche Ambrose si mette all'opera per aumentare il poco potere che gli resta e chiamare a raccolta le streghe ribelli, donne dal grande potere ma emarginate persino dalla Chiesa della Notte. Nel frattempo però, si sono tutti dimenticati di un membro fondamentale, cioè Hilda, che si sta piano piano trasformando in un ragno senza che qualcuno se ne renda minimamente conto.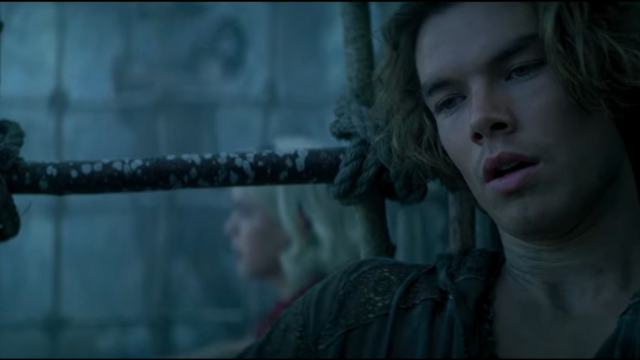 Diventa tutto una grande corsa contro il tempo, ed evidentemente anche gli sceneggiatori pensavano lo stesso. Infatti Sabrina deve recuperare il secondo artefatto occulto: la bacinella di Ponzio Pilato, nascosta in un loop temporale sul monte Golgotha. Sarebbe un problema per chiunque tranne per la nostra eroina che ha fortuitamente un uovo immerso in un acquario che ha dei poteri legati al tempo.
Nonostante la fortunata coincidenza, Sabrina non scampa al giudizio di Ponzio Pilato e insieme a lei c'è anche Caliban, per qualche motivo arrivato prima. Il principe dell'inferno o l'uomo d'argilla, che dir si voglia, è costantemente un passo avanti alla nostra strega, soprattutto perché non si fa scrupoli. I due fanno la conoscenza di Barabba, anche se più identico a Gesù in realtà, che ormai si è rotto le scatole di ripetere all'infinito quel momento. Vivere in eterno per essere salvato da Pilato mentre gli sfortunati cercatori muoiono inesorabilmente.
Caliban non ha un vero piano, lo si capisce subito e non stupisce il fatto che rimanga intrappolato mentre Sabrina sfrutta il più abusato degli stratagemmi.
Tuttavia la creatura d'argilla mostra per la prima volta un po' di senso dell'onore e soprattutto interesse nei confronti della sua regina. Che sia per Sabrina una sorta di nuova fiamma? L'amore la lega fortemente a Nick e, per certi versi, Caliban ce lo ricorda moltissimo. Ma ha sfidato l'inferno per riavere Nick. È lui la ragione per cui sta affrontando le sfide delle profane regalie.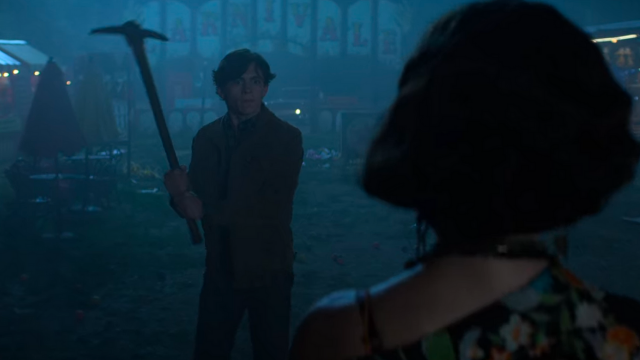 Lucifer non è di certo rimasto in disparte, anche se il suo potere sembra notevolmente diminuito. Nel corso della puntata si limita a sussurrare all'orecchio consigli con l'obiettivo di far cadere nel suo tranello i suoi nemici, coloro che lo hanno tradito. Ciò che vuole davvero lasciare è una scia di sangue contro chi ha osato mettere in dubbio la sua autorità.
Consiglia a Melvin ed Elspeth di unirsi ai pagani e libera volutamente Agatha al fine di fermare l'adunata delle streghe ribelli ma non è ancora soddisfatto, non vuole punire solo la sua congrega ma anche gli umani loro alleati.
Harvey ci cade con tutte le scarpe senza pensare minimamente alla follia che sta per compiere. Armato di mazza da baseball e degli improbabili amici decide di infischiarsene del fatto che i pagani siano streghe molto potenti e antiche. Iniziano così a sfasciare il Luna Park come dei bulli di quartiere. Cosa importa in fondo se chi stai sfidando ha reso la tua ragazza una statua? La risposta è presto ovvia quando di fronte a questi ragazzi si palesa Circe, potete immaginare come sia finita.
Devo ammettere che quando all'inizio della stagione si parlava di orrori immaginavo tutta un'altra storia ma il piano è ormai palese. Consiste nel risvegliare l'uomo verde, "il più antico degli dei" e per farlo serve il sangue di una vergine locale come rivela Robin, diventato un alleato dei nostri amici e l'amante di Theo. Guarda caso Harvey, Theo e la stessa Sabrina sono ancora vergini ma chi dei tre avrà questo onore?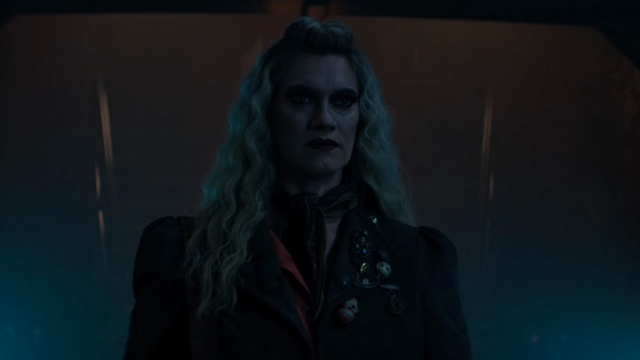 Lucifer lascia una scia ben evidente durante tutta Chilling Adventures of Sabrina 3×05. A partire dalle conseguenze dei suoi sussurri o dalla situazione all'inferno che ha bisogno di stabilità. Ma torniamo per un attimo a Nick che ha al suo interno un segno tangibile, un residuo del diavolo. Una sorta di infezione viva e maligna che lo sta corrompendo, qualcosa che lo sta corrodendo dall'interno.
Ambrose e Sabrina riescono a trovare un modo per salvarlo ma non è abbastanza.
Non è mai abbastanza quello che questa giovane strega riesce a fare solo per amore o il fatto che debba continuamente dividersi tra gli affetti e il suo dovere. Questo evidentemente non è chiaro al suo giovane amante.
Nick è confuso, tanto confuso da prendere e lasciare la nostra streghetta. Ora se qualcuno venisse per me all'inferno, rischiasse di contaminarsi per liberarmi da un'oscura presenza e resistesse a tutto l'odio che le posso riversare addosso, io non la lascerei. Ma è proprio vero che lo stregone è stato cresciuto dai lupi.
Non c'è tempo di struggersi per amore, alle regine non è concesso. Sabrina deve rivendicare la sua vittoria completa su Caliban, rimasto intrappolato nel loop temporale. Ma non è così, il nostro principe dell'inferno è uno che sa aspettare e fa la sua ricomparsa. Ufficialmente possiamo far partire il momento della ship Caliban e Sabrina che sembra ormai inevitabile.
Nel frattempo sul finale il piano di Ambrose ha successo e finalmente arrivano le streghe emarginate. Non sembrano molto contente di essere state convocate a forza dalla congrega ma tra di loro c'è una nostra vecchia conoscenza: Mama Marie.
Non bastavano i pagani e Lucifer, dobbiamo aggiungere anche le streghe ribelli alle minacce alla congrega?