Attenzione! Questa recensione contiene spoiler su Chilling Adventures of Sabrina 3×04
I dubbi e le incertezze lasciati dal precedente episodio di Chilling Adventures of Sabrina (qui la recensione) ci accompagnano ancora durante la 3×04. The Hare Moon combina momenti estremamente leggeri e a tratti trash (come il bizzarro canto nel bosco), a momenti di altissima tensione. Ovviamente, il risultato finale è disastroso.
Lo show procede a un ritmo spedito, rispondendo immediatamente ai punti interrogativi lasciati in sospeso nel precedente episodio.
In particolar modo, si scopre finalmente che la debolezza della congrega è opera di Lucifero. Il diavolo infatti, per vendicarsi di Sabrina e della sua famiglia, decide di lasciare le streghe prive di poteri. I personaggi decidono così di ricorrere al sostegno di Lilith che, tuttavia, non fornisce alcun aiuto concreto. Il suo personaggio purtroppo non riesce a brillare in questo episodio. Colei che nel finale della seconda stagione indossava la corona infernale, adesso è quasi invisibile. Ritrovare Madame Satan nel ruolo di consigliera è quindi parecchio deludente.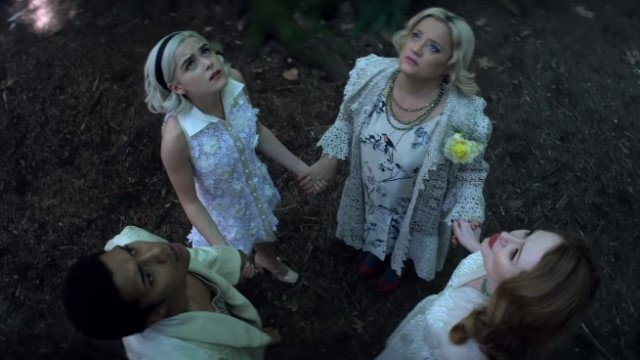 Sfortunatamente, questo è solo uno degli aspetti negativi riscontrati durante l'episodio. Il ritorno delle canzoni in particolare rappresenta il dilemma peggiore di questa terza stagione. L'ironia con la quale la stessa protagonista si prende gioco delle incoerenti tradizioni delle streghe, lascia intuire che lo stile di Chilling Adventures of Sabrina stia mutando. L'inserimento di così tanti momenti musicali, il cui scopo è probabilmente quello di sdrammatizzare e alleggerire la trama, è un'arma a doppio taglio.
Nelle precedenti stagioni le canzoni all'interno dello show furono contestualizzate, il loro utilizzo aveva un senso. Adesso, invece, questo cambiamento rischia di trasformare lo show in una serie mediocre e poco attenta. Il rischio di tradire i numerosi fan che si sono affezionati alle avventure di Sabrina Spellman è altissimo. Affrontare con passione e minuziosità il tema del misticismo, nonché della religione, è ciò che ha reso lo show estremamente interessante. Sarebbe quindi un peccato ritrovarsi dinanzi all'ennesimo teen drama superficiale, il cui argomento principale non sarà più la stregoneria bensì i problemi di cuore.
Dimenticatevi quindi l'atmosfera sinistra vista finora, poiché Chilling Adventures of Sabrina 3×04 ne è quasi del tutto assente.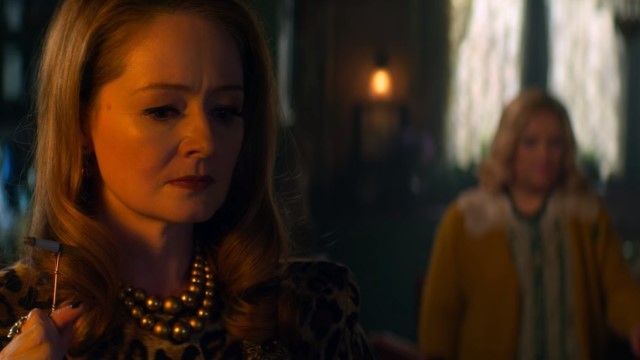 Al quarto episodio, l'intera trama continua ancora a essere avvolta da un alone di mistero. È infatti difficile prevedere in che modo possa evolversi la storia. Con l'arrivo delle streghe pagane, la scomparsa di Lucifero e la graduale perdita di poteri della congrega, è impossibile elaborare delle ipotesi circa il destino (e la sopravvivenza) dei nostri protagonisti. Quel che è certo, è che al centro del quarto episodio vi è una nuova caccia ai cattivi, sebbene per il momento non sia ben chiaro chi tra i tanti villain rappresenti il male minore.
A parte queste note dolenti, la puntata si rivela come una delle prove di recitazione più impegnative per Kiernan Shipka e Gavin Leatherwood. L'emotivo confronto tra Nicholas e Sabrina rappresenta uno dei momenti più coinvolgenti della 3×04. L'agonia e il tormento causati dalla possessione di Lucifero hanno difatti scombussolato Scratch, che mette in dubbio i propri sentimenti per Sabrina. Allontanandosi da lei e dalla congrega, egli trova conforto nell'alcol e nelle droghe, rischiando persino di perdere la vita. L'episodio si conclude quindi con un cliffhanger totalmente inaspettato.
Amore, amicizia e segreti dominano Chilling Adventures of Sabrina 3×04. I pericoli da affrontare appaiono più temibili che mai e i protagonisti non sembrano essere ancora pronti per combatterli. Gli Spellman tentano invano di ricostruire una chiesa priva di fondamenta, priva di una divinità che li protegga. Il destino delle streghe di Greendale sembra così appeso a un filo, ostacolate da nuovi e vecchi avversari.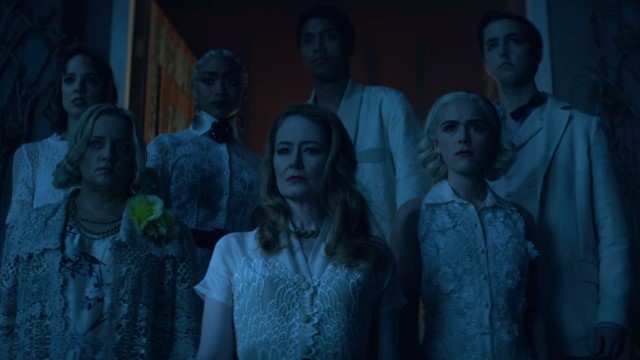 Non sappiamo ancora cosa aspettarci da questa stagione, i cui continui plot twist fanno cadere qualsiasi ipotesi maturata nel corso degli episodi.
Sino a ora, infatti, le domande senza risposta sono ancora parecchie. In che modo la congrega otterrà nuovamente i poteri, ora che Lucifero è scomparso? Cosa si cela dietro il misterioso uovo recuperato da Padre Blackwood? E Nicholas Scratch, se sopravvivrà, sarà in grado di superare il proprio trauma? Tra dubbi e amarezze, non possiamo che proseguire la visione dello show e attendere il colpo di scena in grado di farci cambiare idea su quest'intera stagione, per il momento deludente.