Chilling Adventures of Sabrina è uno dei gioiellini sfornati da Netflix.
Recentemente è uscita la seconda stagione e devo dire che le aspettative non sono state deluse per nulla. La trama, come sapete, gira attorno a Sabrina, una mezzosangue (metà strega e metà umana), che dovrà affrontare varie vicissitudini tra il patriarcato misogino della vita da strega e la vita dei comuni mortali.
Sebbene Chilling Adventures of Sabrina compia un sacco di denuncia sociale, soprattutto per quanto riguarda il ruolo della donna e discriminazione di genere, questo non la rende affatto noiosa e pesante.
Concentriamoci ora sulle eroine, sulle Donne che in Chilling Adventures of Sabrina ci fanno desiderare di diventare delle badass.
1) Lilith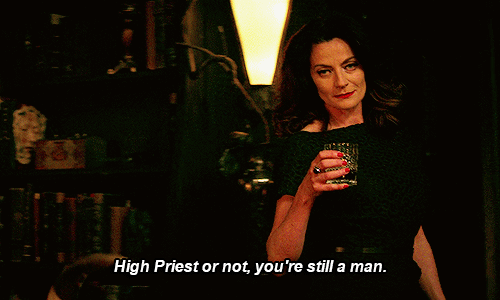 Questa donna… Non riuscirei a immaginarmi la serie senza il suo personaggio dotato di uno charme, una furbizia, un'intelligenza fuori dal comune. È il prototipo perfetto di femme fatale e fatale lo è a tutti gli effetti.
D'altra parte Michelle Gomez sprizza sensualità da tutti i pori.
La sua figura e il suo personaggio sono tutto ciò che nella vita vorrei essere. Lilith è un demone, la madre di tutti i demoni, e come tale è al servizio del Signore Oscuro (Satana), che le ordina di tenere d'occhio Sabrina, ingraziandosela, in modo tale che questa faccia la sua volontà, in cambio del tanto ambito trono.
Lilith, grazie a furbizia e scaltrezza, riesce a raggiungere il suo intento, nonostante qualche insuccesso che la porterà a essere umiliata dal Signore Oscuro.
Nonostante la sua voglia combattiva, la sua astuzia deve sottostare alle regole del suo padrone, ingerendo le lacrime, la rabbia e la furia di non essere abbastanza.
Ed è proprio qui che si trova il parallelismo con la condizione della donna odierna in alcuni ambiti lavorativi. Qualsiasi cosa si faccia non si è mai abbastanza, mai troppo bella, mai troppo giovane, mai troppo brava e in gamba; la donna oggi deve affrontare il doppio delle peripezie dei suoi colleghi maschi, rinunciare all'amore, alla maternità, per riuscire a vedere uno spiraglio del tanto agognato obiettivo.
Per cosa poi? Vederselo sottrarre da una più giovane, più carina, semplicemente "più". Rinuncia a tutto per la carriera, per il suo sogno e in cambio ha il nulla.
Lilith è un esempio da seguire, perché nonostante tutto riesce a prendersi ciò che considera suo: la corona.
PRAISE LILITH!
2) Zelda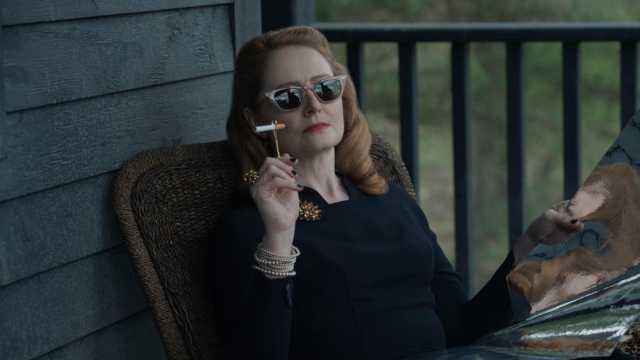 Altro personaggio cardine dello show.
Zelda si contende il trono con Lilith per quanto riguarda charme, bellezza e intelligenza e per quanto mi concerne abbandonerei tutta la mia vita per seguirla all'istante in capo al mondo.
Lei e Hilda sono le zie/madri che tutti vorremmo avere, poiché si completano a vicenda. Zelda è quella autoritaria, che non si fa intenerire davanti a lacrime di coccodrillo. Insomma, una donna con gli attributi.
Incarna per certi versi la figura della donna casalinga per scelta, che per la famiglia e la protezione di questa sarebbe capace di mettersi contro il Signore Oscuro in persona (e arrivare a sposare un maledetto misogino, purtroppo).
Zelda sta con un uomo che ritiene che le donne siano adatte alla sola procreazione e lo fa per cosa? Per il buon nome della famiglia. Sempre per questa ragione Padre Blackwood le fa un incantesimo rendendola una perfetta mogliettina anni '50.
Nonostante ciò, il forte carattere di Zelda e l'amore per la sua famiglia riusciranno a farla rinsavire e lei si ribellerà al marito. Una storia di riscatto che diventa un esempio per tutte le donne.
3) Hilda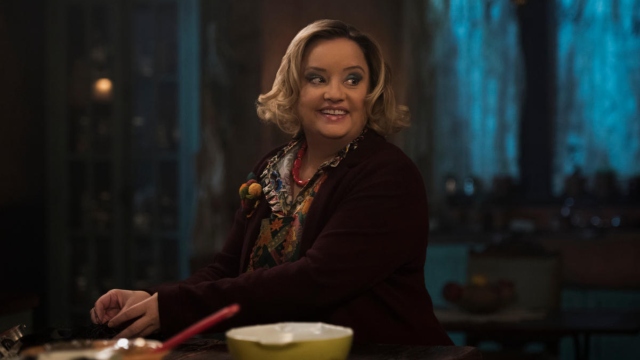 Zia Hilda all'apparenza può sembrare l'anello debole della famiglia, causa la sua dolcezza, le lacrime facili e il modo gentile con cui si pone verso il prossimo.
In realtà sono questi gli elementi che fanno di lei il personaggio più ingenuo di tutta la serie, probabilmente lo è più degli amici umani di Chilling Adventures of Sabrina.
Nonostante ciò non dobbiamo farci ingannare dal suo aspetto nè dalle apparenze, poiché Hilda è pronta a prendersi ciò che vuole e anche lei a difendere la propria famiglia.
A modo suo anche lei è una irresistibile badass.
4) Sabrina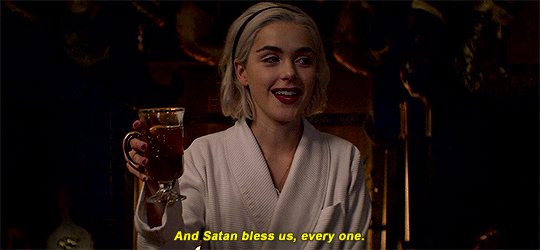 Se le prime tre rappresentano le donne del presente e i loro impedimenti, Sabrina è il futuro, la speranza in un mondo migliore nel quale le donne riescono a sostenersi a vicenda, riescono a fare carriera, non hanno paura di esprimere le proprie opinioni e mostrare al mondo le proprie idee e ambizioni.
Sabrina è la speranza della gioventù, del mondo che dovrà creare. Un mondo giusto, perfetto, nel quale le donne verranno esaminate per la capacità e non l'età e la possibilità di diventare madre.
Sabrina ci riscatta, anzi riscatta tutti i giovani considerati dei cialtroni, dei festaioli, degli scansafatiche senza idee, da un mondo adulto chiuso in se stesso e nel passato.
Sabrina sceglie e prende tutto: la vita da umana e quella da strega, la sua libertà e i suoi doveri, le ambizioni e le sconfitte.
Sabrina urla al mondo che devi essere ciò che senti, anche se questo non è accettato dalla società; ci insegna che devi sempre seguire il tuo cuore, la tua indole, nonostante tutti gli errori che potrai commettere, perché in una società pronta a giudicare ogni capello fuori posto, l'unica opinione che conta è la tua.
Sabrina ci insegna che è normale avere paura, piangere, essere sconfitte, ma si deve andare avanti comunque per raggiungere i propri obiettivi. Bisogna fare la cosa giusta, anche se ciò vuol dire intrappolare il proprio ragazzo con Satana e Lilith all'Inferno.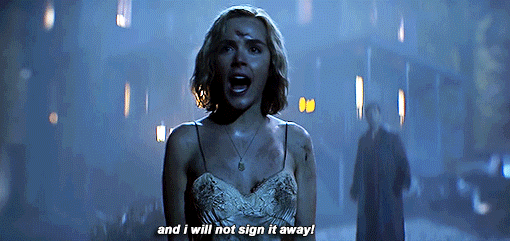 Quindi un plauso a Sabrina e speriamo continui in questo modo e non ci deluda con la terza stagione!