Attenzione! Questa recensione contiene spoiler su Chilling Adventures of Sabrina 3×03
Il ritorno di Sabrina Spellman coincide con l'arrivo di nuovi guai per la cittadina di Greendale. La giovane strega, dopo aver rischiato la propria vita e quella dei suoi amici per salvare Nicholas Scratch, ha infatti scoperto che anche l'inferno ha i suoi grattacapi. Il trono infernale affascina demoni e principi e, sebbene la nostra protagonista sia la legittima erede al trono, il rischio che la corona finisca nelle mani sbagliate è altissimo. Spetta quindi a lei l'arduo compito di dimostrarsi una valida regnante, determinata ed eticamente scorretta.
Chilling Adventures of Sabrina 3×03 si presenta così come un vulcano di novità.
Vengono infatti introdotti nuovi personaggi, nonché dei misteriosi antagonisti. Inoltre, il cliffhanger con cui ci eravamo lasciati alla fine della seconda stagione trova già una risoluzione. Spostando lo spirito di Lucifero nel corpo di Padre Blackwood, ritrovato da Prudence e Ambrose nella 3×02 (ecco la recensione dell'episodio), Scratch ottiene così la libertà. Sfortunatamente, i sintomi dovuti alla prolungata convivenza con il diavolo sono evidenti e il suo tormento lo rende fragile agli occhi altrui.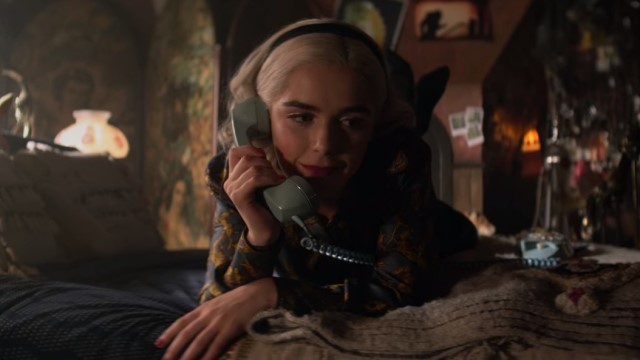 Tra le new entry, il principe Caliban rappresenta uno dei rivali principali della protagonista. Malgrado non si sappia ancora molto di lui, l'idea che dietro il suo arrivo possa esserci lo zampino del diavolo non è da eliminare a priori. Sabrina, infatti, pur di salvare la terra dal giovane sciacallo ha deciso di rivendicare il trono come legittima erede, dando inizio alla lotta per la corona.
In Chilling Adventures of Sabrina 3×03 assistiamo all'intreccio di più storyline, le quali garantiscono un moderato approfondimento di personaggi come Theo o Harvey. Il punto di forza di questo episodio è infatti il saper trattare più temi contemporaneamente, senza appesantire la narrazione o creare confusione. Inoltre, tra i momenti più interessanti della puntata rientra il semi-crossover tra il teen drama horror e la serie tv Riverdale.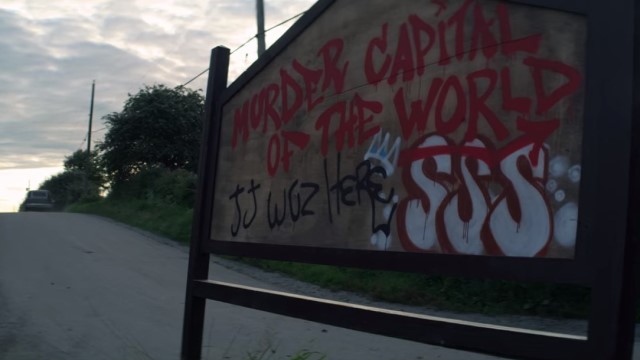 L'azione si sposta infatti nell'omonima cittadina, dove la Spellman tenta di recuperare la corona di Erode, nascosta in un albero appartenente alla famiglia Blossom. Purtroppo, non c'è alcuna interazione tra i personaggi di Chilling Adventures of Sabrina e i ragazzi di Riverdale.
Tuttavia, questi easter egg lasciano intuire che l'interesse per un crossover tra le due serie è ancora vivo.
I punti interrogativi che caratterizzano questa stagione sono parecchi e la fame di risposte cresce episodio dopo episodio. Tra i misteri più interessanti vi è, ad esempio, l'improvvisa debolezza della congrega di streghe. Una delle ipotesi che potrebbe spiegare la drammatica situazione riguarda l'assenza di stabilità all'inferno, o l'arrivo dei nuovi antagonisti a Greendale.
Sabrina, infatti, non deve unicamente affrontare Caliban e Lucifero, ancora imprigionato nelle segrete, ma dei nuovi villain le cui reali intenzioni saranno rivelate solo a fine episodio: gli antichi dei. Essi, infatti, sembrano i rivali più agguerriti di questa stagione nonostante di loro non si sappia ancora nulla di concreto, a parte che la loro natura sia quasi divina e che in passato abbiano vissuto in paradiso.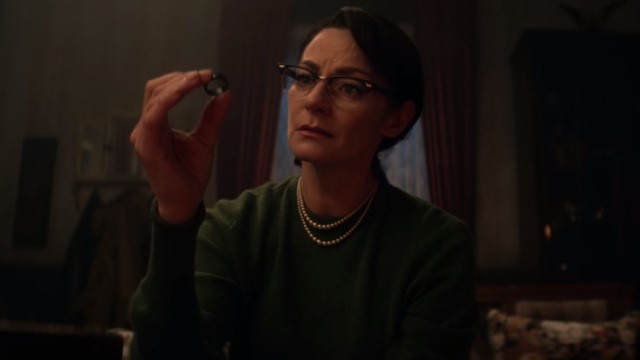 Ciò che rende Chilling Adventures of Sabrina 3×03 un episodio estremamente ricco di novità non è solo la presenza di new entry o la repentina evoluzione degli eventi. Durante la puntata, infatti, viene dato più spazio a personaggi solitamente poco valorizzati, come zia Hilda e Mrs. Wardwell, le quali sono contraddistinte da un'interessante voglia di rivalsa e indipendenza.
La terza stagione di Chilling Adventures of Sabrina sta ancora carburando, inserendo sottotrame e nuovi personaggi da non sottovalutare.
L'equilibrio con il quale ogni storyline è trattata rende, inoltre, la visione della puntata parecchio coinvolgente. La narrazione è fluida e, soprattutto, mai confusionaria o noiosa, caratterizzata da un'ottima regia. Purtroppo, ciò che salta immediatamente all'occhio in questi primi episodi è la drastica diminuzione della tipica atmosfera dark e gotica che contraddistingue lo show.
Sebbene non sia stata ancora in grado di superare il livello delle precedenti stagioni, le aspettative sono ancora alte. Lo show Netflix ha tutti gli strumenti per confermarsi, ancora una volta, un successo: dipende tutto da come saranno sfruttati. Il rischio di ritrovarci dinanzi all'ennesimo teen drama trash, infatti, non è da escludere.