Sembra non esserci mai pace per i fan di Brooklyn Nine-Nine: prima la serie viene cancellata dalla Fox, successivamente per la gioia di tutti, viene acquistata e rinnovata dall'ente NBC. Ma le sorprese sembrano non finire, perché esattamente il 3 Ottobre del 2018 giunge una nuova notizia:
Chelsea Peretti lascia Brooklyn Nine-Nine.
Esattamente: l'attrice americana classe 1978, storica amica di Andy Samberg, ha comunicato sui Social che non parteciperà completamente alla sesta stagione della serie americana, attualmente in fase di registrazione, se non per qualche apparizione nei primi episodi. Per cercare di descrivere il suo stato d'animo, Chelsea ha deciso di ripostare il messaggio lasciato da Emmy Rossum quando quest'ultima ha comunicato l'abbandono di Shameless. (sottolineando le parti da lei condivise maggiormente).
Ciao fan di B99! è Chelsea Peretti che vi parla. Non farò la stagione completa di Brooklyn Nine-Nine 6. Ma questo non significa che non ritornerò, occhiolino, cuore emoji. Voglio ringraziarvi per tutte le ore spese a guardare Gina Linetti: sicura, idiota ma intelligente, concisa, infusa di ritmo e di radiazioni da telefono. È difficile per me sapere esattamente cosa dire. Forse Emmy Rossum lo ha detto in modo migliore riguardo a Shameless.
Chelsea ha ottenuto pieno sostegno sia da parte degli altri membri del cast sia da Dan Goor, showrunner della serie. Il quale ha confermato l'uscita di scena da parte di Gina e, ovviamente, l'importanza di avere nel cast un'attrice del calibro di Chelsea.
She has brought so much to her amazing, hilarious, unique potrayal of Gina Linetti, which is not surprising since she is one of the funniest people in history.
Lei ha portato così tanto al suo incredibile, esilarante e unico ritratto di Gina Linetti e non è una sorpresa, dato che lei è una delle persone più divertenti della storia.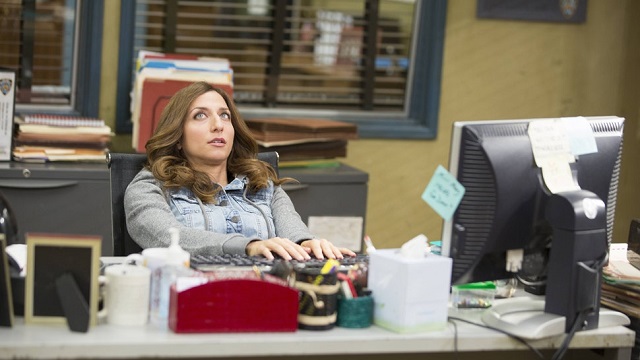 Ovviamente questa scelta ha costretto gli scrittori a trovare un modo per far uscire di scena il personaggio, facendo in modo che il tutto rimanesse completamente coerente.
E nonostante ciò, nessuno smentisce un possibile ritorno in futuro.
Also, I know for a fact this isn't the last we'll see of Gina Linetti. I mean, she got run over by a frickin' bus, and she only missed a week of work.
Inoltre so per certo che questo non sarà l'ultima volta che vedremo Gina Linetti. Insomma, è stata investita da un cavolo di autobus e ha saltato solamente una settimana di lavoro.
Here's my statement about the incredibly amazing @chelseaperetti. pic.twitter.com/OZAuEU7DSc

— Dan Goor (@djgoor) 3 ottobre 2018
Sicuramente sarà difficile immaginarsi lo show senza la presenza di quell'esilarante e comico personaggio che è Gina Linetti, ma i protagonisti di Brooklyn Nine-Nine sapranno sicuramente colmare il vuoto, regalandoci ancora una volta una serie sempre ricca di novità e tante, tante risate.
Per adesso non si sa ancora nulla sui futuri progetti di Chelsea Peretti, ma siamo in attesa di scoprire cosa ci riserverà in futuro questa brillante attrice e scrittrice.
Non vediamo l'ora!