Breaking Bad ha un lato oscuro. Ma va?
Breaking Bad, gloriosa serie televisiva nata dalla geniale mente di Vince Gilligan, che per anni ha tenuto incollati al televisore milioni di telespettatori, deve molto del suo successo, oltre alla storia e a due grandissimi interpreti come Bryan Cranston e Aaron Paul, anche a tutto il mondo che gli si è creato intorno, fatto di easter eggs, leggende e curiosità.
Gilligan, insieme al suo team di autori e sceneggiatori si diverte da sempre ad inserire piccoli particolari per alimentare la curiosità, già di per sé molto forte, nei confronti della serie sull'impero della droga di Walter White.
Cercheremo di riassumerne qualcuna.
Breaking Bad è il prequel di The Walking Dead?!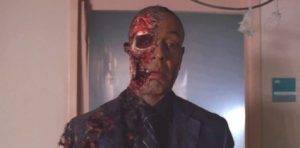 Ovviamente no, ma l'assurda – e a tratti inquietante – fantheory è stata pubblicata su Youtube dal contatto di Netflix, nel quale vengono dati quattro indizi a favore di questa fantasiosa tesi:
1) Qualcosa di molto simile alla metanfetamina blu prodotta da Walter White e Jesse Pinkman si vede nella 1×02 di The Walking Dead, quando Merle prende dalla sacca le sue droghe;
2) La Dodge rossa con le strisce nere che Walter regala al figlio nella 4×02 si rivede anche sempre nella seconda puntata della prima stagione di The Walking Dead, guidata da Glenn. Tra l'altro Glenn è il nome del venditore dell'autoconcessonaria nella quale Walt ha comprato l'auto;
3) Daryl e Merle usano continuamente la parola "bitch", come Jesse Pinkman. L'ipotesi è che i due fratelli abbiano conosciuto Jesse, vista anche l'uso di stupefacenti di Merle;
4) Gus Fring sarebbe in realtà il primo essere umano a trasformarsi in zombie. Il fatto che cammini nonostante gli sia rimasta solo metà della testa fa pensare ai fautori di questa tesi che lui e Walter abbiano sbagliato con gli elementi chimici, creando per errore il virus che ha portato all'apocalisse zombie di The Walking Dead.