In Breaking Bad i rapporti mutano continuamente. Alcuni di essi sopravvivono a rancori passati, altri invece periscono in fretta. E uno dei più complessi, dei più controversi, è sicuramente quello tra Walter e Skyler.
Sin dalla prima stagione osserviamo questa coppia che è ben lontana dalla perfezione. La routine attanaglia i due personaggi in una realtà che apprezzano, ma che non amano. Abbandonano così le proprie aspirazioni, accontentandosi di una mediocrità che non rende giustizia alle loro capacità.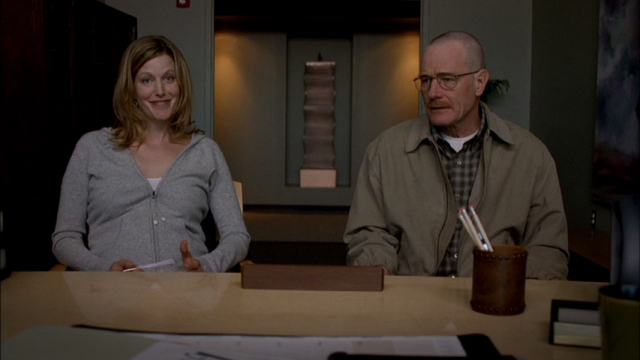 Conosciamo il loro amore e la loro storia attraverso cinque intere stagioni. E se dovessimo scegliere una canzone capace di descrivere l'evoluzione del loro rapporto, questa sarebbe senz'altro Leave Out All The Rest dei Linkin Park. Essa, infatti, pare narrare esattamente il percorso che, sia Skyler che Walt, hanno affrontato.
Una coppia tradizionale, piena di difetti e di contraddizioni. Una coppia il cui amore svanisce pian piano, dietro le bugie, dietro le incomprensioni. Il rapporto tra Skyler e Walt inizia a sgretolarsi esattamente quando la personalità di Heisenberg, d'altro canto, sorge e si fa spazio.
Distruggendo la normalità alla quale la famiglia White si era abituata.
After my dreaming
I woke with this fear
What am I leaving
When I'm done here?
Conosciamo bene il mantra di Breaking Bad, l'obiettivo principale del protagonista, perlomeno durante le prime stagioni. La giustificazione che Walter utilizza per riparare ai danni causati dal proprio genio criminale è ovviamente quella di dover guadagnare abbastanza denaro da lasciare alla propria famiglia, una volta scomparso. Il pensiero di renderli tutti felici e autosufficienti lo spinge a fare di più, sempre di più, soltanto per essere certo del loro futuro benessere.
Ma è una menzogna e Skyler se ne rende conto soltanto alla fine dei giochi.
Consapevole di non avere più a fianco l'uomo che ha sposato, si spegne con una lentezza spaventosa. L'impavida moglie conosciuta all'inizio di questa avventura diviene uno strumento nelle mani di Heisenberg, intrappolata in una bugia dalla quale non può liberarsi.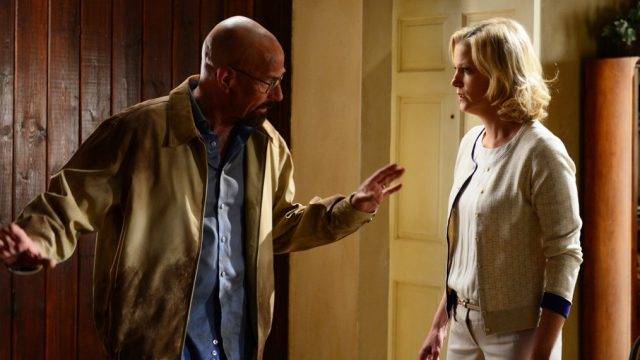 Forgetting
All the hurt inside you've learned to hide so well
Pretending
Someone else can come and save me from myself
I can't be who you are
Le parole di Leave Out All The Rest riflettono il bisogno di Walter di redimersi e la sofferenza di Skyler nel vedere la propria famiglia distruggersi. Mentre Heisenberg diviene padrone del proprio destino, la signora White si smarrisce, accompagnata soltanto dal terrore di perdere anche i propri figli, dopo suo marito.
Breaking Bad rasenta la perfezione e i suoi personaggi ne sono la dimostrazione. Descritti con formidabile accortezza, incarnano la fragile moralità dell'uomo e, al contempo, la sua famelica corsa al potere.
La lenta e progressiva consapevolezza di Walt, certo di non poter più riparare ai propri errori, ci colpisce. Dopo un percorso durato anni assistiamo a una maturazione conclusiva in cui è essenziale fare i conti con gli sbagli commessi. E la lista di W.W. è davvero lunga.
When my time comes
Forget the wrong that I've done
Help me leave behind some
Reasons to be missed
In Breaking Bad osserviamo la disgregazione di un amore nato forse per curare le ferite lasciate dal passato. Un amore che consuma la linfa di entrambi gli amanti e dei quali noi siamo gli impotenti spettatori. Una relazione in cui non c'è posto per la complicità, poiché già occupato dalla paura, dalla frustrazione.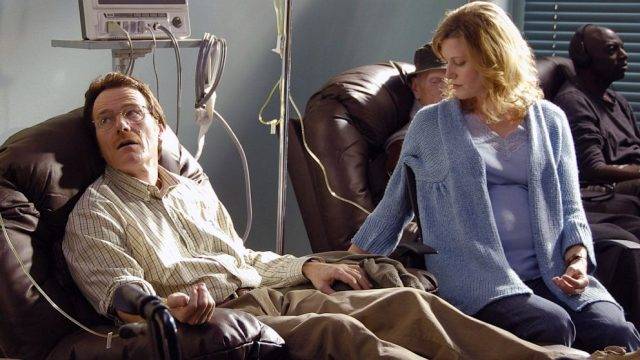 Ci provano, entrambi, a tenere quella famiglia unita. Ci provano nonostante tutto, ma pare che quel "tutto" non sia mai abbastanza. La loro reciproca debolezza nel custodire gli affetti pare essere l'unico aspetto che condividono. Le molteplici differenze escludono ogni possibile riconciliazione, nonostante i tentativi di lavorare insieme.
La convivenza tra i due diventa una tortura, una silenziosa malattia che li consuma e li rende apatici. La loro incompatibilità si palesa pian piano, quando la comune insoddisfazione li rende due persone diverse, infelici. Non c'è comprensione, non c'è empatia: malgrado siano due personaggi a tutto tondo, Skyler e Walter peccano di una reciproca indifferenza.
Mentre il tocco di Walter distrugge ogni cosa, i tentativi di Skyler di sanare il vuoto causato da tale egoismo risultano vani.
Nella prima stagione di Breaking Bad i coniugi White sono presentati come una famiglia modello. La classica coppia borghese americana, felice nonostante le molteplici mancanze. Ma durante la visione dello show non assistiamo semplicemente alla progressiva trasformazione del protagonista ma anche a quella della stessa coppia.
Skyler e Walter diventano due estranei che condividono una vita insieme. Le loro azioni li spingono a un punto di non ritorno in cui perdono per sempre ciò che un tempo davano per scontato. Per esempio, le feste forzate e detestate da Walt o le piccole attenzioni di un marito goffo che Skyler apprezzava. Perdono quella quotidianità alla quale per anni si erano abituati, quella normalità che li ha resi insoddisfatti e al contempo marito e moglie.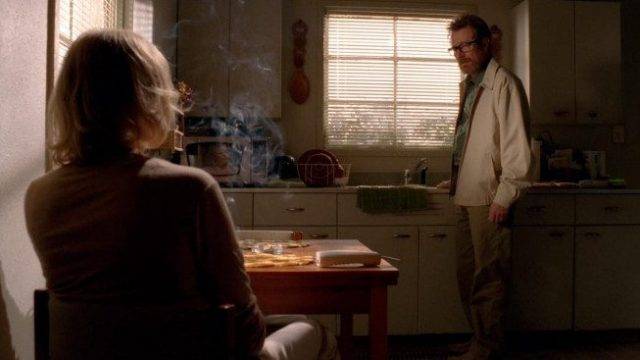 Tra tradimenti e omicidi, ciò che rimane della famiglia White è il risentimento.
La loro ultima scena insieme, toccante quanto fondamentale per l'evoluzione degli eventi, finalmente rivela la soluzione ai loro problemi. Una soluzione che avrebbero dovuto trovare prima di tutti gli errori, delle menzogne, di Heisenberg: la reciproca e imminente sincerità.
And don't resent me
And when you're feeling empty
Keep me in your memory
Leave out all the rest
Da quel "I did it for me" Skyler comprende di non essere mai stata la moglie di un marito perfetto. Quella semplice frase si traduce nella consapevolezza di non essere mai stata parte di una famiglia idilliaca. La velata richiesta di Walter sembrerebbe quella di accettare ciò che è successo, nonostante tutto. Di capire, perché malgrado i cambiamenti e le violenze, i suoi propositi sono sempre stati legittimi.
È un ultimo favore, quello che Walt chiede alla moglie, alla donna che un tempo ha amato. Ricominciare da capo, senza di lui, senza la distruzione che Heisenberg ha portato nelle loro vite. Lasciarsi tutto alle spalle, dimenticando gli orrori vissuti, seguendo per caso le dritte di una canzone che di questa coppia ha descritto le disavventure.
Una canzone che potrebbe raccontare la storia di Walter e Skyler, e quell'intesa mai avuta.