Nella filosofia aristotelica il termine greco antico héxis, tradotto poi dai latini con habitus (abito), indica un comportamento, una disposizione, una caratteristica di qualcuno o qualcosa. Derivando dal verbo échein, che significa avere in greco, l'héxis si riconduce alla categoria del possedere aristotelica e, sostanzialmente, questo concetto rimanda in parte al modo di essere a causa del possesso di determinate caratteristiche. Breaking Bad, in questo senso, ha una sua filosofia, possiede il suo abito. Il problema è capire quale esattamente sia, e una serie complessa e ricca di significati come quella creata da Vince Gilligan può creare qualche difformità interpretativa al riguardo.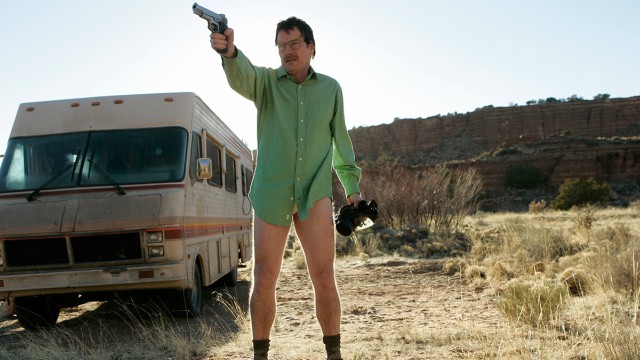 Fondamentale è partire dai dati oggettivi, uno dei quali è senza dubbio l'espressa intenzione di Vince Gilligan di costruire una serie sull'evoluzione del protagonista. In un'intervista, infatti, egli affermò che l'idea di partenza era quella di "rendere il protagonista l'antagonista con lo sviluppo delle puntate". Obiettivo pienamente raggiunto nel momento in cui il villain di Breaking Bad, Gus Fring, viene ucciso proprio da Walt alla fine della quarta stagione. Nella quinta, soprattutto nella seconda metà, Walter White è palesemente protagonista e antagonista, in quanto riesce a dividere il pubblico tra chi lo sostiene e chi invece ritiene abbia superato il limite. La serie AMC in questo senso è senza dubbio unica (o quasi) nel suo genere, e potremmo considerare questa filosofia di Gilligan come il punto di partenza della più generale filosofia di Breaking Bad.
Un ulteriore passaggio da questo punto di vista è fornito da un'altra dichiarazione, questa volta di Bryan Cranston, che nel periodo di interruzione fra la prima e la seconda parte della quinta stagione, dichiarò:
"Penso che Breaking Bad ci faccia capire che chiunque, anche l'individuo più innocuo e corretto sulla faccia della Terra, messo di fronte a determinate circostanze estreme, può diventare pericoloso".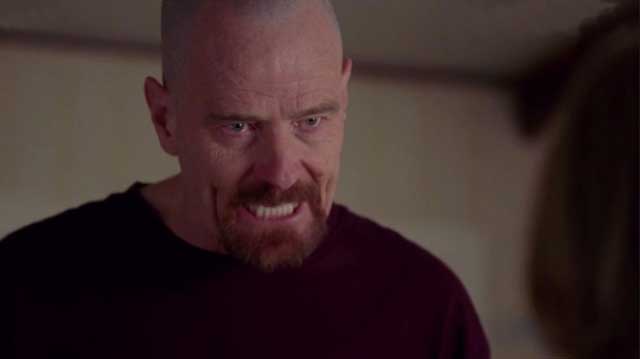 Riflettendo su queste parole, che rappresentano di fatto l'interpretazione che Cranston ha dato degli eventi che hanno colpito il suo personaggio, possiamo provare a estendere questo concetto a tutti i protagonisti, rendendoci presto conto che Breaking Bad altro non è che una storia di degenerazione. Il titolo stesso, che nella versione italiana vede l'aggiunta dell'espressione calzante "Reazioni collaterali", significa proprio degenerare, mandare in rovina e, in alcune zone degli Stati Uniti, in gergo può significare "scatenare l'inferno". Noi da spettatori avvertiamo la costante e graduale crescita criminale di Walt ma anche di tutti gli altri, una vera e propria escalation di violenza, fama e potere.
Perciò, non può sfuggire il ruolo che la Grey Matter Technologies svolge nell'economia della storia, nella psicologia del personaggio, e nella filosofia della serie. Fin dall'inizio percepiamo la grande frustrazione che Walt prova in merito all'argomento, visto che con Elliot e Gretchen ha fondato, non solo nel nome ma anche nella sostanza, una società che fattura miliardi, dalla quale si è fatto liquidare con 5000 dollari quando non si immaginava ancora il grande successo che avrebbe ottenuto.
La volontà di rivalsa accompagna Walt per tutta la vita e l'ennesima sconfitta (il tumore ai polmoni) lo porta a fare una scelta drastica: creare un impero della metanfetamina come vero e proprio surrogato della sua mancata occasione di arricchirsi in maniera legale. Diventa milionario mettendo il suo genio al servizio della criminalità e il nesso tra il suo impero criminale e la Grey Matter è reso esplicito in numerosi dialoghi, in particolare in quello con Jesse nella quinta stagione (puntata 6). Partendo dalla sua storia sulla fondazione della società, dice a Jesse
"You asked me if I'm in the money business or the meth business. Neither. I'm in the empire business".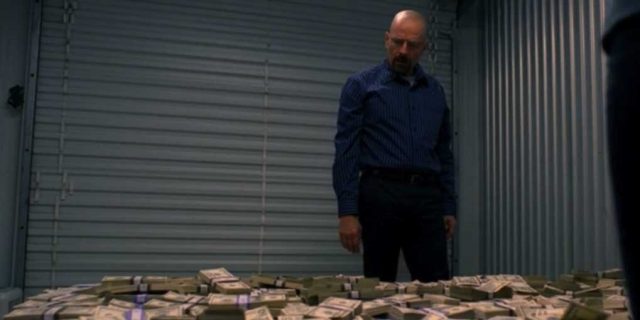 Quel concetto che potrebbe racchiudere la filosofia di Breaking Bad lo troviamo ancora nella terminologia del greco antico, ed è la parola hybris.
Quello di hybris è un topos ampio nella letteratura greca (soprattutto nella mitologia religiosa) e, a essere onesti, non è propriamente traducibile; esso infatti indica la tracotanza, la violenza, l'oltraggio oltre che osare oltre le proprie possibilità (si parla infatti di hybris nei confronti degli uomini che sfidavano gli dei) e andare contro le regole di una società civile. Walter White pecca di arroganza e di hybris, ed è proprio questo che lo condannerà e segnerà la sua fine.
Breaking Bad, al netto delle sfumature che ci ha consegnato e delle interpretazioni a cui si presta, ha una matrice filosofica complessa e intrigante che ha nell'incontro di intenzioni e rappresentazioni il suo punto di forza, con una sinergia di forze che raramente si riscontra in un prodotto televisivo o cinematografico.