Do you believe? Solo in quella nave, solo con te stesso. L'unico suono è il lento movimento del mare. Il propagarsi di una tenue vibrazione che ondeggia, come i mille pensieri che hai in testa. Ti ricordi? Non è passato troppo tempo. Fin dalla prima puntata di Black Sails ero dentro di te, dormivo beato tra soffici lenzuola di seta. Per quello scopo il mondo si è ribaltato e oggi ne cantiamo e lodiamo le gesta, tra meriti e demeriti. Oggi sei tu stesso a cantare.
Can you even see what you're fighting for?
Bloodlust and a holy war
Se torni indietro al primo istante, a quando la vita ti ha portato per mare, macchiando la tua immagine composta e morale, non sei in grado di capire. Non riesci a comprendere il reale scopo che governa i tuoi pensieri, le tue azioni e i tuoi desideri. L'Urca de Lima contiene un tesoro di inestimabile valore per qualsiasi uomo privo di timore.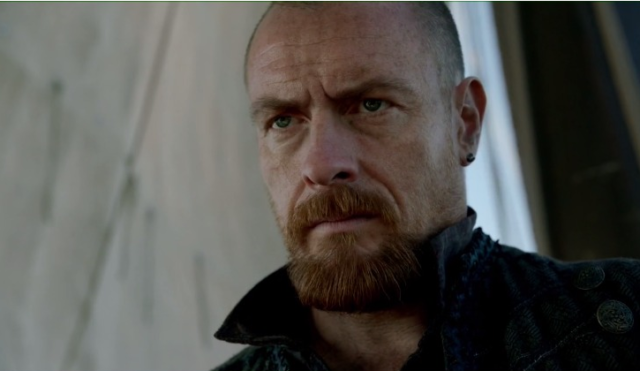 Ricchezza e prosperità sono la meta degli uomini semplici, in cerca di una vita agiata. Uomini senza pietà e senza identità. Ma tu no, tu sei diverso. La tua fame di sangue è indirizzata verso un obiettivo più grande, maestoso.
Listen up, hear the patriots shout:
"Times are changing"
Un obiettivo che si scontra, con feroce cattiveria, contro gli umili desideri degli uomini semplici, schiavi della tua tempra e della tua intelligenza. Uomini di mare, uniti come una macchia di nero petrolio, come la nera bandiera, terrore dei sette mari. Sono passati anni, tra le acque di New Providence, e in Black Sails nulla è cambiato, o quasi. I loro occhi parlano chiaro. Chiedono, esortano, supplicano pietà. Basta combattere. Basta versare sangue per un utopistico tesoro. I tempi sono cambiati.
In the end, the choice was clear
Take a shot in the face of fear
Lo hanno capito i tuoi uomini e nella fattispecie le persone a te più vicine. Lo hano capito Billy Bones, Long John Silver e anche tu. Per ultimo sei riuscito a comprendere. Non senza dolore e sacrificio. Non senza rimpianto e insicurezza. Hai compreso che l'amore vince sulla morte, ma che i due poli non possono esistere singolarmente.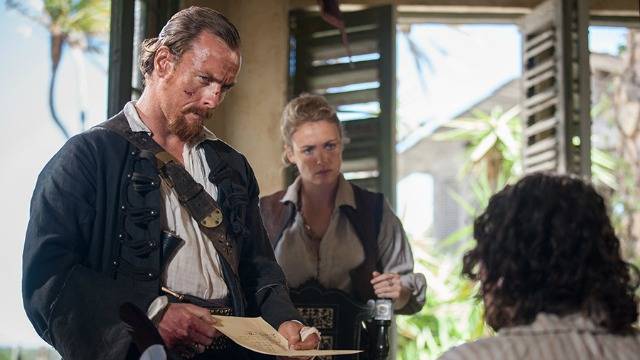 Rimanere lucidi, mentre una consapevolezza così grande si fa largo dentro di te e ti annienta, non è facile. È uno schiaffo in pieno volto, un urlo di gelido terrore. È forse solo l'inizio della fine.
Fist up in the fiery light
Times are changing

Ora inizi a osservare il mondo che ti circonda con occhi nuovi, una luce diversa illumina il tuo cammino. Una leggera brina che delicatamente bacia le gote del tuo animo e lo scopre, destandolo dal giogo di Morfeo. Serviva un intermediario che potesse portare a termine questa logorante guerra. Il suo sguardo, le sue parole, la sua gamba di legno, sono le ultime cose che in Black Sails, vedrai prima di "morire".
Do you believe that you can walk on water?
Do you believe that you can win this fight tonight?
Poiché solo "morendo" è possibile sfiorare con mano i campi elisi. Solo "morendo" il cigolante cancello può aprirsi e tu puoi aprire gli occhi. Devi dire addio alla persona che eri per poter completare il tuo cammino. Frantumare la crisalide e volare da farfalla, colorando il mondo, il tuo mondo, per l'ultima volta.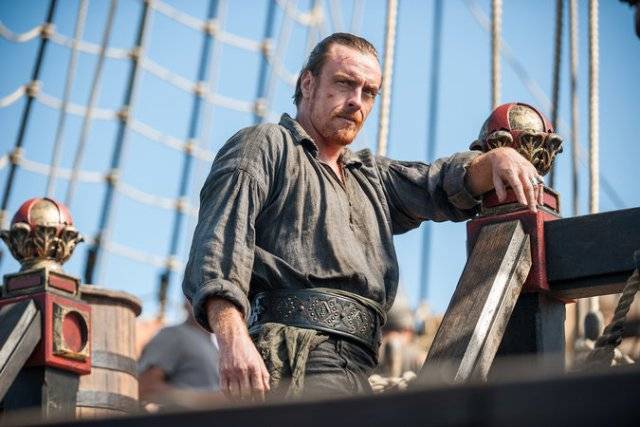 Non riesci a crederlo? Eppure è possibile. È possibile camminare sull'acqua e vincere sulle tenebre. Devi combattere, senza tregua e sospiri, giorno dopo giorno. Combattere come un fiero oplita che spezza la sua lancia in onore della patria.
Look at the sky, see a dying star
White lies, it's a man on fire
Perché quella patria non l'hai mai abbandonata. L'hai difesa con le unghie e con i denti, come una fiera incattivita, senza legami e senza ripensamenti. Quella patria ti ha spezzato il cuore e tu hai deciso di commemorarla a tuo modo, surclassando la bieca e grigia morale che governa la società.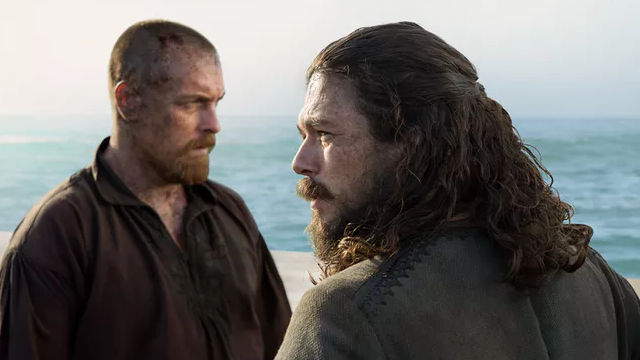 Sei tu stesso santuario e pellegrino. Sei la stella nel cielo che guida ogni tuo passo. Un corpo celeste già morto che ancora brilla, a distanza di anni luce da noi. Tu sei l'uomo che brucerà. Il condannato capitano che naviga tra le impervie onde di un perverso oceano di gretto materialismo.
Making love with the devil hurts
Times are changing
Riesci a ricordare? Ricordi il momento esatto in cui i tempi sono cambiati per sempre? È stata la morte di Vane, l'ammutinamento di Billie Bones o la costante ascesa al potere di Long John Silver? Era tutto necessario. Ogni avvenimento ha avvicinato il demone e l'angelo dentro di te, per un'ultima e definitiva battaglia.
A thin line, the whole truth
The far right, the left view



E la verità che verrà a galla sarà talmente destabilizzante che non è possibile per te affrontarla da solo. Per questo dovrai per sempre ringraziare quell'uomo. No, non la persona che ami ma quella che ti ha puntato la pistola in fronte. La persona che ha reso possibile il tuo risveglio. Non è solo per te, è anche per lui, questo viaggio nei ricordi.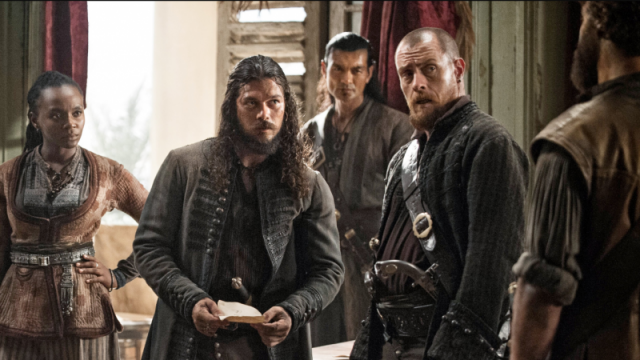 Un semplice cuoco di bordo storpio in grado di cambiare le sorti di centinaia di uomini. In grado di cambiare le tue sorti. La verità è una sirena che canta le lodi di incauti navigatori per poi divorarli tra le sue delicate e sensuali fauci.
Breaking all those promises made
Times are changing
Le promesse di ogni uomo sono fragili àncore di un porto in perpetuo cambiamento. Una minuziosa prova di coraggio verso il prossimo. Un pretesto inconscio per portare a termine un cammino dentro te stesso.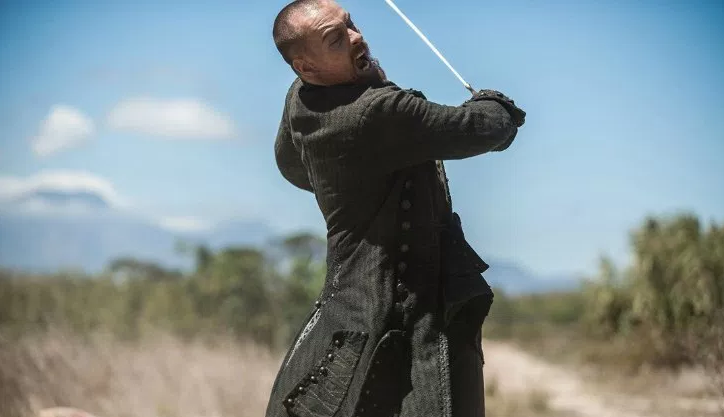 Il tesoro dell'Urca de Lima ora è uno sfocato ricordo, una promessa di un uomo che non esiste più. Per il mondo, una mappa macchiata d'inchiostro, che dona speranze e illusioni a uomini schiavi della dolce ebbrezza di un mito. Un mito che resiste, anno dopo anno, solo grazie a te.
Do you believe? Walk on Water
Riesci a credere ora, dopo tutto questo tempo, a cosa sei diventato? I tuoi piedi calpestano una terra nuova e qui, tra i campi arati, i tuoi occhi si bagnano alla sua vista. Quel ricordo, quel dannato ricordo di un amore che per tanti anni ti ha reso la persona che, in realtà, sei sempre stato.
Ora non è più un ricordo, è il presente. Lui è vivo e con esso la tua vera identità. Con questa consapevolezza sei capace di poter riuscire in tutto, persino camminare sulle acque. Un'impresa leggendaria, per un uomo leggendario. La tua coscienza e i tuoi ricordi ti salutano James Flint: addio.