Game of Thrones è una serie che ci ha tenuto compagnia per ben otto stagioni e il lavoro della produzione, compreso di riprese ed effetti speciali, non può che essere sinceramente ammirato. Non tutti forse sanno che il primo episodio della serie è stato rigirato: il pilot originale era infatti diverso da quello che oggi ricordiamo.
Il 90% del pilot originale di Game of Thrones è stato rigirato. E lo script originale avrebbe dato alla serie un inizio diverso.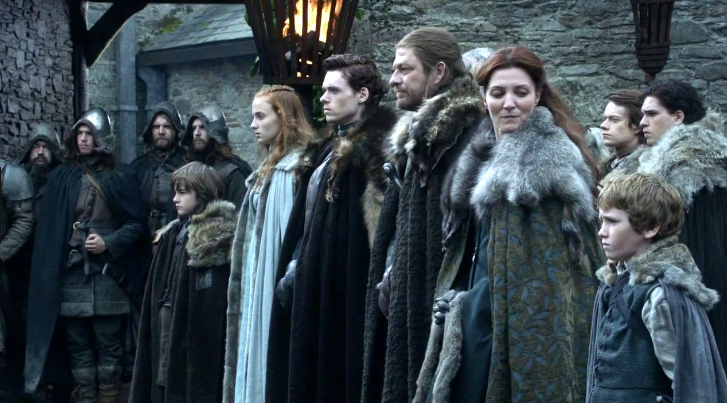 Durante una conferenza in Texas George R.R. Martin ha preso in considerazione i manoscritti originali e tra essi figurava anche lo script del pilot originale di Game of Thrones scritto da Davide Benioff e D.B. Weiss. Il documento contiene varie sequenze che non sono state utilizzate nella versione dell'episodio che oggi conosciamo.
Sono diverse le scene che poi non sono comparse nella puntata. L'inizio vedeva il Guardiano della Notte Will sopravvivere e udire delle conversazioni tra Estranei quasi fossero in preghiera. C'era poi un diverso incontro tra Cersei Lannister e Jaime e tra Daenerys Targaryen e Khal Drogo. Erano anche presenti una scena di bevute tra Jon Snow e Tyrion e un incontro tra il Principe Joffrey e Catelyn Stark per rendere Sansa Regina di Westeros.
Tra le cose indubbiamente più interessanti, lo script originale prevedeva anche una sequenza in cui Cersei seguiva in segreto il marito Robert e l'amico Ned nelle cripte di Grande Inverno. Dopo aver visto Robert lasciare una piuma sulla tomba di Lyanna Stark, quando i due se ne vanno Cersei prende la piuma e la lascia bruciare.
Considerando che questa piuma è ancora presente nel video promo dell'ottava stagione di Game of Thrones, è evidente che le cose siano decisamente andate in modo diverso.