3. INSIDE NO. 9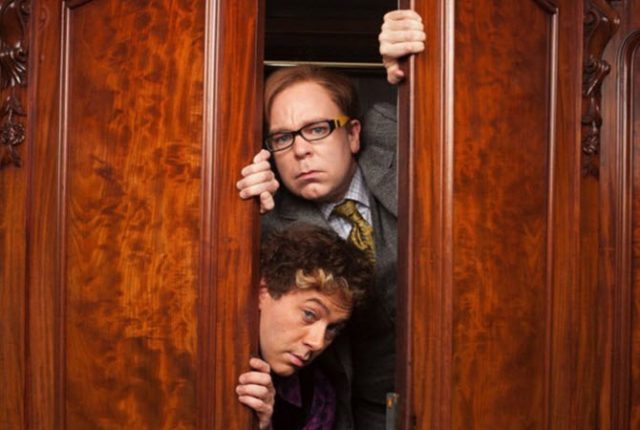 Non può mancare tra le serie tv simili a Black Mirror quel piccolo gioiello che è Inside No. 9. Uno degli aspetti fondamentali di Black Mirror è infatti la struttura stessa degli episodi. E anche Inside No. 9 è una serie antologica, dove ogni episodio è caratterizzato da una nuova storia. La durata degli episodi è di circa mezz'ora. Il filo conduttore delle singole puntate è rappresentato dal fatto che ognuna si svolge "all'interno di un numero 9", sia che si tratti di una casa, di uno spogliatoio o di un appartamento.
In ogni episodio compare almeno uno tra Reece Shearsmith e Steve Pemberton. Per chi non conoscesse questi geniacci della comicità britannica basti dire che dal 1995 formano un quartetto comico chiamato The League of Gentlemen nel quale partecipa anche un certo Mark Gatiss (il quarto è Jeremy Dyson). La maggior parte degli episodi si svolge in tempo reale, cioè la vicenda copre esattamente mezz'ora di vita dei personaggi. In ogni puntata c'è sempre un colpo di scena o un'invenzione narrativa che ti invoglia a proseguire.
Raramente capita di imbattersi in una serie capace di sostenere un intero episodio praticamente senza dialoghi riuscendo comunque a tenerti inchiodato al tuo posto. Black Mirror probabilmente ne sarebbe in grado. Ecco, in Inside No. 9 c'è un episodio di questo genere "The Riddle Of The Sphinx" (3×03). Ed è incredibilmente geniale, un episodio inaspettatamente devastante che ha dimostrato come la coppia di comici fosse in grado di mettere in scena un perfetto drama, con la stessa magistrale efficacia con cui affrontano le comedy.