L'attesa per la quarta stagione di Better Call Saul, o almeno per qualche notizia relativamente alla sua data di uscita, sta diventando davvero lunga. Pensate che a seguito di questa tediosa attesa, alcuni fan hanno addirittura iniziato a ipotizzare che la quarta stagione di Better Call Saul potrebbe concludere la Serie (ne abbiamo parlato qui). Probabilmente vedremo i nuovi episodi ad agosto o a settembre. Ma è questo probabilmente che ci infastidise. Noi vogliamo una certezza!
Chi si occupa della gestione social di Better Call Saul è consapevole della situazione (non oso immaginare la quantità di messaggi che la pagina Facebook riceve quotidianamente). Sfruttando l'occasione ha deciso di coinvolgere i fan in un gioco, proponendo loro un enigma da risolvere…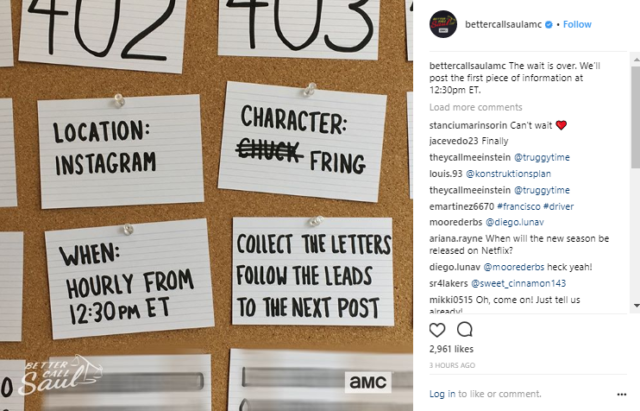 L'attesa è finita.
Con questa descrizione capiamo che sui social dedicati alla Serie verranno rilasciate delle informazioni sulla nuova stagione di Better Call Saul. Non ci resta che decifrarle.
Nelle ore seguenti, sugli account Facebook, Instagram e Twitter vengono postate delle foto con i protagonisti di Better Call Saul in cui, per ognuna di esse, si notano tre lettere in evidenza. Le lettere, in ordine, sono: GUS CIA HIT BON FOC. L'ultimo indizio, postato su Twitter, mostra numerose scritte. Solo una, però, è a colori: OR/.LY.
That's the final piece of the puzzle. Now work out where you need to go. #BetterCallSaul pic.twitter.com/4nJ5rDHuzO

— Better Call Saul (@BetterCallSaul) 30 maggio 2018
Anagrammando la sequenza di lettere si ottengono le parole CHICAGO SUNROOF. Rimangono le sequenze BIT e LY, che usate insieme ai simboli evidenziati dall'ultimo post, formano lo URL shortener BIT.LY/.
Unendo i pezzi del puzzle e digitando le due sequenze trovate nella barra di ricerca di un browser i fan di Better Call Saul si troveranno davanti a questo sito. Provate voi stessi, digitando: bit.ly/chicagosunroof.
Sfortunatamente solo le persone residenti a New York possono partecipare alla risoluzione finale del gioco. Non ci resta che aspettare notizie da fan della Grande Mela! Intanto, è disponibile per tutti un primo sguardo ai nuovi episodi: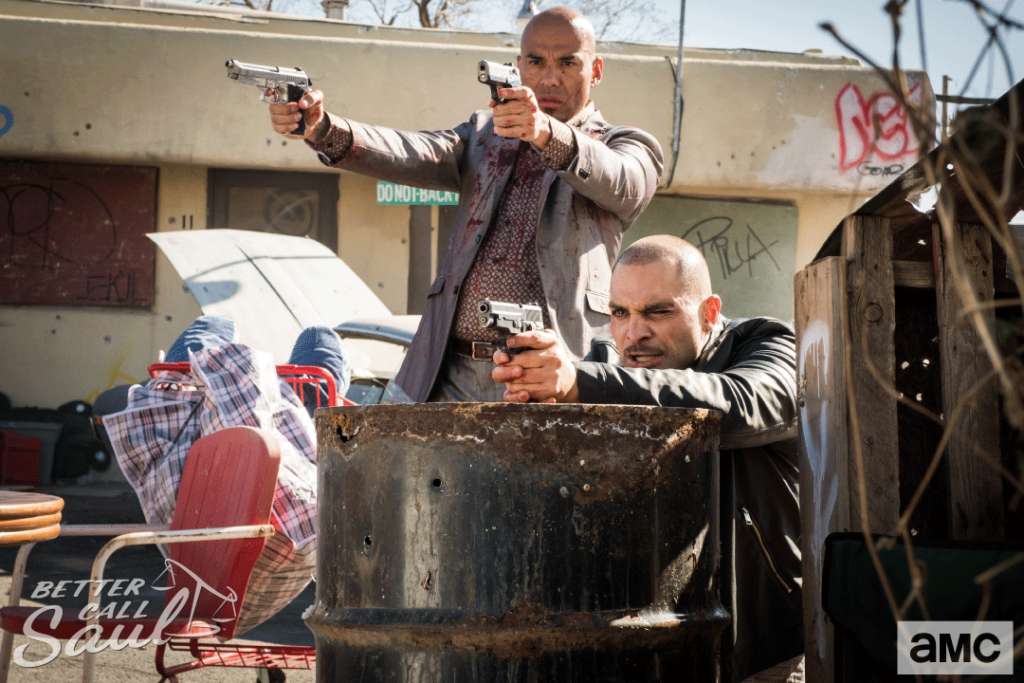 In attesa di ulteriori aggiornamenti, non ci resta che continuare a seguire le pagine ufficiali di Better Call Saul! Visto che, come suggerito dal sito, a breve sapremo la data di uscita della quarta stagione!