Attenzione, possibili spoiler su And Just Like That, Will&Grace e Una Mamma per Amica-Un Anno Insieme
Quando si parla di serie tv qualche volta sarebbe necessario un vocabolario: fra revival, reboot, remake, prequel, sequel eccetera eccetera, diventa un po' complicato capire le sfumature di tutte le diverse operazioni a cui è possibile sottoporre una storia (a questo proposito leggi qui per un veloce ripasso).
Con il termine revival si intende quel tentativo di riportare in voga una serie che si era già avviata verso la conclusione diversi anni prima. Negli anni si sono visti diversi esperimenti di revival, ma va detto che è stato necessario più di qualche tentativo per arrivare a una formula che funzionasse. Diciamo che l'esperienza ha fatto si che giungesse forte e chiaro agli sceneggiatori cosa al pubblico non piaceva per niente, così da correggere il tiro.
Si perché quando si riportano in vita storie di successo, succede che non si può in alcun modo prescindere da ciò che il pubblico si aspetta. È il famoso "effetto nostalgia", che se da una parte ci porta ad avere uno smodato interesse per un prodotto che ritorna, dall'altra implica anche l'inevitabile scontro fra il risultato finale e le nostre aspettative. Il tutto condito con i nostri ricordi, che tenderanno a essere tanto più positivi e coinvolgenti, tanto più sono legati alla nostra infanzia. E a nessuno piace che vengano rovinati i ricordi di gioventù.
Insomma i revival delle serie tv sono un ottima strategia di marketing, visto l'hype che riescono a creare, ma rischiano di essere anche un colossale fallimento se non sono fatti a dovere.
Fra le delusioni peggiori degli ultimi anni c'è il revival di Una mamma per Amica – Un Anno Insieme. Molto atteso da tutti coloro che avrebbero voluto trasferirsi a Stars Hollow, questa serie si proponeva come la possibilità per lo spettatore di dare un'occhiata a come se la passavano le ragazze Gilmore a distanza di tempo. Chissà se la carriera della brillante Rory era decollata, chissà se il tanto sospirato matrimonio fra Lorelai e Luke era resistito, chissà se Emily aveva addolcito il suo carattere. Il revival però non ebbe il successo sperato, ma questo imprevedibile fiasco non era poi così tanto imprevedibile. Le protagoniste di una Mamma per Amica all'inizio degli anni duemila ci hanno conquistato a suon di battute a raffica, leggerezza e legami sinceri, sullo sfondo di una cittadina che pareva un misto fra un parco giochi e una cartolina. A distanza di otto anni dall'episodio conclusivo della sesta stagione, ci ritroviamo di nuovo catapultati in una immobile Stars Hollow in cui niente è cambiato. Non gli abitanti, non le dinamiche, non i dialoghi, niente di niente. Da luogo incantato si è trasformato in uno di quei souvenir di vetro da capovolgere per far scendere la neve: bello per qualche minuto, ma destinato a prendere polvere in un angolo. Se non c'è niente di nuovo da dire perché mettere di nuovo in scena qualcosa che appartiene al passato? Non c'è il rewatch per quello? Non è un po' forzato costringere i personaggi a dei vestiti che andavano loro a pennello quasi una decade prima?
Aggiungere qualcosa di nuovo coerentemente con lo scorrere del tempo è uno degli ingredienti chiave per un revival che funzioni e in questo senso la lezione è stata imparata da And Just Like That. Il revival di Sex And The City era indubbiamente attesissimo, ma partiva già con un paio di svantaggi a suo carico: la serie arrivava a seguito di due film, il secondo in particolare, che avevano deluso gli amanti della serie e, cosa ben più grave, il cast originale non era completo, ma orfano dell'amatissima Samantha. Non raccontiamocela, And Just Like That ha dei problemi, la stereotipizzazione degli argomenti legati alla sessualità per dirne uno, però ci ha dato davvero la possibilità di vedere un nuovo capitolo della storia. Le protagoniste di Sex And The City sono ancora lì, ma non hanno più trent'anni, non vivono allo stesso modo e non sono in cerca delle stesse cose. Si sono in un certo modo evolute e si ritrovano ad affrontare situazioni plausibili per donne di mezza età, dalla vedovanza alla gestione di figli adolescenti. Sono cambiate, sono invecchiate, si sono arricchite di nuovi colori ed è questo che vogliamo vedere nel revival di una serie tv: cosa succede dopo. Anche la chiacchierata mancanza di Samantha in realtà è stata gestita in maniera egregia, non eliminando il personaggio, ma permettendole qualche piccola incursione via sms in classico stile Samantha, incursioni che ci riportano alla memoria Sex And The City, non rovinandolo, ma piuttosto strappandoci un sorriso.
I revival delle serie tv devono anche imparare a gestire il tempo, soprattutto quello che è passato e tanto più è lontana la messa in onda della serie madre, tanto più sarà difficile tradurla nel linguaggio contemporaneo. È il caso di X-Files, serie thriller fantascientifica, ma anche un po' horror, di grandissimo successo a metà degli anni '90. Niente di meglio che riportarla in vita nel 2016 in un progetto che però l'ha trasformata nella parodia di se stessa. L'esperimento non è del tutto riuscito perché il pubblico negli anni ha visto un'infinità di ottime serie di fantascienza, un po' soprannaturali, un po' thriller che hanno avuto un successo clamoroso, Lost per fare un nome, ma anche Fringe per farne un altro.
Se X-Files è stata una innovazione nei suoi anni, andava tenuto presente che il pubblico nel frattempo si è abituato a una qualità altissima nell'ambito delle serie e in maniera particolare nel campo della fantascienza. Bisognava rivoluzionare la serie iniziale per poter proporre qualcosa di nuovo al pubblico, non rischiando di rovinare il ricordo che se ne aveva. X-Files era davvero innovativa negli anni'90 ed è diventata davvero vecchia a metà del 2000. In questo è riuscito David Lynch nel suo revival di Twin Peaks. Se oggi guardiamo alle serie tv come a fenomeni di costume e non solo come semplice intrattenimento, possiamo ringraziare l'omicidio di Laura Palmer.
Lynch ha capito che il revival di una serie tv è soprattutto un'occasione e nel 2017 sfrutta la possibilità di rimettersi in gioco in maniera visionaria e sperimentale. Impossibile aggiungere qualcosa alla serie madre, il revival si propone come un proseguo della storia interrotta 25 anni prima, portando ovviamente moltissimi elementi nuovi nella narrazione. Tuttavia l'atmosfera inquietante, confusa e quasi onirica che ha reso memorabile Twin Peaks rimane intatta e così il risultato è portato a casa.
Il revival di una serie tv quindi si propone come un proseguo della storia, funziona se apporta degli elementi nuovi, ma allo stesso tempo dobbiamo riconoscere quello con cui un tempo abbiamo avuto confidenza. Negli ultimi anni si è assistito anche a una leggera variazione di questo aspetto, venendo considerato anche come una possibilità di redenzione: si riprendono le fila di una storia per correggere qualche piccolo errore di valutazione. È il caso dei finali di stagione che hanno sbigottito i fan perché inefficaci, frettolosi o completamenti fuori fase rispetto al tono generale dell'intera serie.
Caso clamoroso è quello di Will & Grace, che dopo undici anni di assenza, torna con tre stagioni revival dal 2017. La serie si era originariamente conclusa con Will e Grace che proseguono le loro vite lontani l'uno dall'altra per poi ritrovarsi grazie ai figli. Il revival finge che questa conclusione, all'epoca piuttosto criticata, non sia mai esistita. Allora si riparte, con battute che funzionano e un impegno politico costante che la rendono oltremodo attuale: dai diritti LGBT, a una evidente presa di posizione contro le scelte governative dell'allora presidente degli Stati Uniti. Il revival ci permette di riabbracciare i protagonisti, impegnati in una vita plausibile per il 2011, anno in cui venne trasmessa la prima stagione della serie. Purtroppo però, con il proseguo degli episodi, il revival cadrà in quello che è stato un errore fatale anche per altre e quindi tenderà a ripetersi continuamente diventando quasi caricaturale. Gli ultimi due cicli di puntate saranno quindi i definitivi, processo accelerato forse a causa di alcuni attriti sul set fra le protagoniste femminili. A ogni modo la serie si conclude anche per lo scarso interesse del pubblico che, oltre tutto, finisce per vedere nuovamente un finale di Will & Grace con figli, che però schiva le critiche non lasciando allontanare i protagonisti.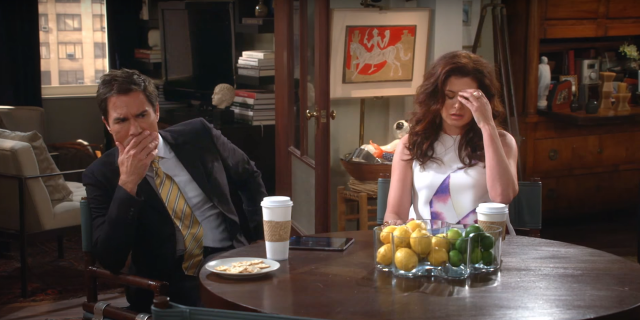 La ricetta del revival perfetto è ancora in fase di elaborazione, eppure molti passi avanti sono stati fatti, grazie ai diversi tentativi più o meno fallimentari degli ultimi anni. Una cosa però si sta delineando come chiara: le idee devono esserci, sempre, non si è più di fronte a un pubblico a cui è possibile vendere qualsiasi cosa, anche un usato travestito da nuovo di zecca. Non ci lasciamo più raggirare dallo scintillio di vecchie glorie, siamo diventati esigenti. Il che è una gran bella notizia.