Tell 'em that God's gonna cut 'em down.
La compenetrazione della tecnologia moderna con l'uomo hanno portato la società ad alienarsi dalla propria natura.
Hanno alterato il fluire delle caratteristiche umane verso qualcosa di meccanico. Hanno puntato tutto sul mantenere integro quel pezzo di metallo alla base del collo. Non importa come, non importa quali mezzi si utilizzino.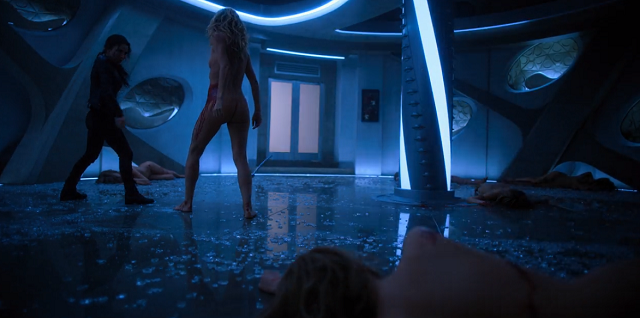 Arrivati a questo punto della stagione, molti dei temi introdotti cominciano ad intrecciarsi tra loro nell'indagine che ha portato avanti Kovacs. Egli non solo deve concludere in fretta il mistero, ma deve destreggiarsi tra le varie meccaniche di pensiero e tutte le novità di un mondo diverso da quello che aveva visto 250 anni fa.
Prima fra tutte, l'atteggiamento della sorella Rei.  L'assenza dei limiti su determinate caratteristiche umane, pone le basi di una condizione tale che anche i limiti auto-imposti per il benessere sociale e per l'individuo siano nulle contro la volontà dei potenti. Rei ha annullato così tanto il suo aspetto più umano, è diventata un Mat, si crede ormai una dea. Un punto sottolineato dalla scena in cui combatte nuda con noncuranza. Il suo corpo trasuda potere inconsciamente, il suo involucro è sacrificabile. Le costerà denaro certo, ma la certezza che la morte non possa più sfiorarla le dona supremazia.
Il suo comportamento è esasperato, poiché non curando più i dettagli minimi di una vita, dai gesti ai sentimenti, è diventata ella stessa schiava di una ricerca d'amore secolare nei confronti del fratello. Non avendo altri scopi tali da renderla un essere che prova emozioni, l'unica cosa che le è rimasta da fare è quella di aggrapparsi al ricordo di un genuino amore fraterno passato. Un ricordo che con il tempo si è annichilito.
L'assenza dei limiti ha generato una corsa all'obbiettivo tale da rendere i mezzi con cui riavere il fratello, del tutto insensibili e indifferenti alla catena di morte, distruzione e bugie che hanno generato.
Tak non può certo dimenticare il dolore di aver perso la donna amata, i propri compagni, di essere morto e risorto in un mondo che non è il suo. Se prima si trovava a camminare sul fondo del baratro, la sconvolgente notizia che sia stata la sorella a creargli così tanto dolore, squarcia il fondo e scopre nuove profondità alla disperazione.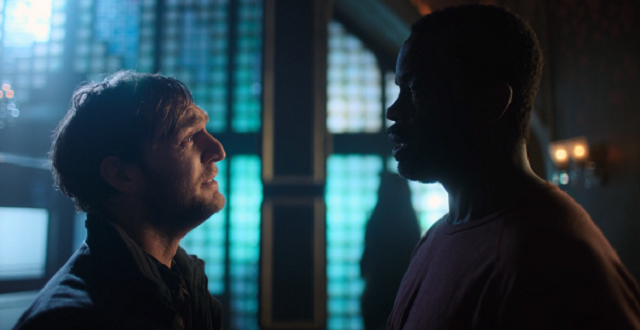 "La forza non sta nel singolo, ma nel branco" e così Takeshi forma una squadra per smantellare il piano della sorella, per salvarla. Perché nonostante la sofferenza causatagli, è l'ultima persona del passato che può avere con sé al suo fianco. In fin dei conti è la propria sorella, deve andare oltre ciò che l'ha resa una persona disperata. Perché è questo che è agli occhi di Kovacs. L'unico modo per poter riportare indietro la persona che era, è annullare il suo backup.
Ma prima deve elaborare un piano da rifilare come risoluzione del caso a Bancroft. Un piano che al solo sguardo, provoca una sorta di tenerezza e rammarico verso l'avvocatessa. Tutta una vita a lavorare per diventare qualcosa, qualcuno, per poi vederselo portare via nel giro di pochi minuti. La soluzione falsa si incastra perfettamente al caso, con l'aiuto di qualche piccolo genio informatica (Ava) per produrre prove alterate.
Ma sembra non finire qui. Più Kovacs scava nel passato e più ne esce fuori la sporcizia che circonda questa società corrotta fino al midollo. La punta dell'iceberg è nel locale creato dalla sorella Rei per vivere: L'Head in the Clouds. Un sudicio luogo in cui i Mat possono sfogare le proprie manie di onnipotenza su giovani corpi strappati dai vicoli poveri. E' lì che si racchiude la risoluzione del caso della giovane ragazza caduta da cielo. La vena arcaica di Bancroft è la chiave alla soluzione del suo suicidio. L'arroganza gli impediva di ammettere di aver compiuto tale gesto: lui, il più potente tra i Mat, sconfitto da un sentimento così terreno come la colpa.
Un futuro costruito per accogliere Takeshi di nuovo tra i vivi, una casa dalle fondamenta di sangue e ingiustizia. Un rapporto esacerbato dalla volontà di possessione, il frutto prelibato da aggiungere ai propri trofei. La folle chimera di poter ricostruire ciò che era andato distrutto tra i due fratelli.