Continua la cavalcata finale di Agents of S.H.I.E.L.D. e, come negli scorsi episodi, grande importanza continua ad avere Glenn Talbot. Ci eravamo lasciati con l'ex generale, ora potenziato, diretto verso l'astronave della confederazione per fermare l'attacco alla terra. Sarà riuscito a contenere il potere del gravitonio? Scopriamolo subito!
Da grandi poteri derivano grandi responsabilità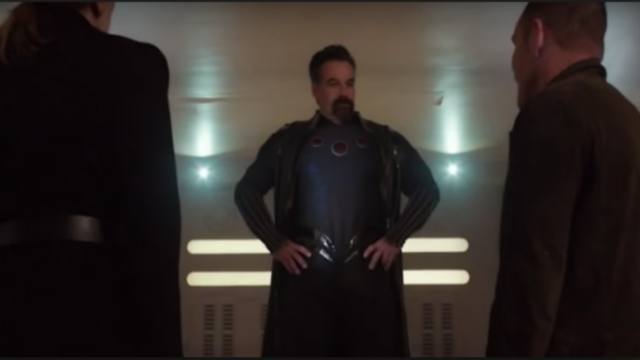 La celebre frase, legata alla figura di Peter Parker, sembra essere presa sin troppo sul serio da Talbot. La parte di episodio legata a lui e Coulson lo vede infatti assumere su di sé tutto il peso della missione di salvataggio della terra.
Il generale, sempre più corrotto dal gravitonio, inizia ad avere forti deliri di onnipotenza. Le dinamiche con le quali si approccia al nemico sono molto più simili a quelle di un conquistatore che a quelle di un pacificatore – non a caso si insiste molto sull'imposizione dell'inchino a chiunque gli si opponga. Una condizione che lo rende dunque facilmente manipolabile e incline a seguire cattivi consiglieri.
Il punto focale dell'episodio è sicuramente il suo incontro con il consiglio della Confederazione. Al cospetto dei consiglieri Talbot impone il proprio volere, con brutalità, ma mostra anche la sua debolezza. In questa scena veniamo finalmente a scoprire quale sia la grande minaccia a cui alludeva Hale: l'arrivo di Thanos (il tanto atteso collegamento a Infinity War). A portare la notizia è poi un membro del consiglio "ben noto" agli Agents of S.H.I.E.L.D., Taryan (Craig Parker), capostipite della famiglia Kasius.
L'incontro con i membri della Confederazione incide parecchio sulla debole psiche del generale che, trovando un Coulson contrario ai suoi piani, decide di imprigionarlo come traditore. Il modo con cui viene facilmente manipolato non può che portare a una sola domanda: che sia lui il Distruttore di mondi vero e proprio?
Piccoli screzi tra amici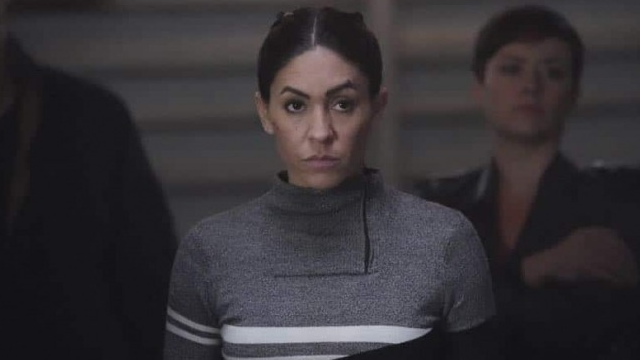 Presso il Faro le cose non vanno certo meglio. Le tensioni interne al team sono palpabili, e il ritorno di Daisy dalla sua "missione segreta" scatena un inevitabile scontro.
Le decisioni prese da Yo-Yo – e dal resto degli "immortali" – hanno infatti incrinato fortemente la squadra degli Agents of S.H.I.E.L.D., dividendola in due. Il punto focale di questi piccoli scontri è la diversa concezione delle modalità di agire. Se infatti per parte del team il motto sembra essere diventato "il fine giustifica i mezzi", per altri la scelta appare meno caustica – lo S.H.I.E.L.D. deve trovare soluzioni per proteggere le persone, senza fare del male a nessuno.
Baluardo della seconda filosofia è ovviamente Mack il quale, dalle sue prime apparizioni, si è sempre contraddistinto per purezza e bontà d'animo. Una divergenza di vedute che lo porta a scontrarsi silenziosamente con la donna che ama. Interessante è poi il breve confronto con Fitz, nel quale è in grado, con poche parole, di far crollare le certezze del giovane scienziato.
Un episodio ricco, che strizza l'occhio anche ai fan dei film Marvel. Sin dall'inizio della stagione era chiaro che la tematica spaziale avrebbe portato a un collegamento con Infinty War, adesso vedremo come le conseguenze della pellicola si ripercuoteranno sui nostri eroi.
Anche questa settimana, quindi, Agents of S.H.I.E.L.D. ci lascia appagati e incuriositi per ciò che verrà dopo – e ci sconvolge con un finale davvero impressionante.
La fine è vicina ragazzi, prepariamoci a vederne delle belle!
Un grande saluto agli amici di Agents of SHIELD ITALIA!