Sappiamo quanto gli attori si leghino ai personaggi che interpretano nelle Serie Tv. Non fa eccezione Kat Dennings con la nostra amata Max Black. Giunti alla sesta stagione di 2 Broke Girls siamo andati a scavare nelle interviste rilasciate dall'attrice. Venite a vedere cosa abbiamo scoperto.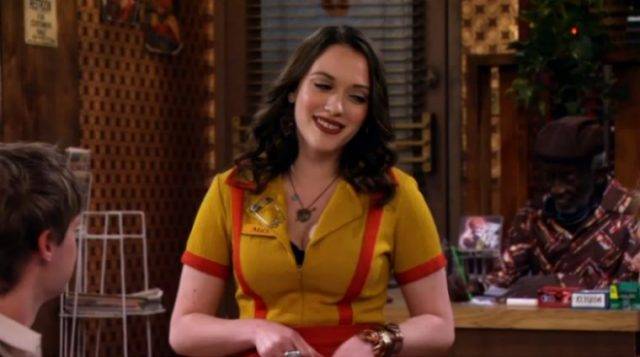 Max Black si commenta da sola. Una donna telefilmica che potrebbe dare del filo da torcere a chiunque. Sarcasmo, seno abbondante, spalle larghe e tanto bisogno di amore (ben celato). Un personaggio del genere può essere interpretato solo da una persona veramente capace. La scelta come tutti sappiamo è ricaduta fin da subito su Kat Dennings. La prosperosa bruna non ha ancora perso il suo smalto, nonostante sei stagioni di 2 Broke Girls all'attivo. Nella caratterizzazione di Max c'è molto dell'attrice. Per lei, inoltre, buttarsi in impegno ricorrente come quello seriale è stata una mezza novità. Aveva fatto una particina nel lontano 2000 durante la terza stagione di Sex and The City e in altre serie ma senza diventarne mai protagonista. In questa comedy, iniziata ormai nel 2011, Kat ha finalmente trovato il giusto spazio. E non poteva esserne più grata.
Eccovi dunque le 5 cose interessanti che Kat Dennings ha detto su Max Black:
1) MAX BLACK È STATA LA SVOLTA PER LA SUA CARRIERA
Essere un attore/attrice di successo non è per nulla facile. Emergere tra tutti e riuscire ad avere parti rilevanti al cinema non è solo questione di bravura, purtroppo. Kat Dennings recita (e lo fa molto bene) da quando aveva dieci anni. Dopo una serie di parti in piccoli film era proprio alla ricerca di una svolta per la sua carriera. In quel momento i creatori di 2 Broke Girls le offrirono la parte di Max Black. Anche se partecipare ad una Serie Tv non era nei suoi programmi, le è sembrata la risposta che stava cercando. Come lei stessa ammise, desiderava essere parte di qualcosa che le persone avrebbero ricordato. Dite che ci è riuscita, o no?