Dopo un'attesa lunghissima ed estenuante, la terza stagione di Westworld è approdata sui nostri schermi. Pronta a sconvolgere il nostro mondo come ha fatto in passato. A farci dubitare e riflettere. Fin dai suoi esordi Westworld si presenta come un qualcosa di originale, innovativo, complesso, curato in ogni minimo dettaglio. Ha catturato subito la nostra attenzione grazie soprattutto ai temi difficili che tratta: il libero arbitrio, la verità che si cela nel nostro mondo, ciò che ci contraddistingue dalle macchine, dove la tecnologia può arrivare, la convivenza tra specie diverse.
La trama di Westworld è cervellotica, fatta di salti temporali e plot twist sconvolgenti. La seconda stagione ha reso tutto ancora più complicato, allargando il suo universo ad altri mondi – tra cui quello dello Shogun – e a quello reale. Musiche perfette (con una sigla stupenda, da non saltare mai) e personaggi caratterizzati meravigliosamente sono altri due ingredienti da aggiungere a questo mix.
E non avremmo mai avuto Westworld senza la mente di un uomo geniale. Dell'unico e inimitabile Robert Ford.
Sappiamo poco del suo passato. Provò in un primo momento ad avvertire la Delos della pericolosità degli androidi creati da lui e dal suo socio. Per poi cambiare idea. Infatti insabbiò la morte del collega per accaparrarsi tutti i benefici economici del parco e diventarne il capo assoluto.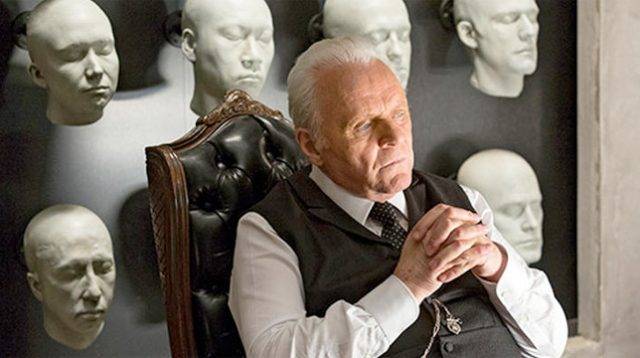 Ed è così che ci viene presentato.
Ford è il padrone di Westworld. Mentre cerca di riparare alcuni malfunzionamenti degli androidi, lavora in segreto alla sua ultima linea narrativa: Viaggio nella Notte. Ostacolato però dalla Delos, che lo vuole sostituire, e dal capo del dipartimento di sicurezza Theresa Cullen, soggetta a uno dei plot twist più sconvolgenti di Westworld mentre si trova con Bernard al cottage di Ford.
Bernard: The hosts were programmed to ignore this place, they couldn't see it even if they were looking at it.

Teresa: What is this door?

Bernard: What door?
È in quel momento che scopriamo l'amara verità: Bernard è un host sotto il controllo di Ford. Da quel preciso istante iniziamo a chiederci: chi è un androide e chi no?
Ford è autore di un altro colpo di scena clamoroso. Al termine della prima stagione di Westworld organizza un banchetto con i suoi capi per presentare il suo ultimo progetto. Durante il discorso inaugurale viene ucciso da Dolores, gesto che dà inizio alla ribellione dei robot e mette fine alla regola che gli androidi non possono ferire gli umani. Ma nella seconda stagione scopriamo che è riuscito a sopravvivere nella Culla. E lì può vivere in eterno. Anche se trasferisce la sua coscienza in Bernard per aiutarlo a raggiungere l'Oltre Valle, dove si conclude la sua nuova linea narrativa. È vero che gli rivela i piani della Delos (usare gli host per raggiungere l'immortalità) ma continua a mantenere un certo controllo su di lui. Lo spinge a uccidere, cerca di fargli eliminare Elsie.
E così Bernard, dopo essersi rifiutato, elimina il brillante direttore artistico del parco.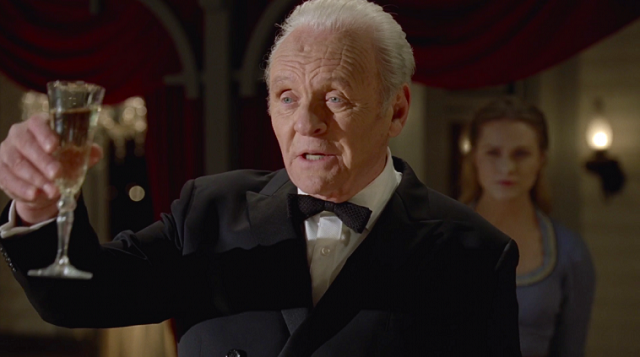 Ma si sarà davvero liberato dell'ingombrante presenza di Robert Ford?
La terza stagione di Westworld (qui il trailer) abbandonerà l'universo dei parchi a tema per catapultarci direttamente nel mondo reale. In una società distopica, dominata da una misteriosa azienda di tecnologia chiamata Incite Inc. Dolores, Bernard e altri androidi sono riusciti ad arrivare nel luogo proibito. Ma scopriranno che il mondo esterno è più simile al loro di quanto non pensassero, pieno di inganni, menzogne, controllo. Ma non è l'unica trama che la nuova stagione dovrà seguire: ad esempio c'è il ritorno di Maeve, apparentemente in una parte del parco ispirata alla Seconda Guerra Mondiale, e la questione William. Chi è davvero l'Uomo in Nero?
Quindi bisogna chiedersi, in tutte queste storie contorte e appassionanti, dove potrebbe collocarsi Ford. Perché anche nel trailer della seconda stagione non era comparso, eppure è tornato sottoforma di visioni nella mente di Bernard, scioccando tutti noi. È vero che Bernard poi si rende conto che è la sua coscienza ad aver evocato Ford. È il suo monologo interiore che si manifesta nella forma del suo mentore e creatore.
Ma Westworld è capace di farci dubitare di tutto.
Anche perché non è mai stato rivelato quale sia il piano finale di Ford. Non è chiaro il motivo della sua morte, per che cosa lotta, il suo scopo e se gli host stanno agendo davvero liberamente oppure sono sotto la sua influenza, nonostante Bernard si sia sbarazzato di lui. La sua fuga e quella di Dolores, due sue creazioni, nel mondo è il successo più grande di Ford o solo l'inizio di un disegno più ampio? Agiscono ancora sotto la sua programmazione o sono veramente liberi?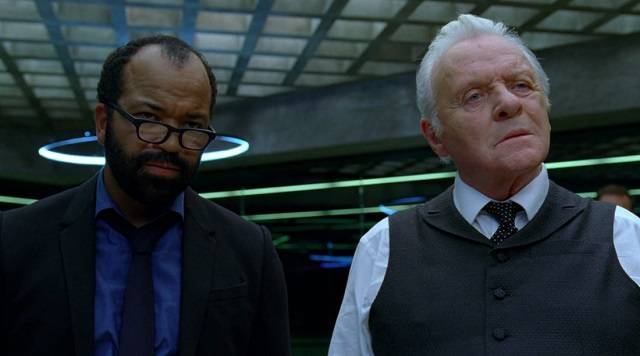 Tante sono le ipotesi: magari voleva aiutare gli host a raggiungere il mondo esterno, oppure voleva l'immortalità. Più arduo pensare che stesse portando avanti un semplice esperimento. Uno come lui ha sempre un progetto in testa, anche se è difficile capire dove vuole arrivare. È pur sempre un uomo che ha iniziato un piano con il suo omicidio. Sempre se quello era davvero lui. Non poteva essere un host di sé stesso e magari a morire è stata la sua copia? O magari la sua copia è nel mondo reale? Abbiamo appurato che molti dei personaggi che credevamo umani non lo sono. In primis William, alias l'Uomo in Nero. Forse.
C'è da considerare un ultimo aspetto. Anthony Hopkins – l'interprete di Ford – potrebbe non aver firmato il rinnovo oppure il suo contratto è solo per alcune apparizioni, senza l'onere di assumere un impegno continuativo. Ricordiamoci che è pur sempre un uomo di ottantadue anni.
Più semplicemente potrebbe non apparire per una questione di budget e per gli alti costi di produzione che una serie tv come Westworld impone.
Tutto sommato le possibilità della presenza di Ford ci sono, anche se non sono molte. Quantomeno lo speriamo. Non solo perché è sempre bello vedere recitare un attore del calibro di Anthony Hopkins, ma anche perché deve risolvere il quesito più importante di Westworld: ma alla fine, qual è il piano di Robert Ford?