Parliamo della leggenda di re Ragnar e i suoi figli. La sua figura "mitica" è utilizzata come pretesto per raccontare le invasioni normanne in Europa in epoca alto medioevale. In questa Serie ci sono molti personaggi con le più disparate personalità, in un contesto storico in cui la cultura del tempo viene spesso a scontrarsi con la moralità contemporanea. Data questa premessa, quali sono i personaggi più malvagi in Vikings?
Per poterlo valutare, abbiamo usato la famosa "scale of evil" (scala della malvagità), dello psichiatra Michael Stone. Tale scala analizza 22 livelli diversi di malvagità in base al contesto e alla personalità della persona che li compie. Tale studio ha ricevuto molta visibilità in tutto il mondo e sebbene non sia una scienza esatta e non approvata dalla criminologia è un ottima base di partenza, anche accurata per rendersi conto di quanto sia concreto il filo che divide la malvagità dalla bontà. Abbiamo provato di conseguenza ad applicare lo stesso metodo per Vikings. Siete pronti? Cominciamo.
1) Aethelwulf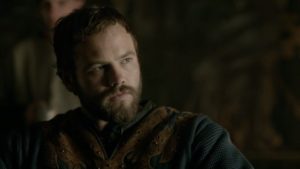 Il livello 3 della scala recita "Willing companions of killers: aberrant personality, impulse-ridden, with some antisocial traits". Parliamo di un membro della famiglia psicologicamente vulnerabile che può commettere gesti anche orribili per volere di qualcun altro. Anche se insospettabile, il primo posto spetta ad Aethelwulf. Figlio di re Echbert determinato a essere un uomo buono, un fedele cristiano e un figlio rispettoso. Sembrerebbe non esserci alcuna parvenza di malvagità in lui, ma le sue azioni sono sempre pilotate dal volere del padre, per il quale spesso commetterà atti spiacevoli. Nel suo caso, non ci sono assassini di rilevante importanza ai fini della trama, spesso si tratterà di uccisioni in battaglia.
Tuttavia analizzando il suo comportamento e il suo carattere possiamo intuire come lui possa essere capace di uccidere anche personalità di spicco più importanti per essere ben visto agli occhi di Echbert.