Dopo cinque stagioni fatte di battaglie spietate, esplorazione di nuove terre, asce e sangue, Vikings è giunta infine alla sua sesta e ultima stagione che, con il decimo episodio, ci ha lasciato con un colpo di scena decisamente spiazzante (qui la nostra recensione dettagliata del finale della prima mid-season). Sin dal suo debutto su History, la creazione di Michael Hirst ha dimostrato di essere uno show con una storia d'impatto, ambientazioni spettacolari e personaggi dal grande carisma. Basti pensare al leggendario Ragnar Lothbrok, protagonista assoluto di Vikings dal primissimo episodio fino alla quarta stagione durante la quale il percorso di uno dei personaggi più intensi e poetici della serialità giunge al termine, spezzandoci il cuore e portando la serie verso una nuova era.
Per quattro stagioni, Ragnar è stato il pilastro di Vikings.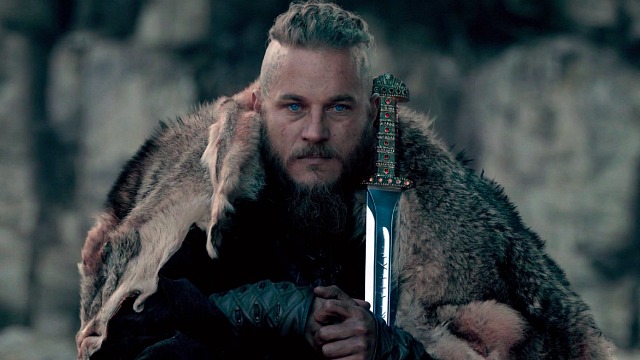 Un personaggio sempre alla ricerca di nuove conoscenze, dilaniato dai dubbi e per questo sempre pronto a mettersi in discussione, determinato a portare il proprio popolo verso l'innovazione e un futuro migliore. Un protagonista talmente complesso, intenso e potente da poter portare avanti da solo la storia e soverchiare facilmente gli altri personaggi. Dunque è chiaro che, dopo la sua morte, Vikings ha dovuto riconsiderare la propria struttura e rivoluzionarsi traendo ispirazione da una delle serie pseudo-storiche e fantasy più importanti degli ultimi anni: Game of Thrones. Infatti ,a partire dalla quinta stagione, il gioiello di History ha dovuto adottare una formula che ha sempre caratterizzato la serie di HBO, ovvero una narrazione corale in cui non esiste un unico protagonista e in cui ogni personaggio ha lo stesso peso in termini d'importanza. Ciò che differenzia le due serie, però, è il fatto che Game of Thrones ha usufruito di questa struttura sin dall'inizio rendendola uno dei suoi punti di forza, mentre Vikings ha iniziato a farlo solo a partire dalla quinta stagione, portando la serie verso dei cambiamenti non sempre convincenti.
Dopo la morte di Ragnar, le redini della storia vengono prese in mano da vecchie e nuove conoscenze.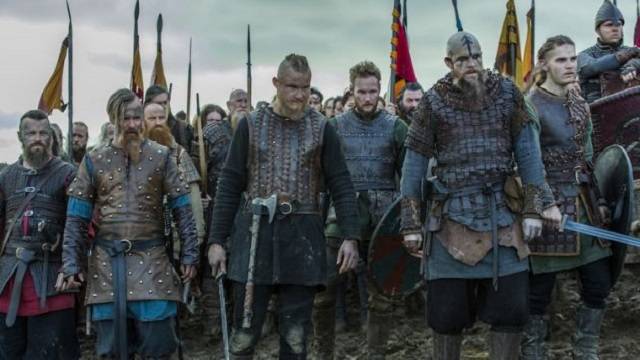 I figli di Ragnar, sono ormai adulti. Bjorn è desideroso di esplorare nuove terre, Lagertha è divenuta regina di Kattegat dopo essersi finalmente vendicata di Aslaug, Floki è distrutto e profondamente cambiato dalle sue perdite, Harald si ritrova più che mai intenzionato a rivendicare la sua posizione come re, Alfred rappresenta la speranza di un nuovo futuro per il Wessex, Heahmund è vescovo sassone e guerriero della fede cristiana. Vikings è sempre stato caratterizzato dalla presenza di numerosi personaggi ma, per la prima volta nella storia della serie, Hirst non pone più l'attenzione sulla storyline di un unico protagonista, ma su quelle delle varie personalità che popolano questo mondo. Infatti, nelle ultime due stagioni di Vikings abbiamo potuto conoscere meglio i vari personaggi e la loro evoluzione attraverso la narrazione delle loro storie e dei loro percorsi che, in un modo o nell'altro, finiscono inevitabilmente per incrociarsi e ricongiungersi fra di loro, esattamente come in Game of Thrones.
Ma l'abbondanza di materiale non è sempre un bene.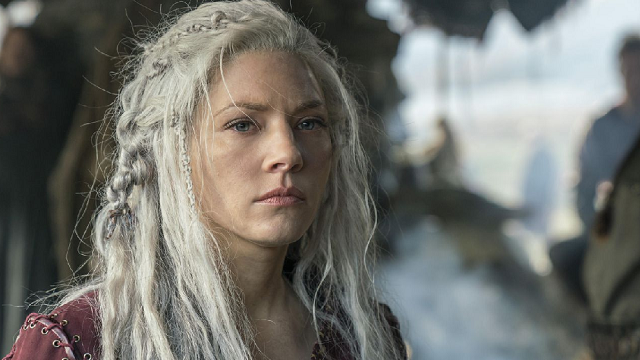 Vikings ci ha dato la possibilità di seguire un numero elevato di storyline ma, per quanto questo possa essere stimolante da un lato, dall'altro si rivela anche un azzardo e, purtroppo, talvolta anche un errore. Mentre personaggi come Ivar e Lagertha riescono a catturare l'attenzione degli spettatori grazie al loro carisma e alla loro fierezza, personaggi come Heahmund nella quinta stagione e Katya nella sesta sono facilmente dimenticabili, un po' per la mancanza di approfondimento della loro storia e psicologia, un po' per l'inutilità delle loro storyline. Per quanto riguarda la seconda, tuttavia, la questione è ancora aperta.
Un altro errore commesso da Hirst è stato quello di portare avanti per troppo tempo la storia di Lagertha (ne abbiamo parlato diffusamente in questo articolo) che, per quanto sia sempre stata uno dei personaggi migliori della serie, non è più riuscita a brillare con la stessa forza del passato se non nel sesto e settimo episodio durante i quali abbiamo la possibilità di salutare questo personaggio immenso. Lo stesso discorso vale anche per Floki, sicuramente uno dei personaggi più amati, che ha subito un'evoluzione che poteva essere estremamente intrigante ma che non riesce a catturare completamente lo spettatore a causa della mancanza di consistenza nella storyline islandese.
Adottare una narrazione corale come quella di Game of Thrones è stato necessario dopo la morte di Ragnar, ma le ultime stagioni di Vikings avrebbero avuto un aspetto completamente diverso se Hirst si fosse concentrato di più su pochi personaggi piuttosto che introdurre così tante nuove linee narrative secondarie dalla dubbia importanza.
Dunque, Vikings prende ispirazione da Game of Thrones, ma non riesce a sviluppare tutte le storyline con la stessa intensità.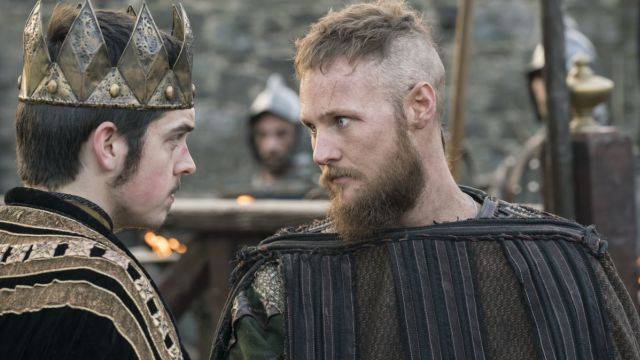 Ma questo non significa che la serie di History abbia completamente perso il fascino e l'impatto che ci hanno portato ad amarla nel corso degli anni. Nonostante la mancanza di Ragnar si faccia sentire, Hirst riesce comunque a darci linee di narrazione che non solo vanno ad approfondire i personaggi, ma anche a offrire collegamenti con il passato che non potranno non essere apprezzati. Uno degli esempi più calzanti è quelli di Ubbe. Nel corso della quinta e sesta stagione, il secondogenito di Ragnar va incontro a un'evoluzione veramente interessante, portando gli spettatori a poterlo considerare possibilmente come il vero erede di Ragnar grazie al rapporto di complicità e collaborazione con Alfred (che ricorda quello di suo padre con Athelstan ed Ecbert), il suo desiderio di rendere Kattegat una delle città più importanti del mondo e la necessità di scoprire ed esplorare nuove terre.
Per la prima volta nella storia della serie, Vikings ci presenta un villain degno di questo nome.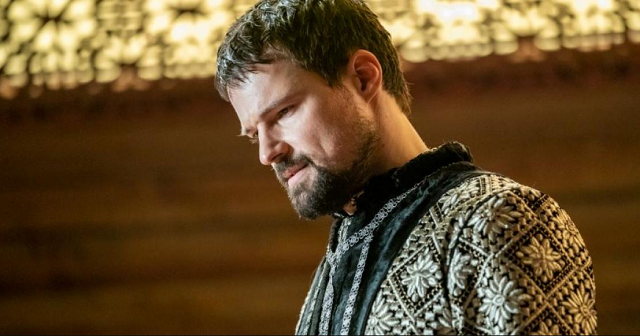 Seguendo gli insegnamenti di Game of Thrones e del Re della Notte, nell'ultima stagione di Vikings ci viene presentata una minaccia come non si era mai vista. Oleg di Novgorod è forse il primo antagonista che potrebbe portare veramente alla fine del mondo dei vichinghi come l'abbiamo conosciuto fino a questo momento. Un personaggio carismatico, ma anche così terrificante da far impallidire anche il temibile Ivar Senz'Ossa che comunque non può neanche fare a meno di essere affascinato dalle capacità di stratega e di veggente di Oleg. Nella stagione 6B scopriremo se l'alleanza fra i due continuerà o se Ivar cambierà rotta a favore dei suoi fratelli e del suo popolo.
Vikings e Game of Thrones sono sempre state due serie con tante caratteristiche in comune.
La presenza di personaggi carismatici, l'importanza della spiritualità e il rapporto con essa, figure femminili dalla forza incredibile, battaglie feroci e intrighi più o meno complessi e articolati. Entrambe hanno subito grandi cambiamenti alla fine del loro percorso, portando spesso a critiche e dissensi da parte degli spettatori. Ma, nonostante tutto questo, entrambe le serie rimangono comunque due prodotti che saranno impossibili da dimenticare. Per quanto le ultime stagioni non abbiamo più la stessa consistenza delle prime, Vikings continua a essere una delle serie pseudo-storiche di maggior impatto e rilevanza nel mondo della serialità e non vediamo assolutamente l'ora di assistere all'epilogo di questa lunga e meravigliosa avventura vichinga.