The Closer è una Serie Tv made in USA trasmessa negli Stati Uniti dalla rete TNT dal 2005 al 2012, e in prima visione in Italia in chiaro dal 2005 al 2013.
Brenda Leigh Johnson, ex collaboratore CIA, viene trasferita a Los Angeles per dirigere la sezione Priority Homicide Division, e viene accolta dai colleghi con non poco risentimento, a causa dei pettegolezzi di corridoio che la vedono invischiata in una relazione con il capo della polizia.
Nonostante un inizio spiacevole, la squadra omicidi sotto la direzione della bionda detective diviene in poco tempo la più competente del dipartimento.
La protagonista del drama è interpretata dall'attrice Kyra Sedgwick, attrice statunitense con una lunga serie di film alle spalle, in parte condivisi col marito Kevin Bacon.
Attorno a lei la squadra di polizia pullula di volti già visti, a cominciare da G. W. Bailey che veste i panni del detective Louis Provenza, famosissimo capitano Thaddeus Harris in Scuola di polizia e il pigro sergente Luther Rizzo in M*A*S*H.
Anthony Denison è conosciuto principalmente per aver interpretato il ruolo di Ray Luca nella serie anni 80 Crime Story ed ha ricoperto il ruolo di Aldo Burrows, padre dei fratelli Lincoln Burrows e Michael Scofield in Prison Break; qui è il tenente Andy Flynn.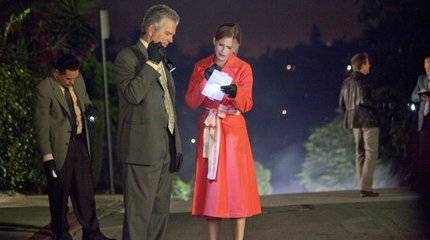 Contemporaneamente alle vicende professionali, Brenda deve anche far funzionare la sua vita privata, spesso sacrificata a favore della sua grande passione per il lavoro. Gli uomini a lei più vicini sono stati due, il futuro marito Fritz Howard (Jon Tenney) e il suo superiore nonché ex amante William Pope (J. K. Simmons), attoraccio che ha ricoperto i ruoli più di sparati, reduce da un Oscar come migliore attore non protagonista nel film Whiplash di Damien Chazelle, ma noi maniaci seriali lo ricordiamo soprattutto per Law & Order e Oz.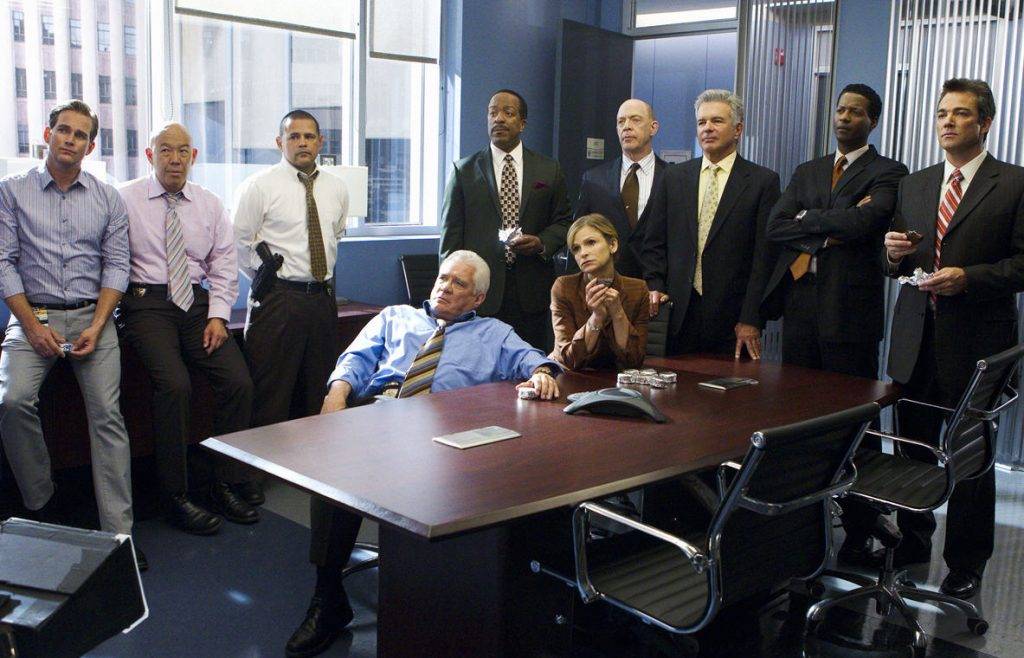 Una menzione a parte va fatta al detective Julio Sanchez interpretato da Raymond Cruz: si, proprio lui, il Tuco Salamanca di Breaking Bad e Better Call Saul. Questo ruolo è stato uno dei pochi in cui l'attore di è confrontato con un personaggio positivo, recitando di solito in ruoli da criminale.
La serie The Closer non è solo un altro poliziesco, al suo interno si sviluppano vicende sociali e interpersonali degne di un lungometraggio. Ma soprattutto è stato forte l'impatto culturale che il capo del dipartimento, una donna, ha lasciato sul pubblico.
Brenda Leigh Johnson si presenta come una bella donna dai modi gentili, quasi frivoli, lunghi capelli biondi, vestitini bon ton e un'immensa borsa in cui si tuffa per trovare il necessario. È lontana anni luce dallo stereotipo del detective, per cui le voci della sua promozione dovuta ad altro che non sia la bravura sul campo le hanno fatto, sin dal principio, terra bruciata. Ma ci ha messo davvero poco a sorprendere la sua squadra, non solo facendosi rispettare, quanto persino ammirare. Nessuno si sarebbe mai aspettato che una donnina con la gonna a ruota riuscisse, sempre col sorriso sulle labbra, ad estorcere confessioni atroci e chiudere delitti efferati. La gentilezza viene sempre ripagata, anche quando si tratta si confrontarsi con il nemico, e i modi bruschi dei suoi colleghi non facevano altro che alimentare l'astio degli accusati nei loro confronti.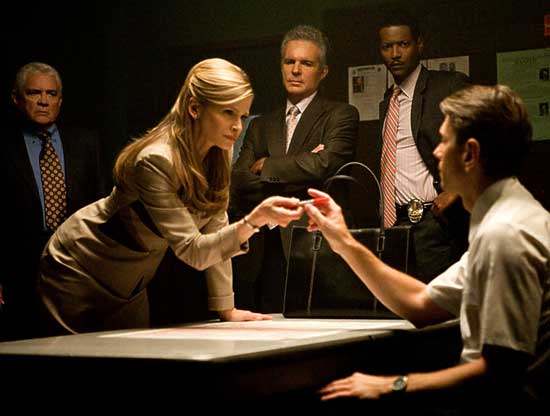 Non parlo di un personaggio macchietta, né di un'icona da venerare solo in quanto femmina. In The Closer l'equilibrio delle parti è sempre stato rispettato, senza mai scadere nei cliché del telefilm poliziesco.
La Major Crimes Division è un dipartimento speciale composto da agenti e detective con particolari specifiche, un po' come lo Strike Team era per Vic Mackey il braccio armato contro la criminalità di strada (ne ho parlato qui). Prendendo ad esempio due serie poliziesche, rispettanti entrambe i canoni principali di genere [come possono essere  un caso da risolvere, una squadra da dirigere, un capo a cui far conto, un ambiente ostile o meno entro cui lavorare, una città incline alla criminalità o relativamente tranquilla etc…], The Closer si distanzia dai suoi colleghi poliziotti per lo stile e l'eleganza con cui le indagini vengono trattate, il tocco femminile traspare in ogni dialogo, la vita di una donna in carriera divisa tra l'ambizione lavorativa e il desiderio di mettere su casa.
La bravura di Kyra Sedgwick, perfetta nei panni del capo finto svampito, le è valsa molti premi negli anni, tra cui il Golden Globe nel 2007 come Miglior attrice in una serie drammatica e per lo stesso motivo un Emmy nel 2010.
Non solo, con una cachet da 500,000 dollari a episodio, è diventata una delle attrici televisive più ricche, decidendo di lasciare la pluripremiata The Closer alla settima stagione, con la partenza del Vice Capo Brenda Leigh Johnson dal Los Angeles Police Department, e il testimone passato al capitano Sharon Raydor come futuro capo della Major Crimes nello spin-off omonimo.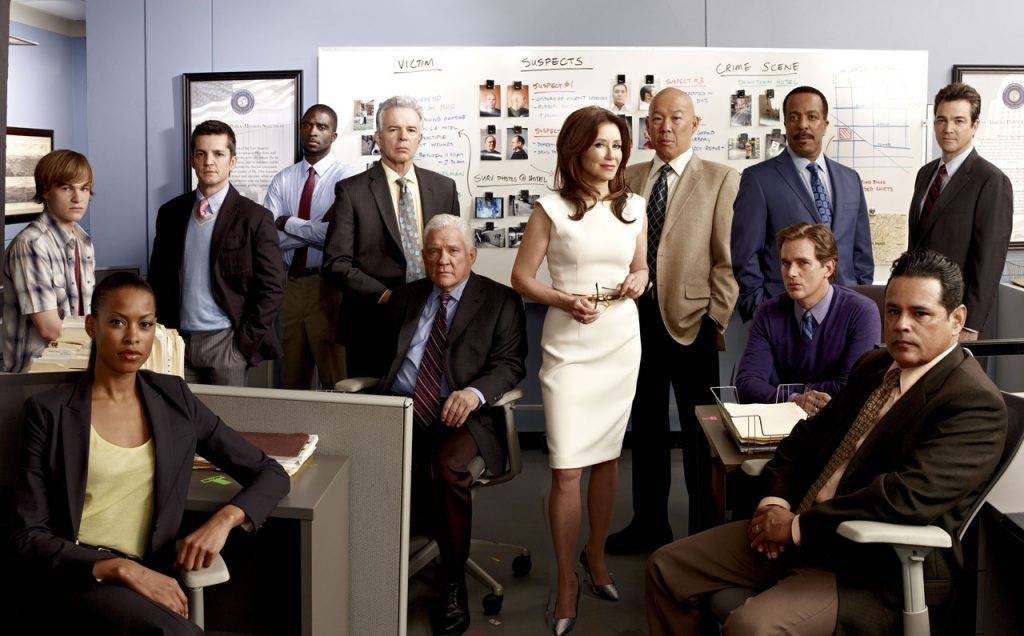 Ma questa è un'altra storia…