Un'attesa durata tre anni e mezzo e un paio di teaser della terza stagione arrivati un paio di mesi fa. Era tutto ciò che avevamo di True Detective dopo la fine della seconda stagione nell'estate del 2015. Ma finalmente la HBO ha rilasciato il trailer ufficiale della terza stagione (chi se l'è perso lo trova qui). Il gothic noir drama ideato da Nic Pizzolatto farà ritorno il prossimo gennaio. Dopo Matthew McConaughey, Colin Farrell e Rachel McAdams, sarà Mahershala Ali (attore premio Oscar per Moonlight, già apprezzato per le sue interpretazioni in House of Cards e Luke Cage) a introdurci in un nuovo caso da risolvere. Le reazioni dei fan non sono mancate: c'è molta attesa per questa terza stagione. In modo particolare per le diverse "somiglianze" con la prima notate nel trailer appena divulgato.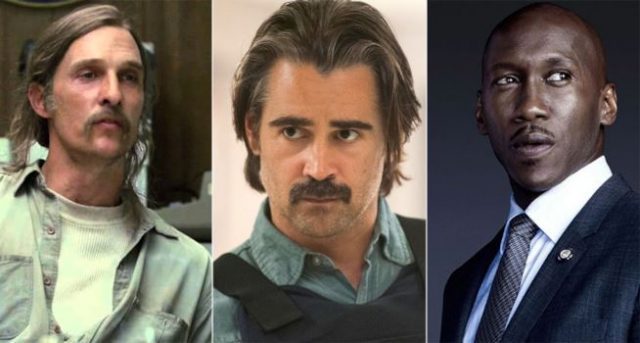 La prima stagione di True Detective l'ha una serie molto apprezzata per la natura filosofica e la sceneggiatura ben scritta.
Tuttavia la seconda stagione ha risentito di un confronto difficile da sostenere. La storia, le ambientazioni, l'inquietudine trasmesse dalla prima stagione di True Detective, l'hanno resa una delle serie tv più iconiche degli ultimi anni. Il personaggio di Rustin Cohle, interpretato da uno stupefacente McConaughey, le ha praticamente conferito lo status di immortalità. La seconda stagione, pur essendo un action drama altrettanto valido, non sembra però aver soddisfatto le aspettative dei fan, che probabilmente si aspettavano uno stile più simile a quello della prima. Purtroppo è stato sottovalutato il carattere "antologico" della serie, ed è stato quindi arduo resistere all'idea di un paragone. Tuttavia ciò sembra essere anche all'origine delle attuali reazioni positive, poiché i parallelismi sono notevoli. L'atmosfera generale proposta da quest'ultimo trailer sembra richiamare molto la prima stagione di True Detective.
Dopo le ambientazioni suburbane della California proposte dalla seconda stagione, True Detective fa ritorno ai paesaggi evocativi del Sud degli Stati Uniti.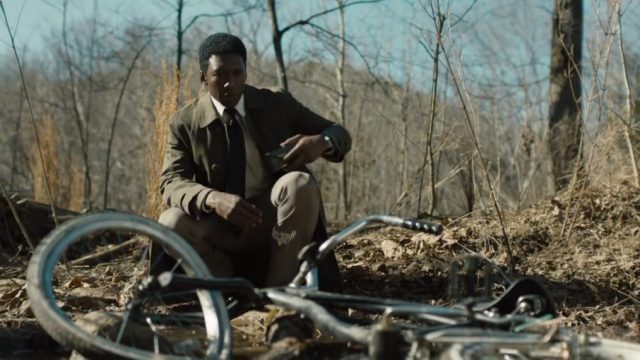 Le lunghe distese di alberi della Contea di Ozark, in Arkansas, fanno da scenario. Degli opachi campi di grano ricordano un po' quelli di canna da zucchero della Louisiana in cui il corpo di Dora Lange fu ritrovato. Vediamo un Wayne Hays – il "True Detective" di questa stagione interpretato da Ali – camminarvi attraverso e osservare l'ignoto. Inoltre ulteriori somiglianze saltano subito all'occhio dei fan. Tensivi percorsi in macchina ripresi dal lato di Hays, assieme al suo partner Roland West – interpretato da Stephen Dorff -, sembrano riprendere gli stessi di Cohle e Hart.  E lo svolgimento degli eventi lungo tre archi temporali è una dinamica che si ispira molto a quella usata per raccontare le vicende della prima stagione.
Il trailer ci lascia con alcune frasi chiave che ci suggeriscono altri punti in comune con i personaggi proposti dalla prima stagione di True Detective.
Oh sweetheart, did you think you could just go on and never once have to look back?

(Oh tesoro, non hai pensato che potresti semplicemente andare avanti senza dover più guardare indietro?)
Queste parole – rivolte ad Hays – ci suggeriscono l'idea di un'ossessione che dal passato torna per rivivere nella mente del protagonista. Ci ricordano il tormento di Rustin Cohle e del suo partner Martin Hart. Un caso non del tutto risolto che continua a perseguitare questi uomini per anni. Flashback sulle indagini, un agente esterno che – nel presente – parla col detective in carico ai tempi, conferenze stampa. Uomini trascinati in campagne sperdute, sparatorie, bambini scomparsi e sguardi inquietanti. Tutto ciò visto attraverso l'occhio di quello che sembra essere un altro acuto osservatore: Wayne Hays. Egli chiede, fa attenzione ai dettagli, e con una calma stoica probabilmente continua a portarsi dentro l'orrore visto anni prima. Come Cohle, come Hurt…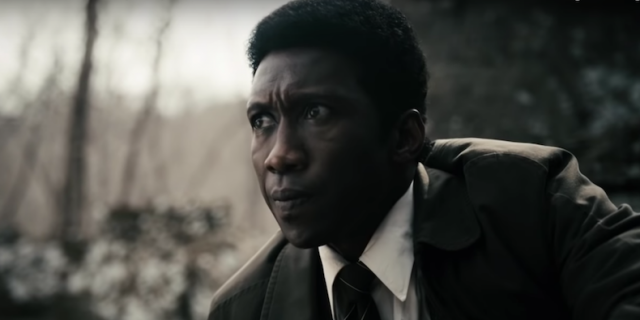 Le immagini di questo trailer sembrano suggerire toni e azioni un po' meno concitati di quelli della seconda stagione per riprendere la calma scorrevole della prima. Vedremo quindi di nuovo "paesaggi fantasma che sono solo un ricordo quasi svanito della città che fu"? Sentiremo ancora "il sapore metallico della psicosfera"? Forse.
Ma per quanto la qualità della prima stagione e la caratura del personaggio di Rust Cohle restino difficili da imitare, dovremmo semplicemente smetterla di perderci in troppi confronti Questo trailer ci prende perché ci sentiamo vagamente inquietati, esattamente la sensazione che ci aspettiamo da True Detective. Non sappiamo se siano le ambientazioni evocative, un fitto mistero da risolvere o l'idea che questo coinvolga nuovamente dei bambini, a farci sentire così. Più probabilmente è solo il potere di True Detective. O ancor di più l'incredibile penna di Nic Pizzolatto, capace di immergerci nel mistero raccontato e nei nodi mentali di personaggi affascinanti. Certo, evitare il paragone con la prima stagione sembra impossibile quando si parla di True Detective. Tuttavia dovremmo fare uno sforzo e pensare a questo terzo capitolo come a un nuovo filone narrativo slegato dai precedenti. Come la natura della serie stessa propone. Perciò ragazzi, teniamoci forte e aspettiamo con ansia il 13 gennaio 2019.
Ben tornato True Detective!