Hey you, out there in the cold
Getting lonely getting old
Can you feel me?
Nel 1979 esce Hey You, canzone d'apertura del secondo disco dell'album The Wall degli unici e indimenticati Pink Floyd. The Wall racconta una storia, una storia di solitudine e isolamento, di rifiuto della società circostante. Hey You, invece, testimonia un vano tentativo di ritorno in quella società tanto disprezzata, pur sempre meno fredda delle pareti di un muro. Questo capolavoro dei Pink Floyd, pertanto, è l'opportuna colonna sonora per la vita di un personaggio ambiguo, intrigante e tragicamente triste: sto parlando di Rust Cohle di True Detective. Il testo della canzone guiderà il confronto, le parole di Rust si intrecceranno con quelle di Pink, per poter cogliere contemporaneamente la loro illusoria soluzione e la conseguentemente condivisa (vana) speranza.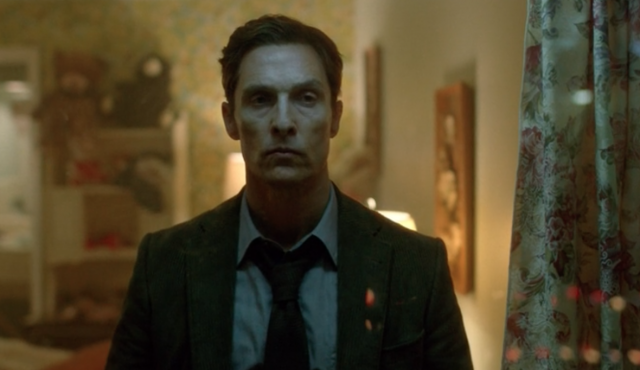 Il protagonista di The Wall, Pink, aveva deciso di chiudersi in se stesso, rifiutando ogni tipo di contatto e rapporto con la società. Per questo era addirittura arrivato a costruire un muro, azione di cui adesso si è pentito: Hey You è il grido disperato di un uomo che sceglie la società e non la solitudine, dopo averla demonizzata e allontanata.
Hey you, with your ear against the wall
Waiting for someone to call out
Would you touch me?
Hey you, would you help me to carry the stone?
Open your heart, I'm coming home
Rust in True Detective, come Pink, ha costruito il suo muro contro la società. Non sappiamo se sia sempre stato così, ma possiamo supporre di no: a più riprese il suo sproloquio ci fa comprendere che la goccia che ha fatto traboccare il vaso è stata la morte della sua bambina. "Siamo creature che non dovrebbero esistere… per le leggi della natura", "un'ultima mezzanotte in cui fratelli e sorelle rinunciano a un trattamento iniquo" sono solo alcune riflessioni di Rust: queste parole sono il suo muro.
Ma questi punti di incontro non sono gli unici. C'è qualcos'altro a legare questi due personaggi, qualcosa che li mangia dall'interno:
But it was only fantasy
The wall was too high, as you can see
No matter how he tried, he could not break free
And the worms ate into his brain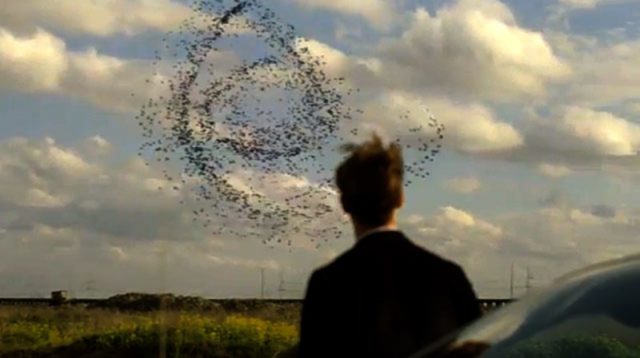 Nella mitologia di The Wall, i vermi a cui si fa riferimento dovrebbero essere i The Worms, movimento fascista a cui aderisce Pink e che coincide con il suo allontanamento dalla società. In generale, sono in tutto l'album simbolo di decadimento e degenerazione. Nel pentimento, dunque, c'è anche il fattore pazzia, con cui Roger Waters gioca usando una tipica espressione inglese (letteralmente, i vermi gli mangiarono il cervello) per indicare la follia, unita al riferimento prima citato. Non è tutto: non è improbabile, infatti, che questa espressione crei un parallelismo con il fondatore dei Pink Floyd Syd Barrett, già allora preda dell'abuso di droghe che gli aveva "mangiato il cervello" e lo avrebbe portato alla morte.
Ecco, dunque, dove entra in scena Rust: a più riprese, in True Detective egli fa riferimento al periodo di riabilitazione che ha dovuto affrontare dopo gli anni passati alla narcotici. La droga da cui è dipendente (almeno nella fascia temporale del 1995) lascia parecchi strascichi, tra cui le allucinazioni, le scie di luce, i "sogni": "io non dormo, sogno e basta".
L'espressione "the worms ate into his brain" si staglia perfettamente sul profilo del tormentato detective. Inoltre, "the wall was too high": la paura di Pink (e di Rust) è quella di aver costruito una difesa contro la società troppo solida per essere adesso aggirata.
Rust, tuttavia, alla fine di True Detective crede di aver trovato una speranza: "La luce sta vincendo", dice a Marty, in parte completando quel processo di modifiche del suo arco narrativo. Questa sua idea, questa sua aspettativa potrebbe essere letta come la richiesta di uscire dal suo muro e assegnare un nuovo valore alla vita. Arriviamo, dunque, all'ultima strofa di Hey You:
Hey you, out there on the road
Always doing what you're told
Can you help me?
Hey you, out there beyond the wall
Breaking bottles in the hall
Can you help me?
Hey you, don't tell me there's no hope at all
Together we stand, divided we fall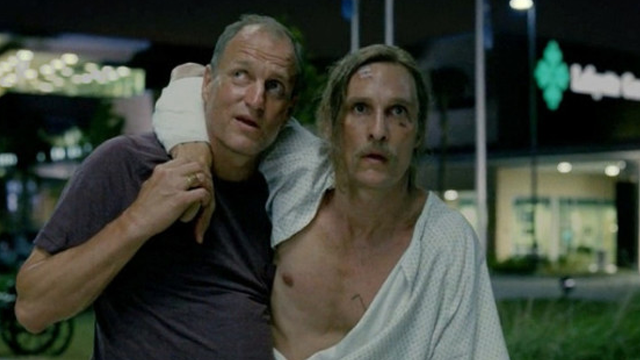 Quest'ultima strofa ci accompagna verso il finale, lanciando una serie di problematiche. Il controllo dei media e dei governi (always doing what you're told), gli esaltati della società (breaking bottles in the hall) ma ciò che resta davvero impressa è l'ultima frase:
Non dirmi che non ci può essere speranza, insieme resistiamo, divisi cadiamo.
Con quest'ultimo messaggio, Pink smentisce completamente la sua filosofia, secondo cui insieme si perde, da soli si sopravvive: il pentimento è totale. Il Rust del 2012 è provato dalla vita ancor di più della sua versione del 1995: lui crede in Marty, lui crede nella condivisione delle capacità, deve avere questa speranza. Per una nuova vita, che allontani il suo dolore e turbamento, ci vuole speranza: e quindi
Hey you, don't tell me there's no hope at all.